Story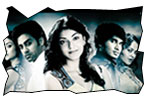 Meghana (Kajal Agarwal) is a lady full of dreams and she seeks thrill all the time. She adores the RJ Maddy (Madhavan) madly. NRT (Nikhil) is a struggler in film industry and he feels that he has it in him to become the next Ravi Teja. Anand (Navadeep) is a decent bachelor who works in a software company. He wants to settle in life by getting married and he meets Anjali (Aditi Sharma) in the process. Noorie (Bindu Madhavi) marriage is settled with Akbar. Her brother plots to plant bombs in main places of Hyderabad. Reddy (Murali Mohan) is a farmer who loves his lands and believes in agriculture. His son wants to sell off all the lands so that they could migrate to Hyderabad and live a plush life. Reddy dies and Reddy's wife (Pragati) comes to Hyderabad along with the family of her son. The rest of the story is all about how these five stories converge into a single incident.
Artists Performance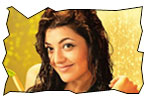 Madhavan is the surprise pack of the movie and he is cool. Navadeep is decent as a software engineer who struggles with job and personal life. Nikhil is pretty entertaining as the struggler in Krishna Nagar. Kajal Agarwal is nice as thrill-seeking bubbly girl. Bindu Madhavi looks like a Muslim girl in Noori get-up. Aditi Sharma fits the bill of a practical lady. Ranadhir (Happy Days fame) is competent. Murali Mohan is excellent in a brief role and Pragati got a chance to emote in this movie. Suneel's thread appears boring in the beginning, but it entertains in the last episode. Raghu Babu's role is modelled after Tanikella Bharani role in Money and he entertains.
Technical departments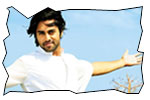 Story: Multi-stories narration format is new in Telugu film industry. These kind of movies are in-thing in Hollywood (Ameros Perros, Crash, Love Actually etc). Life In a Metro, Salaam E Ishq and Mumbai Meri Jaan are the films made in Hindi. Yuva is probably the only Telugu/Tamil film made on multiple stories in the past. And it is extremely difficult to narrate multiple stories in a single movie. Probably, Happy Days was the last Telugu movie where a director narrated four love stories in a single film between eight characters. Debutant director Prakash Dantuluri has got everything wrong in this movie. None of the stories have grip in narrative. There is a bit of popular entertainment in Nikhil's story and a bit of realism in Pragati's story. It needs tremendous writing capability to pen screenplay involving five stories and the director falters in this department too.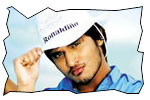 Other departments: Songs scored by Ilayaraja are pleasing to ears. However, the background music is not of Ilayaraja's standard. Jayanan Vincent's cinematography is an asset. Nagaraju Gandham's dialogues are good for Pragati's story (reminds us of Sontha Vooru genre), but are ordinary for other stories. Editing is a huge task for multi-storied films if the stories don't have color aid (separate color/tint/texture for each story).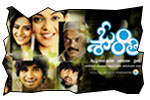 Analysis: Touted as the first multi-stories format movie in Telugu, Om Shanti created lots of curiosity among Telugu movie lovers prior to release. It is a brave attempt by the director and producer to attempt such a multiple stories based movie. The plus points of the movie are photography and music. The negative points are screenplay and narration. Om Shanti is a disappointment from 'Three Angels Studio' that produced a critically acclaimed movie Baanam in the past.
Om Shanti Links:
• User reviews
• Music launch
• Logo launch
• Photo gallery
• Wallpapers
• Trailers
Jeevi reviews of previous 5 films
• Sambho Siva Sambho
• Namo Venkatesa
• Adurs
• Saleem
• Amaravathi
• Pravarakhyudu
• Arya 2
• Kurradu
• Village lo Vinayakudu
• Ek Niranjan
• Jayeebhava
• Bendu Appa Rao
• Mahatma
• Ninnu Kalisaka
• Ganesh
• Eenadu
• Banam
• Sankham
• Josh
• Mallanna
• Anjaneyulu
• Snehituda
• Magadheera
• Kalavaramaye Madilo
• Gopi Gopika Godavari
• Oy!
• Evaraina Epudaina
• Current
• Raju Maharaju
• Boni
• Kavya's Diary
• Ride
• Aa Okkadu
• Diary
• Pista
• Prayanam
• Kick
• Veedokkade
• Mitrudu
• Circus Circus
• Adhineta
• Punnam Naagu
• Ananda Tandavam
• Billa
• Bheebatsam
• Manorama
• Aakasamantha
• Sontha Vooru
• Malli Malli
• Mesthri
• Naa girlfriend baga rich
• Drona
• 16 Days
• Satyameva Jayathe
• Siddham
• Nenu Devudni
• Konchem Istam Konchem Kastam
• Shh...
• Arundhati

More Reviews