Story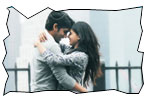 Karthik (Naga Chaitanya) is an engineering graduate who wants to pursue his career as a film director. Samantha is his neighbour and he falls in love with her at the very first sight. But there are two catches. One is that she is elder to him and the bigger hitch is that she is a Malayali Christian. He proposes to her and she slowly falls for his guts and his perseverance. Her strict father comes to know about it and settles her marriage. She loves him, but can't hurt her entire family by marrying him. The rest of the story is all about how Karthik achieves his passion to become a film director and tastes success at the personal front.
Artists Performance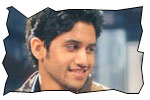 Naga Chaitanya: Naga Chaitanya is extremely natural in the role of Karthik. It is basically a conversational film with too many tight close-ups. It takes real confidence and acting prowess to do such scenes in an authoritative manner. Naga Chaitanya proves that he is a brilliant actor with his performance in this movie. His dialogue delivery and body language is highly authentic. You are not going to believe that this is his second film after watching his performance. It's a top notch effort from him and he will do wonders in the future.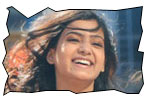 Samantha: Samantha's debut is one of the best heroine debuts in Telugu cinema. This dusky beauty is highly charming and she is cool in acting as well. The minute expressions she gave spoke volumes about her. Lots of credit should go to director for etching her beautiful characterization. I absolutely loved the voice of the artist who dubbed her. She is the same one who dubbed the voice of Sameera Reddy in 'Surya s/o Krishnan'. It's husky and contemporary.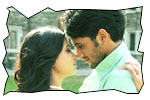 Others: Krishnudu is very good as hero's friend. Sanjay Swaroop (producer and husband of Manjula) did the role of hero's father and he suited it well. Puri Jagan played as himself for a few scenes. Trisha and Simbhu (who acted in the Tamil version of the same) did a cameo. All other actors are cast appropriately. Surekha Vani is very good.
Technical departments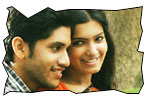 Story: Men are simple and women are complex. When it comes to love, man proposes to a woman with plain heart and with no complications. Women, on the other hand make simple things complicated with their complex behaviour. Gowtam Menon has beautifully explored that point and penned a wonderful story of a simple guy who would do anything for love and a complex girl who keeps vacillating about taking decisions.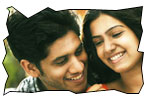 screenplay - direction: Screenplay of the movie is very good. The movie could end at any point after interval. It needs tremendous narrative skills and screenplay to make people get interested in the second half because the movie can end at the moment hero/heroine converge upon on marriage. I loved the love episodes between Surya and Sameera Reddy (train scene) in Surya s/o of Krishnan and wondered when he is going to make such a story into a full-leangth feature film and Gowtam Menon answered my wish with his next movie by filling it full of magical moments and sweet nothings. It's a astonishing work by Gowtam Menon. You can't separate a moment from the movie to be the best. This movie is like a seamless flow of visual poetry.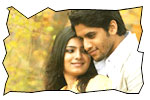 Other departments: Music by AR Rehman is awesome. Songs are extremely good and background score, rerecording and mixing is perfectly done. All songs are picturized extremely well. Cinematography by Manoj Paramahamsa breath-taking. The choice of locations and camera work blended seamlessly. Dialogues by Anuradha are extremely natural and contemporary. Art direction by Rajeevan is superb. Editing my Anthony is flawless. Production values by Indira Productions are impeccable.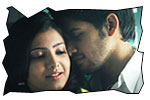 Analysis: I had never seen such a wonderful movie that deals with the straightforward nature of a man and complex nature of a woman so perfectly. Everybody must have gone through these moments in their lives and you are sure to get nostalgic watching some moments in this movie. The entire movie is excellent and extremely engaging except for 10 minutes (in second half from the breakup to the scene where other female proposes him). It takes guts and tremendous conviction makes a movie like Ye Maya Chesave from the director, producer and hero (It was Naga Chaitanya who set this combination up). All three of them should be appreciated for making this movie happen. Ye Maya Chesave movie should do extremely well in multiplexes and A centers. I wish/hope/want this movie to do well in B/C centers as well. This film has all the ingredients for a movie to remain as a timeless classic. Go and watch it!!
YMC Links:
• Nag interview
• Muhurat
• YMC journal
• Songs details
• Photo gallery
• Wallpapers
• Trailers
• Video songs
Jeevi reviews of previous 5 films
• Leader
• Kedi
• Bindaas
• Seetaramula Kalyanam Lankalo
• Om Shanti
• Sambho Siva Sambho
• Namo Venkatesa
• Adurs
• Saleem
• Amaravathi
• Pravarakhyudu
• Arya 2
• Kurradu
• Village lo Vinayakudu
• Ek Niranjan
• Jayeebhava
• Bendu Appa Rao
• Mahatma
• Ninnu Kalisaka
• Ganesh
• Eenadu
• Banam
• Sankham
• Josh
• Mallanna
• Anjaneyulu
• Snehituda
• Magadheera
• Kalavaramaye Madilo
• Gopi Gopika Godavari
• Oy!
• Evaraina Epudaina
• Current
• Raju Maharaju
• Boni
• Kavya's Diary
• Ride
• Aa Okkadu
• Diary
• Pista
• Prayanam
• Kick
• Veedokkade
• Mitrudu
• Circus Circus
• Adhineta
• Punnam Naagu
• Ananda Tandavam
• Billa
• Bheebatsam
• Manorama
• Aakasamantha
• Sontha Vooru
• Malli Malli
• Mesthri
• Naa girlfriend baga rich
• Drona
• 16 Days
• Satyameva Jayathe
• Siddham
• Nenu Devudni
• Konchem Istam Konchem Kastam
• Shh...
• Arundhati

More Reviews