Story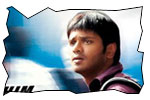 Ajay (Manoj Manchu) and his parents are alienated from a big family of factionists in Rayalaseema. Ajay belongs to the family of Mahendra Naidu (Ahuti Prasad). Seshadri Naidu (Jaya prakash Reddy) is the enemy of Mahendra Naidu. They keep killing the family members of each other. The story of the movie is all about the free spirited Ajay puts an end to these killings.
Artists Performance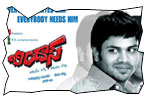 Manoj Manchu: Manoj Manchu deserves a huge round of applause for his terrific work in this movie. Manoj has shown inclination to do something different with Nenu Meeku Telusa and Prayanam movies. Bindaas is a regular commercial film and Manoj Manchu brought a new perspective to his character with his extremely cool attitude. Characterization done by Veeru Potla should also be commended. His dialogue delivery, comedy expressions and dare-devil stunts are really good.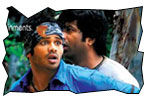 Others: Sheena looks like a kid (not like a heroine of a commercial film) and she is adequate. Vennela Kishore gets an entertaining role and he is really good. Sunil is nice in the supportive role. Master Bharat has done another entertaining character in this movie. Brahmanandam entertains again. MS Narayana is good though his role is a small one.
Technical departments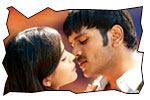 Story - screenplay - direction: Story of the movie is little predictable. The story has some shades in Venky's Kalisundam Raa. What separates this movie from the similar movies that came in the recent months was the treatment and characterizations done by the first time director Veeru Potla. He shows very good promise with this movie and he has it in him to become big in the future. He has got good timing in comedy and entertainment. However, he needs to work on the holistic perspective of the movie.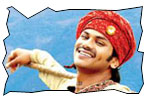 Other departments: Music by Bobo Sashi should have been better. Cinematography is alright. Dialogues by Veeru Potla are huge plus to the movie. There are a good number of humor-laced conversations at regular intervals. Stunts and chases are beautifully coordinated. Producer Anil Sunkara comes up with good production values and publicity.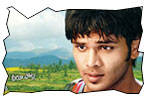 Analysis: First half of the movie is entertaining. Second half goes on predictable mode. Climax is clichéd. Debutant director Veeru Potla shows promise and he has got good grip in entertaining scenes. Plus points of the movie are Manoj Manchu's entertaining performance and entertainment. On the flipside, heroine and music should have been better. The story of Bindaas offers nothing new, but Veeru Potla succeeds in making this movie appear entertaining despite of clichéd story. Bindaas also has enough commercial elements that could work at box office.
Bindaas Links:
• User Reviews
• Music launch
• Photo gallery
• Wallpapers
• Trailers
• Video songs
Jeevi reviews of previous 5 films
• Seetaramula Kalyanam Lankalo
• Om Shanti
• Sambho Siva Sambho
• Namo Venkatesa
• Adurs
• Saleem
• Amaravathi
• Pravarakhyudu
• Arya 2
• Kurradu
• Village lo Vinayakudu
• Ek Niranjan
• Jayeebhava
• Bendu Appa Rao
• Mahatma
• Ninnu Kalisaka
• Ganesh
• Eenadu
• Banam
• Sankham
• Josh
• Mallanna
• Anjaneyulu
• Snehituda
• Magadheera
• Kalavaramaye Madilo
• Gopi Gopika Godavari
• Oy!
• Evaraina Epudaina
• Current
• Raju Maharaju
• Boni
• Kavya's Diary
• Ride
• Aa Okkadu
• Diary
• Pista
• Prayanam
• Kick
• Veedokkade
• Mitrudu
• Circus Circus
• Adhineta
• Punnam Naagu
• Ananda Tandavam
• Billa
• Bheebatsam
• Manorama
• Aakasamantha
• Sontha Vooru
• Malli Malli
• Mesthri
• Naa girlfriend baga rich
• Drona
• 16 Days
• Satyameva Jayathe
• Siddham
• Nenu Devudni
• Konchem Istam Konchem Kastam
• Shh...
• Arundhati

More Reviews