Story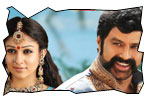 Srimannarayana (Bala Krishna) is a professor at a college. He is a hot-blooded guy and cannot any kind of injustice in the society. He often takes law into his hands and punishes the wrong-doers. Janaki (Sneha Ullal) is a student in the college and she has a mysterious past. A group of goons keeps chasing her and her flashback unfolds one day after Srimannarayana confronts them. The rest of the story is all about another character Simha and how Simha is related to Srimannarayana.
Artists Performance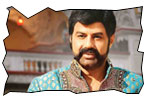 Bala Krishna: Bala Krishna is terrific as Simha in the flashback episode. His dialogue delivery is controlled and is extremely effective. His get-up as Simha is highly respectable and dignified. After a long gap, Bala Krishna fans are going to cherish the looks and performance of Bala Krishna as he plays it to the galleries. His other character of Srimannarayana is also good.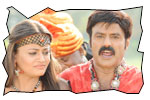 Others: Nayana Tara is very good in the flashback episode with jewellery and traditional wear belonging to lineage of kings. The voice given by Sunitha helps in some key episodes of the movie. Sneha Ullal is improving from film to film and she is good too. Namitha should watch her weight. Kota comes up with another fine performance. There are four other villains. Among the comedians, Krishna Bhagawan's role is entertaining. Venu Madhav and Brahmanandam are clichéd. Jhansi did well with Seekakulam dialect. KR Vijaya did a lengthy role and she is adequate.
Technical departments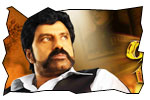 Story - screenplay - direction: Story of the movie is not new, but follows a time-tested formula. Boyapati Seenu who mastered mass treatment to his movies like Bhadra and Tulasi made sure that there are ample commercial elements that satisfy the thrust of masses and fans. He projected Bala Krishna in the right way and extracted powerful mass performance. Screenplay of the movie is predictable. Direction is good in parts. Though masses might like it, the violence in the movie is very excessive. He should have softened blood-shed and tamed the commercial elements to make this movie a universally appealing one.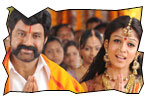 Other departments: Music by Chakri is okay. Bangaru Konda is my personal favourite and it is picturized well. Cinematography is nice. Dialogues by Boyapati Seenu deserve a special mention. He wrote powerful dialogues to Bala Krishna and made sure that Bala Krishna delivers them to the maximum effect. Editing is alright. Producer has spent a lot of money on the movie and it is shown on screen.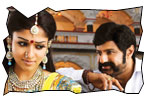 Analysis: First half of the movie is adequate. The flashback episode is established well. The climax should have been more effective. The plus points of the movie are Bala Krishna performance (and dialogues) and mass elements. On the flip side, there is excessive violence/fights in the movie. Simha movie generated tremendous pre-release positive buzz and it resulted in humongous openings. It is the masses who make any movie blockbuster and this movie has ample mass elements. Simha is going to be a feast for the fans of Bala Krishna. We have to wait and see how Simha is going to capitalize summer advantage.
Simha Links:
• User reviews
• Music function
• Muhurat
• Press meet
• Photo gallery
• Wallpapers
• Trailers
• abroad
USA | UK | Aus | Kuwait
Jeevi reviews of previous 5 films
• Darling
• Prasthanam
• Varudu
• Maro Charitra
• Taj Mahal
• Ye Maya Chesave
• Leader
• Kedi
• Bindaas
• Seetaramula Kalyanam Lankalo
• Om Shanti
• Sambho Siva Sambho
• Namo Venkatesa
• Adurs
• Saleem
• Amaravathi
• Pravarakhyudu
• Arya 2
• Kurradu
• Village lo Vinayakudu
• Ek Niranjan
• Jayeebhava
• Bendu Appa Rao
• Mahatma
• Ninnu Kalisaka
• Ganesh
• Eenadu
• Banam
• Sankham
• Josh
• Mallanna
• Anjaneyulu
• Snehituda
• Magadheera
• Kalavaramaye Madilo
• Gopi Gopika Godavari
• Oy!
• Evaraina Epudaina
• Current
• Raju Maharaju
• Boni
• Kavya's Diary
• Ride
• Aa Okkadu
• Diary
• Pista
• Prayanam
• Kick
• Veedokkade
• Mitrudu
• Circus Circus
• Adhineta
• Punnam Naagu
• Ananda Tandavam
• Billa
• Bheebatsam
• Manorama
• Aakasamantha
• Sontha Vooru
• Malli Malli
• Mesthri
• Naa girlfriend baga rich
• Drona
• 16 Days
• Satyameva Jayathe
• Siddham
• Nenu Devudni
• Konchem Istam Konchem Kastam
• Shh...
• Arundhati

More Reviews