Story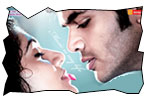 Balu (Manoj Manchu) has only one mission in his life - to become a great playback singer like SP Balu. He challenges a landlord in his village and comes to Hyderabad to become a singer. Captain Rao (Mohan Babu) stays in the opposite house. He is an old-fashioned man who hates the lifestyle of new generation. Sravya (Tapsee) is an NRI girl who stays in her father's friend Captain Rao's house. She is in India to do documentary on traditional Telugu music. Balu acts as a local guide to her and in the process, they fall in love. Captain Rao doesn't like them fall in love. The rest of the story is all about Captain Rao's restrictions and how the lovers emerge unscathed.
Artists Performance
Manoj Manchu: Manoj Manchu comes up with another rocking performance in this movie. His styling and dialogue delivery is more like of those characters we see in comic books and video games that are developing using comic books. His performance in the confrontation scene leading to interval is good. He matched the screen presense and comedy timing of Mohan Babu in the scenes involving both of them.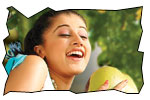 Tapsee: K Raghavendra Rao gives Telugu film industry another commercial heroine in the form of Tapsee. She has good camera friendly looks and reminded me of Rambha in many ways. She is effervescent and bubbly. She is good at acting too. It is no wonder that she grabbed many projects before the release of her first movie. She is going to be a good glamorous heroine in Telugu. It is up to her to choose right projects to make herself a performing actress too.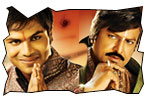 Others: Mohan Babu plays the third most important character in the film. It is nice of Mohan Babu to allow others (including comedians) to have satires on him (especially 'I appreciate you' dialogue). He is comical most of the time and performed with extreme passion in intense scenes. Brahmanandam entertains though his comedy is of old-fashioned type. Ali is humorous as 'naa name ranjith. Naa game encounter'. MS Narayana is extremely funny as the sidekick of Mohan Babu. Suman, Dharmavarapu, Apoorva, Sudha, Ahuti Prasad and Aishwarya are adequate. Tanikella Bharani is powerful in a small role.
Technical departments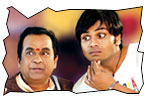 Story - screenplay - direction: The basic story given by Bhupati Raja is simple. K Raghavendra Rao handled this simple story in a simplistic way by including adequate commercial elements so that it reaches everybody. Screenplay of the movie is adequate. K Raghavendra Rao proves that there is no retirement for creativity and age never becomes a disadvantage while dealing with romantic subjects. He has shown the heroine Tapsee in the most glamorous way. He also made sure that there is something in the film for A/B/C center audiences. There are a few old-fashioned scenes for the sake of commercial elements. But they are minimal and they don't disturb the flow of the narration. There is trademark of K Raghavendra Rao in songs picturization of the movie.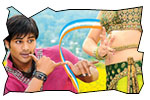 Other departments: Music by MM Keeravani is good and background music is also handled well. I rate the 3rd song (shot in Kerala) as the best song in the movie. The last song (desamante Mattikadoi) is the life of the movie. All songs are picturized colourfully. Cinematography by S Gopal Reddy is very good. However, he should have shot stunt sequences in a better way. Dialogues by Rajasimha are good. Editing by Marthand K Venkatesh is smooth. Art direction by Raghu is neat. Production values by debutant producer Lakshmi Manchu are very good with rich visuals.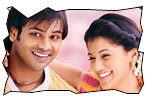 Analysis: First half of the movie is nice. Tempo goes down in the second half a bit. The climax song makes it up for all. Plus points of the film are main leads (Manoj's comedy and Tapsee's glamour) and K Raghavendra Rao's commercial elements coupled with attractive music/visuals. On the flip side, old-fashioned story might not be liked by urbane crowds. On a whole, Jhummandi Naadam is a film that has something for every kind of audience (A, B or C). It is a K Raghavendra Rao's masala entertainer that has all ingredients do well at box office.
Jhummandi Naadam Links:
• User reviews
• Lakshmi interview
• Music review
• Music launch
• Press meet 2
• Press meet 1
• Photo gallery
• Working stills
• Wallpapers
• Trailers
Jeevi reviews of previous 5 films
• Vedam
• Awara
• Andari Bandhuvaya
• Rama Rama Krishna Krishna
• Simha
• Darling
• Prasthanam
• Varudu
• Maro Charitra
• Taj Mahal
• Ye Maya Chesave
• Leader
• Kedi
• Bindaas
• Seetaramula Kalyanam Lankalo
• Om Shanti
• Sambho Siva Sambho
• Namo Venkatesa
• Adurs

More Reviews