Story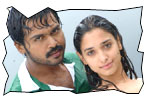 Shiva (Karthi) is a carefree guy who no goal in life. He falls in love with a girl called Charu Latha (Tamanna) at first sight. He acts as a cab driver in order to get to know her. She is in trouble and he needs to save her from the goons sent by her bad father who wants to forcibly marry her off. Shiva likes the idea of spending some time with her in cab while saving her from goons. She asks him to take her to Mumbai and and his past in that city catches up with him as he reaches Mumbai. The rest of the story is all about how Shiva attracts the attention of Charu and wins her love in the middle of chases and fights.
Artists Performance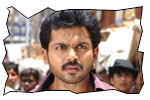 Karthi shed some weight compared to his debut film Yuganiki Okkadu. He has unique sweetness and innocence his face though he looks rough. He should be appreciated more because he has taken pains to learn Telugu and dub his own voice. For a first timer he has done reasonably good job with dubbing and he will improve his diction and flow as he do more movies. He is a decent actor. Tamanna is endearing as a girl in trouble. Sonia (Happy Days fame) did the role of one of friends of hero and she is good (she didn't dub her voice). Milind Soman is alright as the villain. All other actors are of non-Telugu origin.
Technical departments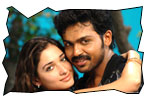 Story - screenplay - direction: Basically it is a road movie where hero who is in love with heroine goes to any extent to be in presence of her. He does everything to protect her from all evil forces and there by winning her love. Films of this nature are extremely difficult to narrate because they have single thread and they don't afford the luxuries of typical Telugu/Tamil commercial paddings. Director Linguswamy comes up with an engaging first half, but runs out of ideas in second half where he had to fill it up with continuous fights. Screenplay of the movie is very good except for the latter portion of the movie.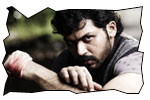 Other departments: Music by Yuan Shankar Raja is nice. Most of the songs in this film are situational with montage shots. Cinematography by Mathi is good. Dialogues are laced with humor. Editing by Anthony is adequate. Fights are well choreographed.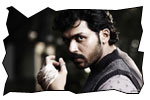 Analysis: First half of the movie is entertaining. Second half is little heavy with continuous fights. The plus points of the movie are engaging storytelling and the lead pair. On the flip side, the story line might prove to be too thin for a film of 2 and half hours of runtime. On a whole, Awara is a decent road movie with adequate entertainment.
AwaraLinks:
• Press meet
• Photo gallery
Jeevi reviews of previous 5 films
• Andari Bandhuvaya
• Rama Rama Krishna Krishna
• Simha
• Darling
• Prasthanam
• Varudu
• Maro Charitra
• Taj Mahal
• Ye Maya Chesave
• Leader
• Kedi
• Bindaas
• Seetaramula Kalyanam Lankalo
• Om Shanti
• Sambho Siva Sambho
• Namo Venkatesa
• Adurs

More Reviews