Story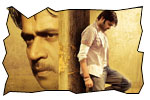 Rama Krishna (Ram) is the son of a Gandhipuram village president (Nassar). His father is a strict disciplinarian and wants Rama Krishna to be perfect. Rama Krishna is a funny youngster who pretends to be good in the presence of his father but does a lot of mischief on his back. Ashok (Arjun) is a mafia don in Mumbai and he goes into a sabbatical after the death of his his wife. Ashok along with his two sisters settles in Gandhipuram. Rama Krishna unfortunately gets in to the bad books of Ashok. Meanwhile,. Ashok's past catches up. The rest of the story is all about how Rama Krishna uses his intelligence and muscle power to achieve the good will of both his father and Ashok.
Artists Performance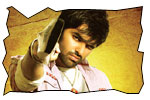 Ram comes up with yet another energetic performance. His dialogue delivery in Godavari dialect is nice. NTR gave the voiceover to the introducing of hero character.Arjun suited the role well and he dubbed his own voice. Priya Anand is alright as female lead. Bindu Madhavi's role is pretty much limited. Naseer is extremely good. Brahmanandam's character doesn't offer required level of comedy. Pruthvi and Bharat are entertaining. Srinivas Reddy is one of the most promising comedians who can generate laughter with his dialogues like Ali and Krishna Bhagawan. He is good in this movie. Gracy Singh did a small role as Arjun's wife. Sekhar's (Chatrapati fame) performance is odd in the first half.
Technical departments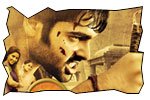 Story - screenplay - direction: Story of the movie is little formulaic with inspirations from films like Basha (Arjun's character) and Bangaru Bullodu (villains searching for hero in villages). Unlike earlier movies, the director preferred straight narration where the mafia don's role is revealed in the first scene of the movie. Srivas penned a commercially viable screenplay by mixing sentiment and action. The aspect of interval where the thread of hero converges with the thread of Arjun is the best point of the movie. Direction of the movie is okay in parts.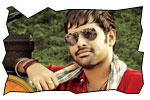 Other departments: I liked title song and Sankranthi song (2nd song) in this movie. Tugo Jilla comes at the right time. All other songs are not effective. The song bits (mostly rap style) are interesting. Cinematography by Sekhar V Joseph is just okay. But the producer didn't seem to have taken proper care in post-production of the movie. There is no DI (color grading). Most of the CG work is okay (chase sequences and blasting of vehicles), but it's hazy in some of the vital parts (especially hero's intro scene). Dialogues by M Ratnam are good in parts. Production values are good by Dil Raju.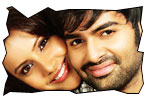 Analysis: First half of the movie is alright. Interval episode is good. Second half becomes predictable. Climax should have been better. The plus points of this movie are Ram, Arjun and commercial elements. This movie suffers from predictability and lack of freshness in second half. On a whole, RRKK is a commercial film that is intended to cater to families and masses. We have to wait and see if this movie clicks with the target audiences or not.
RRKK Links:
• User reviews
• Ram interview
• Music function
• Muhurat
• Press meet
• Photo gallery
• Wallpapers
• Trailers
• abroad USA | UK
Jeevi reviews of previous 5 films
• Simha
• Darling
• Prasthanam
• Varudu
• Maro Charitra
• Taj Mahal
• Ye Maya Chesave
• Leader
• Kedi
• Bindaas
• Seetaramula Kalyanam Lankalo
• Om Shanti
• Sambho Siva Sambho
• Namo Venkatesa
• Adurs
• Saleem
• Amaravathi
• Pravarakhyudu
• Arya 2
• Kurradu
• Village lo Vinayakudu
• Ek Niranjan
• Jayeebhava
• Bendu Appa Rao
• Mahatma
• Ninnu Kalisaka
• Ganesh
• Eenadu
• Banam
• Sankham
• Josh
• Mallanna
• Anjaneyulu
• Snehituda
• Magadheera
• Kalavaramaye Madilo
• Gopi Gopika Godavari
• Oy!
• Evaraina Epudaina
• Current
• Raju Maharaju
• Boni
• Kavya's Diary
• Ride
• Aa Okkadu
• Diary
• Pista
• Prayanam
• Kick
• Veedokkade
• Mitrudu
• Circus Circus
• Adhineta
• Punnam Naagu
• Ananda Tandavam
• Billa
• Bheebatsam
• Manorama
• Aakasamantha
• Sontha Vooru
• Malli Malli
• Mesthri
• Naa girlfriend baga rich
• Drona
• 16 Days
• Satyameva Jayathe
• Siddham
• Nenu Devudni
• Konchem Istam Konchem Kastam
• Shh...
• Arundhati

More Reviews