Story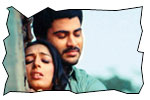 Nandu (Sharwanand) is a youngster who moves to city to join his job. Padma, a soul bread winner in the family of all four women (she stays with her mother and two sisters) is his neighbour. Nandu and Padma work in the same office. While Nandu is a large-hearted fellow who believes in rendering unconditional help for others, Padma is a mean-minded lady who only cares for her family. The rest of the story is all about how Nandu influences Padma and how they resolve further issues.
Artists Performance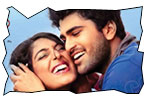 Sharwanand is proving to be an excellent actor and his films seem to be quite reliable. Except for Raju Maharaju, he has been choosing scripts very carefully since Gamyam. His intention to go for different subjects is appreciable. His performance in the scene after spending one-day with father is natural (you can observe his squeaking/choking voice and broken dialogues). Padma Priya is a good actress though her looks might not of the regular commercial heroine material. In certain close-ups she reminds us of Tabu. Her performance is clean. Sunita's dubbing is very good, as usual. Aryan (one of the main leads in Housefull) is excellent as an NRI. His dialogue delivery and expressions are really good. Naresh is very good as father of hero. He got an acting role that suited him after many years. I had never seen actress Pragati so natural in any of her earlier movies. She is just like a beautiful and caring mother in our households. RK is neat as a moneylender. Vijay Sai is good. The girl who acted as a younger sister of heroine is spontaneous as a mischevious girl . She looks to be modelling herself after Colors Swati.
Technical departments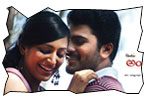 Story - screenplay - direction: Story of the movie is idealistic and noble. The character of Nandu appears more like younger version of Raghuram (Aa Naluguru). If the story of Aa Naluguru is heavy and melodramatic, the story of Andari Bandhuvaya is in lighter-vein. Screenplay of the movie is natural in the first half and appears little forced in the second half. Direction is good in parts. Director Chandra Siddhartha came up with natural characterizations and cast the right actors to carry the job. However, the NRI groom thread appears artificial and forced in the second half. It also cheap for a noble character like Nandu to behave that way. Director Chandra Siddhartha should be commended for attempting a film that says no to regular commercial stuff.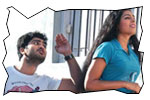 Other departments: Music by Anoob Rubens is good. However the last song is forced when compared to other songs. Cinematography by JK Gummadi is pretty good. Dialogues by Balabhadrapatruni Ramani are mostly natural. Editing is alright. This movie doesn't use much of technology as it's a story based movie.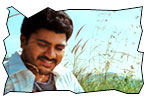 Analysis: First half of the movie is smooth. Screenplay in the second half appear forced (especially NRI groom episode) in order to increase the runtime. The plus points in the movie are noble intentions, nice characterizations and right casting. On the flip side, this movie doesn't show the negative side of free donations. The entire movie has mostly positive characters which don't exist in real life. There is a dialogue in a Bapu's film – samajamlo manchi vallu chedda vallu ani vere veruga vundaru. Avasaralani batti machi vallaga chedda vallaga tayaravutaru. Though the movie is made with noble intent, it is far away from reality. We have to wait and see how the movie is received by the movie lovers.
Andari Bandhuvaya Links:
• User reviews
• director interview
• Music function
• Muhurat
• Press meet 1
• Press meet 2
• Photo gallery
• Wallpapers
• abroad USA
Jeevi reviews of previous 5 films
• Rama Rama Krishna Krishna
• Simha
• Darling
• Prasthanam
• Varudu
• Maro Charitra
• Taj Mahal
• Ye Maya Chesave
• Leader
• Kedi
• Bindaas
• Seetaramula Kalyanam Lankalo
• Om Shanti
• Sambho Siva Sambho
• Namo Venkatesa
• Adurs
• Saleem
• Amaravathi
• Pravarakhyudu
• Arya 2
• Kurradu
• Village lo Vinayakudu
• Ek Niranjan
• Jayeebhava
• Bendu Appa Rao
• Mahatma
• Ninnu Kalisaka
• Ganesh
• Eenadu
• Banam
• Sankham
• Josh
• Mallanna
• Anjaneyulu
• Snehituda
• Magadheera
• Kalavaramaye Madilo
• Gopi Gopika Godavari
• Oy!
• Evaraina Epudaina
• Current
• Raju Maharaju
• Boni
• Kavya's Diary
• Ride
• Aa Okkadu
• Diary
• Pista
• Prayanam
• Kick
• Veedokkade
• Mitrudu
• Circus Circus
• Adhineta
• Punnam Naagu
• Ananda Tandavam
• Billa
• Bheebatsam
• Manorama
• Aakasamantha
• Sontha Vooru
• Malli Malli
• Mesthri
• Naa girlfriend baga rich
• Drona
• 16 Days
• Satyameva Jayathe
• Siddham
• Nenu Devudni
• Konchem Istam Konchem Kastam
• Shh...
• Arundhati

More Reviews