Story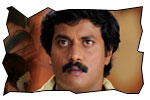 Ramu (Sunil) is a hard-working youngster from Hyderabad. He is forced to visit his village in Rayalaseema to sell off his land so that he can invest that money to buy an auto. On his way to village he meets a beautiful girl Aparna (Saloni). Ramineedu (Nagineedu) is a landlord in that village and is obsessed with providing great hospitality to his guests. Due to certain circumstances, Ramu goes to the house of Ramineedu as a guest and Aparna is the daughter of Ramineedu. Ramineedu in the past had few family feuds with Ramu's family. Ramu is not aware of this flashback. Since Ramineedu is known for his hospitality, he doesn't want to kill Ramu while he stays in his house. The rest of the story is all about how Ramu escapes from his death trap.
Artists Performance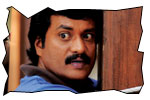 Sunil: We have always seen Sunil doing slap-stick comedy with into-your-face antics in his past movies. He is completely fresh and acted like a normal actor in Maryada Ramanna. He gave a natural and controlled performance. It is tough job and Sunil perfectly executes it. His dances are amazing in two songs and his body language during dances resembles that of Chiranjeevi.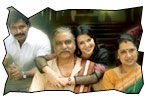 Others: Saloni is refreshing in this movie. She is pretty good. Dubbing done by Sowmya is excellent. New actor Nagineedu impresses with his looks, voice and acting. Brahmaji gets another interesting character in this film after Athadu and Ek Niranjan. Supreet is nice. Rao Ramesh and Kanchi are loud in the movie (may be character demanded it). Anuj Gurwara (Panchadara bomma singer) acted in a small role. A special mention should be given for Ravi Teja who gave voiceover to Sunil's cycle.
Technical departments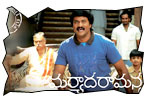 Story - screenplay - direction: Story of the movie is simple and wafer-thin. It needs tremendous skills to pen screenplay for this story. Rajamouli comes up with a fabulous job in screenplay department. 70% of the movie takes place in a house. Hero wants to stay in house as villain wants him out of the house. There are three points of view in the story and Rajamouli clearly establishes the situation and plays around with these these points of view. The usage of cycle thread and sketch book thread is also impact-making. The progression in second half might appear slow because of the nature of the story. The director made sure that there is something in climax to make this movie worthwhile. Direction of the film is good. But, Rajamouli couldn't get some of the scenes right in the movie (example: Kanchi comedy episode in train). The change of heart for Brahmaji also appears forced.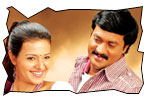 Music: I should give 50% of the credit for the feel in the movie to the music and back ground score. The flashback scene in the beginning of film would have been routine and boring but for the bit song composed by Keeravani. All songs in this movie are good. Keeravani used words in the background score to get the desired impact.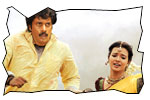 Other departments: Dialogues by Kanchi are neat. Cinematography by Ram Prasad is very good. Sunil never looked so handsome in his earlier movies. The house set constructed by art director Ravinder is excellent. Choreography is excellent. CG work is neat (especially fireflies). Editing is fine. Proper care was taken for costumes and styling by Rama in order to make the artists look natural.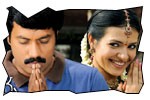 Analysis: First half of the movie is good. Second half is neat. Climax has right emotions to make the audiences come out of the theatre with a good feel. The progression in second half is slow because of the nature of story line. The plus points are Rajamouli's screenplay and Keeravani's music/background score. We should appreciate Rajamouli who is riding high on success wave to choose a movie like Maryada Ramanna and directing it. This movie is not without it's share of flaws, but they fade away because of the treatment given by Rajamouli. I would dare to call Maryada Ramanna as a musical comedy. Go and watch it.
Maryada Ramanna Links:
• User reviews
• Rajamouli interview
• Sunil interview
• Keeravani interview
• Saloni interview
• Shobu interview
• Music review
• Music launch
• Press meet
• Muhurat
• Photo gallery
• Working stills
• Wallpapers
• Trailers
Jeevi reviews of previous 5 films
• Jhummandi Naadam
• Vedam
• Awara
• Andari Bandhuvaya
• Rama Rama Krishna Krishna
• Simha
• Darling
• Prasthanam
• Varudu
• Maro Charitra
• Taj Mahal
• Ye Maya Chesave
• Leader
• Kedi
• Bindaas
• Seetaramula Kalyanam Lankalo
• Om Shanti
• Sambho Siva Sambho
• Namo Venkatesa
• Adurs

More Reviews