Story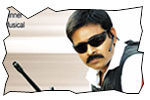 Komaram Puli (Pawan Kalyan) is born to a lady (Saranya) who were tormented by Al Saleem (Manoj Bajpai). Al Saleem kills Komaram Puli's father. Puli's mother makes sure that she brings Puli up as a cop. Puli saves PM of India from an assassination attempt in Thailand. Impressed with Puli, PM of India authorizes him to come up with his own team to solve the problems and bring down the crime rate at a faster pace. In the process Puli stumbles upon a case that leads him to Al Saleem who became a kingmaker in AP by now. The rest of the story is all about how Puli brings Al Saleem to book.
Artists Performance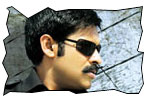 Pawan Kalyan: Pawan Kalyan is always known for honesty and authenticity. He gave a tremendous performanced as a super cop in this movie. When he utters powerful dialogues about conviction and system, you would actually believe that they are coming straight out of his heart. He has put on a bit of weight compared to his earlier movies in order to suit the character. Pawan Kalyan never had such dialogue-oriented serious movie in the past. Hence his dialogues and speeches in Komaram Puli have flavor of Chiranjeevi's diction. However, he looks detached and unemotional in romance episodes.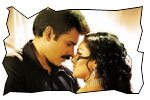 Others: Nikesha Patel is adequate. Saranya gives terrific performance again after Vedam. She is extremely good in the counter scene with the villain in the second half. Manoj Bajpai performs well in the role of villain which gets eccentric as the climax approaches. Ravi's dubbing helped his character a lot. Shriya did a solo item song and has a couple of scenes as well. Nassar is good. Charan Raj is fine. Ali is alright.
Technical departments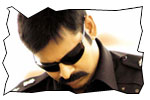 Story - screenplay - direction: The basic storyline is promising and is made with a noble intent. The director who made a sensible and sophisticated love story like Kushi tried his hand at hard-hitting cop flick this time. He couldn't get the ingredients right. The basic story of mother contributing to amend the corrupted cop system by making her son a super cop has good commercial potential. But the director failed in screenplay department and logical aspect. It is a story of a honest cop, but the way he does his job is highly flamboyant. Hence there is a lot of mismatch between the characterization and story. The director could get scenes leading to interval and climax right. But filled the rest of the movie with shady action sequences, unending speeches and a pathetic love story. The following points are highly unconvincing in the movie -
1. The director has shown Malaysia to pass it as Hyderabad. The helipad of Times Sqauare, Kuala Lumpur is used for a few vital sequences. Hence it will create confusion among the audiences.

2. The concept of Puli Team and having rupee-box-telephone system is highly impossible. Our state has over 10 crore people and it will be impossible to personally monitor for a single man with limited resources.

3. What is the need for hero to have a huge convoy. He travels alone (no other cops in the vehicle) in a Mitsubishi Pajero and he will have six cops (traveling in bikes) giving him security. Puli is the one who should give security to people and he travels like a VVIP.

4. The character of hero is made dumb in all love episodes of the movie.
The sequence of birth of hero is inspired from Apocalypto (jeevi review here) movie. The climax technique was earlier used in films like Kanchanamala Cable TV, Victory and Gaayam 2 in the past.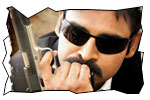 Other departments: Songs scored by AR Rahman are good. But the songs aren't picturized in an attractive manner. None of the songs make an impact. Background music is adequate. Dialogues by SJ Surya are both strength and weakness to this movie. Some of the dialogues are brilliant and Pawan Kalyan made sure that they create an impact. On the flip side, too many dialogues in the movie make it verbose and redundant. Cinematography is good. Visual Effects in the introduction fight and climax fight are bad (probably the visual effects team were not given enough footage/time). Editing is poor and there are many boring love episodes in the movie and trimming those scene will not do any harm. Producer has spent enormous amount of money and it shows.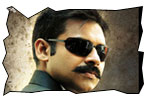 Analysis: Honesty and flamboyance don't go well together in any movie. You can't have flamboyant characterization for a honest story. If the director want to do a sincere cop movie, why does he has to give a james-bond type of characterization (I observed the similar mismatch in yesteryear's release Mallanna). The entire movie is divided into four parts - mother sentiment, speeches, action episodes and romance. The director succeeds in mother sentiment aspect. Speeches are partly good. Action sequences and romance part are negatives to the movie. There is a newspaper headline in this movie that reads as - elukanu pattina puli. After spending such amount of budget and creating huge hype, the final product delivered suit the headline mentioned above. On a whole, Komaram Puli disappoints despite of terrific performances of Pawan Kalyan and Saranya.
Komaram Puli Links
• User reviews
• Music launch
• Photo gallery
• Working stills
• Wallpapers
• Trailers
Jeevi reviews of previous 5 films
• Don Seenu
• Maryada Ramanna
• Jhummandi Naadam
• Vedam
• Awara
• Andari Bandhuvaya
• Rama Rama Krishna Krishna
• Simha
• Darling
• Prasthanam
• Varudu
• Maro Charitra
• Taj Mahal
• Ye Maya Chesave
• Leader
• Kedi
• Bindaas
• Seetaramula Kalyanam Lankalo
• Om Shanti
• Sambho Siva Sambho
• Namo Venkatesa
• Adurs

More Reviews