Story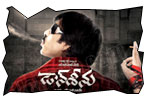 Seenu (Ravi Teja) runs away from his family when he is a kid. Seenu is a great fan of Amitab Bachchan and Don film. He fancies himself to become Don one day. There are two mafia kingpins (Srihari and Sayaji Shinde) in Hyderabad. Seenu wants to join one of these dons and grow up in the ranks. In the process he is forced to go to Swiss to seduce the sister of one of the dons (Shriya). The rest of the story is all about how Seenu realises his dream and also settles personal score in the process.
Artists Performance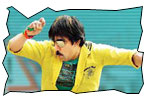 Ravi Teja: Ravi Teja brings fabulous energy and entertainment with his interpretation of character. And we never get tired of his kind of comedy. All he needs is an average script to make a film hit. Ravi Teja is excellent in mimicking Amitab Bachchan.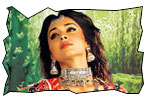 Others: Shriya is seen in a Telugu straight film after a long gap. She is nice. New actress Anjana Sukhani is good in the role of second heroine. Srihari repeats his role after Dhee and King. Mahesh Manjrekar has a spineless role of international don. Ali entertains a lot in the swiss episode though there are double meaning dialogues. Venu Madhav's comedy episodes are good. Brahmanandam partly entertains in the second half. Brahmaji and Sayaji Shinde are adequate.
Technical departments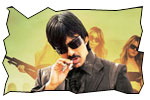 Story - screenplay - direction: Story of the movie is routine and is of Seenu Vytla's kind. It has resemblance to Seenu Vytla's movies like Dhee, Ready and King. Screenplay is nice in the first half, but is messed up in the second half. Debutant director Gopichand Malineni shows promise and succeeds in getting the entertainment scenes right, but fails in narrating the movie in a crisp manner in the second half. There are too many loose ends and uninteresting moments in the second half. However, I liked the following scenes in the movie -
1. The usage of 'bhavani gang' term in the kid's intro scene.
2. Ravi Teja interaction with the pop-up of Amitabh in some scenes.
3. Interval twist
4. Ravi Teja's performance as a mute guy in the second half.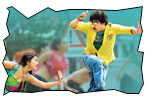 Other departments: Cinematography by Sameer Reddy is adequate. Dialogues by Kona Venkat are interesting. Music by Mani Sharma is average. So is the background music. No proper care is taken during the post-production process and it shows up. Editing is ok. Stunt sequences are adequate and they look forced.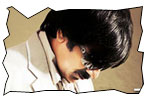 Analysis: First half of the movie is entertaining with a nice interval twist. The graph in the second half goes down as the climax progresses. Mute episode is good in the second half. Climax should have been better. The plus points in the movie are Ravi Teja's performance and entertainment. On the flip side, a better second half would have helped the movie. There are a few double-entendre scenes in the movie. We have to wait and see how it performs at Box Office.
Don Seenu Links
• User reviews
• Music launch
• Press meet
• Muhurat
• Photo gallery
• Working stills
• Wallpapers
• Trailers
Jeevi reviews of previous 5 films
• Maryada Ramanna
• Jhummandi Naadam
• Vedam
• Awara
• Andari Bandhuvaya
• Rama Rama Krishna Krishna
• Simha
• Darling
• Prasthanam
• Varudu
• Maro Charitra
• Taj Mahal
• Ye Maya Chesave
• Leader
• Kedi
• Bindaas
• Seetaramula Kalyanam Lankalo
• Om Shanti
• Sambho Siva Sambho
• Namo Venkatesa
• Adurs

More Reviews