Story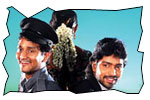 Srinivas (Srinivas Avasarala) completes his studies in USA and returns his hometown. Rangababu (Allari Naresh) is the driver to Srinivas. Srinivas's father (Jeeva) is a greedy person and he wants Srinivas to get married to Manimala (Madhurima Benarjee) who is the daughter of a rich man and retired military officer (Ahuti Prasad). Srinivas decides to swap roles with Rangababu so that he could test the character of his future-in-laws. Things go wrong as they reach the house of Manimala. The rest of the story is all about the comedy of errors.
Artists Performance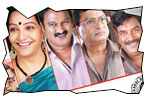 Allari Naresh is a fine comedy actor and Vamsy enhances Naresh's comedy timing. Srinivas Avasarala who came up with an amazing job in Ashta Chemma has limited scope in this movie and he has done well. Madhurima Benerjee is nice. Ahuti Prasad is hilarious as an old man obsessed with punishing others for trivial mistakes. Krishna Bhagawan entertains again with his typical dialogue delivery. Jeeva, Jayalalitha, Sana, Kondavalasa and Duvvasi Mohan are adequate.
Technical departments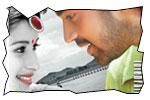 It's a film of 'comedy of errors' genre. Vamsy made sure that his kind of comedy is clicked in this movie. Screenplay of the movie is predictable and direction is old-fashioned. He made sure that he uses trees to maximum effect in a song. Music by Chakri is adequate. Background score and re-recording is bad. Director Vamsy rendered a couple of songs. Songs appear as speed-breakers to the narration. Cinematography by Loki is average. They haven't used proper lighting in outdoor shoots. Dialogues by Padala Siva Subramanyam are good. Production values of the movie are cheap.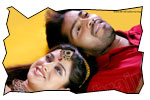 Analysis: First half of the movie is entertaining. Second half is predictable and climax is routine. Plus points of the movie are Allari Naresh and comedy. The negative points are predictable second half and cheap production values. Though it is a typical story with a predictable screenplay, Vamsy's comedy timing and dialogues makes Saradaga kasepu is decent watch.
Saradaga Kasepu Links
• User reviews
• Music launch
• Photo gallery
• Wallpapers
Jeevi reviews of previous 5 films
• Komaram Puli
• Don Seenu
• Maryada Ramanna
• Jhummandi Naadam
• Vedam
• Awara
• Andari Bandhuvaya
• Rama Rama Krishna Krishna
• Simha
• Darling
• Prasthanam
• Varudu
• Maro Charitra
• Taj Mahal
• Ye Maya Chesave
• Leader
• Kedi
• Bindaas
• Seetaramula Kalyanam Lankalo
• Om Shanti
• Sambho Siva Sambho
• Namo Venkatesa
• Adurs

More Reviews