Story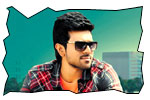 Ram (Ram Charan Tej) is an youngster staying in Australia. He is an honest guy who doesn't want to complicate life by lying to others. He has clear-cut ideas about love and he thinks that the intensity of love will not remain the same as the relationship progresses. He falls in love at first sight with Jaanu (Genelia) and impresses her over a period of time. However, he clarifies that he can't love her forever when she proposes to him. The rest of the story is about all the hurdles he comes across due to his honesty and truth-telling nature and how he overcomes them.
Artists Performance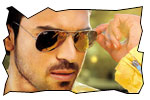 Ram Charan Tej: Ram Charan Tej should be appreciated for accepting such a honest subject with a thin story line for his third movie. It shows that Charan is not trying to stick to stardom and is not willing to repeat the mistakes performed by stars. The entire films runs on his characterization. He is brilliant in the break-up scenes and I loved his don't-give-a-damn body language. His dances are full of energy and life.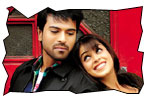 Others: Genelia's characterization is just an extension to her Bommarillu character. However, the initial scenes involving her are not good. Hero character falls in love with heroine character in the movie because of freshness and innocence (which was there in Bommarillu character). However she didn't carry such a freshness in this movie. Shahzahn Padamsee looks gorgeous with an endearing smile. Brahmanandam is entertaining in a full-length role of Puppy. Praneeth (Avakai Biryani fame) is very good and engaging as a friend of hero. His mixed the style of Siddharth and Sekhar Kammula in his dialogue delivery. Srinivas Avasarala (Ashta Chemma fame) is cool. Vennela Kishore doesn't have much role to play. Prabhu is adequate in a role of negative shades. Naga Babu played a nice role and his character gives food for thought to hero. Gayatri Rao, Sanchitha Shetty and Kalpika are adequate.
Technical departments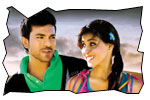 Story - screenplay - direction: Bhaskar comes up with an unique and nice story that was never dealt on Telugu screen before. The basic point of love staling out over period of a time is an universal truth. Bhaskar explained the same with the 'black and white' characterization of Charan. Though he couldn't get it right with his screenplay and back/forth narration in the first half, he explained the concept of the movie really well towards the climax with a gripping flashback and climax. Bhaskar who has done a beautiful film like Bommarillu with completely positive characters has infused negative shades in the heroine's father characters in his subsequent films like Parugu and Orange. Having Prabhu's character as negative one spoilt the mood/texture of the movie.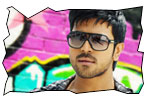 Other departments: Songs scored by Harris Jayaraj are peppy and energetic. Rooba Rooba song is my favorite. However the background scored for the movie didn't help in elevating the situations. Dialogues (done by three writers) are partly okay. The philosophical dialogues explaining the concept of love are interesting in the second half. Cinematography and visuals are very good. Cinematography for the entire Mumbai episode is excellent. Marthand K Venkatesh opted for montage style editing (which is usually done for situational songs) for scenes in the first half and they appear jerky because the background score didn't sync with the visuals. Production values by Anjana Productions are good, but the producer failed in controlling the budget as the money spent for this movie didn't translate onto the screen (Naga Babu claimed in an interview that he spent 90% of what it cost to make Magadheera).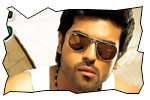 Analysis: This movie starts off on a dull note. But it gets interesting as Charan's characterization is introduced. First half of the movie is inconsistent with improper pacing. However, movie gets into the groove from the flashback episode and it becomes a conversational film till climax. Bhaskar has taken a beautiful concept as the basis for story and it needs extreme dexterity to narrate such a story to common moviegoer. Bhaskar succeeded in getting it right towards the climax of the movie. But the ultra-modern orientation and conversations-based treatment might put normal movie goer off the hook. The plus points are Ram Charan Tej, Songs and basic story idea. On the flip side, freshness from heroine and a better handling of the first half would have done wonders to the movie. As for as I am is concerned I am convinced with the second half of the movie and I liked it. On a whole, Orange is an honest film with a nice story idea despite inconsistencies and a few dull moments. You may watch it!
Orange Links
• Music launch
• Muhurat
• Photo gallery
• Wallpapers
• Trailers
Jeevi reviews of previous 5 films
• Yemaindi Ee Vela
• Kalyanram Kathi
• Rakta Charitra 1
• Khaleja
• Robo
• Saradaga kasepu
• Komaram Puli
• Don Seenu
• Maryada Ramanna
• Jhummandi Naadam
• Vedam
• Awara
• Andari Bandhuvaya
• Rama Rama Krishna Krishna
• Simha
• Darling
• Prasthanam
• Varudu
• Maro Charitra
• Taj Mahal
• Ye Maya Chesave
• Leader
• Kedi
• Bindaas
• Seetaramula Kalyanam Lankalo
• Om Shanti
• Sambho Siva Sambho
• Namo Venkatesa
• Adurs

More Reviews