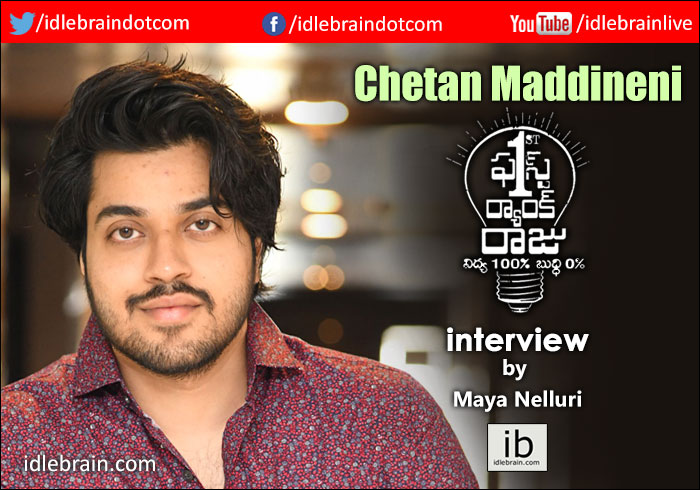 21 June 2019
Hyderabad
Chetan of First Rank Raju which released today speaks exclusively to Idlebrain about his childhood dreams of being a part of the film industry and his current film.
Tell us about your film.
Superb out and out comedy with all the major comedians of the industry making an appearance. There's also great dance numbers. It was shot lavishly but at the crux of it is the content which has a very deep meaning.
Explain your character in the film.
I'm playing Raju who represents all the first rankers who are brought up just with academics as the focus. Over the course of the film here evolves into a cooler version of himself but retains his original self.
You are an NRI, tell us about your life before films.
I was born in Vizak but was in US from second grade. Then I came back and studied in Rishivalley school which was an international holistic school which doesn't have ranks. Until our 10th board exams we were not introduced to exams but everyone in our class got over 75%. I myself got 92% so you can imagine how good that system is for children.
What made you get into films?
I was very passionate about films from my childhood. I wanted to be connected to films in some way or another, be it writing, acting, anything. Finally I got a chance through my dad who said acting is probably the best option for me. Then I joined Satyanand garu's acting institute. I did Rojulu Marayi immediately after that and then came Gulf. This is my third film.
How did you get your first film?
My first film I got all thanks to Maruti sir. We met him through a family friend. Ever since then he's become very close to us. He's like my godfather in the industry. He helped set up the project, did the story, screenplay, pulled in producers like Dil Raju, Shreyas Srinivas and so on. Even for this film, he's helped a lot with every aspect, casting, script changes, release (speaking to Geetha film distribution). So I am very thankful to him.
What type of work do you want to do in future?
I want to do many more films but my favorite genre is action so going forward I want to do good content oriented films with a lot of action.
What are your future plans?
My future plans are to continue in the industry. That is for sure regardless of the outcome I will continue to work and hopefully I can make it big in this industry within a couple of years.
- Maya Nelluri