Bommarillu - Movie magic at work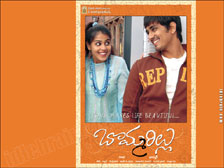 I believe good cinema can be categorized into two kinds.
The first one is cinema that makes you think.You are looking at what the characters are going through. You are crying for them and laughing at them.You admire,dissect and analyse it and decide what you liked best - the characterization, costumes, technical wizardry, the make up,action etc. You are on the outside looking into the movie.
The second kind is the one that makes you feel.It drags you into a vortex of emotions till you are one with the characters.You are no longer analyzing on the sidelines dispassionately - you feel what the characters feel- you cry with them and laugh with them.
Bomarillu belongs to the second category.It casts a magic spell on you.After almost 3 hours on this emotional roller coaster,I left with a regret that it was over.It was much later that I realised that I could not recollect the costumes or any of the technical details which I am usually particular about.
That is the strength of Bommarillu.The direction, dialogues,music,choreography, camerawork and the performances - everything meshes so seamlessly that you can not take them apart to analyse.
Hats off to Bhaskar & the Bomarillu team for acheiving that state of perfect cinematic equilibrium.
Bommarillu has some great performances.My personal pick is Siddarth.He delivers a knock-out performance that builds up to a poignant crescendo in the climax. I talk about it in detail on 'Open letter to Siddarth' at http://www.idlebrain.com/community/openletters/siddharth-sridevi.html. Genelia was delightful, Prakash Raj impeccable as usual.Everyone else just did a great job with no performance striking an apasruti.
Cinema is an extremely personal experience.Based on the emotional baggage people bring to the theatre everyone perceives the movie differently.My elder son's just turned 10 and is starting to voice his ideas even if they conflict with ours.So Bomarillu found a perfect target in me.I totally empathised with both Sidhu and the father. We saw the movie again today with my son so I could talk to him about the pitfalls of communication breakdown between parents and children.
Bommarillu is a must watch for every parent and child.And it is delivered in such a fun package that even my kids, who barely speak telugu, loved it.Go for it.
Shridevi
[email protected]
More My Movie experiences:
Bommarillu - Vasudev
Bommarillu - Roopa
Sriram - Godavari
Sarath - Bangaram
Bala - Pokiri
Srinadh - Allari Pidugu
Sudheer Allari Pidugu
Anu - Athadu
Shyam Krishna - Iqbal
Purnesh - Grahanam
Sudhindra - Super
Vijay - Aparichitudu
Madhav - Aparichitudu
Hazaraon Kwaishein Aisi
Swades
Shyam - Black
Sai - Anand
Rohit - Anand & Veer Zaara
Jaya Prakash - 7GBC
Raj - Anand
Purnesh - Anand
Purnesh - The Village
Sriram - Gudumba Shankar
Purnesh - Gharshana
Purnesh - Lakshya
Purnesh - Yuva
Leenesh - Yuva
Kis - Lakshmi Narasimha
Indian Pride - Tagore
Raj - Boys
Phani - Gangotri
Phani - Khadgam
Vikram - CKR
BKR - Indra (Singapore)
Ram - Indra (Dubai)
Ranjeet - Idiot
Rahul - Indra
King Koduri - Indra
Srilakshmi Katragadda - Mitr: My Friend