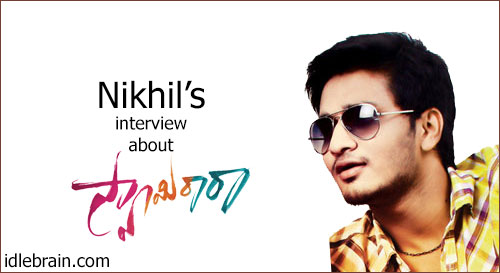 16 March 2013
Hyderabad
Nikhil has changed his looks and coming with the film Swamy Rara. He plays pickpocker in the movie which is a crime comedy. Nikhil talks about his career progress and Swamy Rara. Here are the excerpts -
Swamy Rara is your 9th film. What's your assessment of career so far?
Happy Days was a blockbuster. Yuvatha and Veedu Theda are hits. Rest of five films didn't do well at box office. If I assess my career so far, I take five failures as a part of learning curve. I have no background and hence no guidance. I made mistakes in selecting scripts and being obligated to big banners. But I started doing quality control now. I am being very careful about my career planning. I don't mind waiting for a few months, but don't want to commit wrong projects to keep machine running. I make sure that I don't repeat the same mistakes I did in the past again.
You seem to have taken fascination with Ravi Teja kind of characterizations?
Ravi Teja is my favorite hero and I love him. When I didn't have work in my hand lot of directors used to come to me and offer films with Ravi Teja kind of characterization. After a few films, I have realized that I should start doing fresh characters and develop a new style. Swamy Ra Ra is one such a kind of film in which you see only characters. I am extremely happy to be a part of Swamy Rara.
Tell us about your character?
I play the role of a pickpocketer named Surya. My looks and body language in this film is completely different from my earlier films. I have done some training in pickpocketing for this film. Director Sudheer has downloaded several pickpocketing videos from youtube and gave me as references. When we shot the pickpocket song in Kalamandir showroom, I have unknowingly flicked a few wallets from the customers of the store.
How is it like working with a Telugu heroine for a change?
Swati is a frank person and she lives in reality. She is a lovely actress to work with. My performance in this film has increased because I have worked with a Telugu heroine.
How different is Sudheer Varma compared to other debutant directors you worked with?
Sudheer Varma is my friend even before I got an offer in Happy Days. He got me work in direction department and as an actor for films like Angrez and Hyderabad Nawabs. After that he has worked in the direction department of Parasuram (Bujji) films. Since he knew me for years, he knows my strengths and weaknesses. He hid my weaknesses and exploited strengths in Swamy Rara. He is a serious filmmaker and does a lot of research for each and every scene. You will understand once you watch the movie.
Tell us about producer Chakri Chigurupati?
He is younger than me and he is like a brother. He has spent more budget than what my market can support for Veedu Theda and made a profit. He will get a lot of fame and money with Swamy Ra Ra. I am lucky to have a producer like him. He gives total freedom to the director. He is a good humanbeing.
Why should anybody watch Swamy Rara?
I know that 'different film' is the most abused term in film industry. I want to stress that Swamy Rara is different yet entertaining crime comedy like Kshanakshanam. Trust me on this film and you will not regret it.
What is your next film?
It will be directed by a debutant called Chandu. He has worked with Parasuram for three films. He is also a good friend of mine.