Story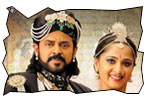 A rich man (Sarath Babu) in a village has five daughters and he lives in a palatial mansion. His elder daughter Gayatri (Kamlinee Mukherjee) - a danseuse wins a priced possession of portrait that is 100 year old. It is a portrait of Chandramukhi who is supposed to have worked as a dancer in a king durbar. Things start go wrong in the house for five young women after their sister brings home the potrait. The elder one dies in an accident, the prospective grooms who were supposed to marry the younger daughters keep rejecting them. Horrified by the bad omens, the rich man invites an psychic to find out what went wrong. The psychic suggest a psychiatrist Vijay (Venkatesh). Venkatesh stays in rich man's house to study the case. He also realises that things are going bad after Gayatri got Chandramukhi portrait to rich man's house. The rest of the story is all about how Dr. Vijay solves the case.
Artists Performance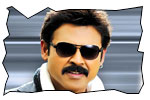 Venkatesh: Venkatesh donned two roles and three different get-ups in this movie. You can see Venkatesh trying Rajnikant's body language in a few scenes. He is good as a decent looking psychiatrist, he is nice as a king with negative streaks and he isn't right for the surprise character that comes towards the end of the movie. The make-up and styling for that character is far away from our nativity. It is more like an aged Japanese warrior we see in films (Uma Thurman's martial arts guru in Kill Bill or the aged king in Akira Kurosawa's Ran). However, Venkatesh should be appreciated for doing this film in which he didn't have a duet though there are many leading ladies.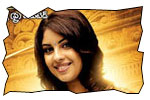 Other characters: Though there are six heroines in the film, there is not much footage for any heroine in this movie. Anushka is good in the brief role that comes in the second half. Kamanilee Mukherjee is exceptionally good. Richa Gangopadhyay plays a vital role and she does justice. Shraddha Das plays a full length character and she is very good and different from what we have seen in her earlier movies. Poonam Kuar and Sujitha plays small characters. Brahmanandam is ineffective as the characterization done for him is stale. Dharmavarapu Subramanyam's character pales in comparison with Vadivelu character in Chandramukhi. Avinash is very good as psychic. Sarath Babu, Prabha, Sana and Raksha are adequate.
Technical departments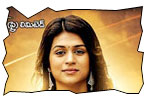 Story - screenplay - direction: The basic story is an extension of Chandramukhi film and the writer made sure that there is a nice connection between Chandramukhi and Nagavalli. By keeping Chandramukhi as absolute reference, the director didn't try to have freshness in the movie as he opted for scenes, characterizations and situations from Chandramukhi film. The entire first half of the film has very little story. Hence the scenes have become redundant and narration become snail-paced. However, the director brought interesting elements in the second half, but couldn't get the much needed climax right. There is no justification for the 30-feet snake (if it's real or just a paradox).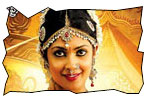 Other departments: Songs scored by Guru Charan are average. Background music is adequate. Cinematography by Shyam K Naidu is good. However, there is no color-consistency and uniform texture to the movie. Dialogues by Paruchuri are okay, but were not used properly in the movie. Art direction by Chinna is neat. Styling by Rama Rajamouli is good if you excuse out-of-nativity styling for surprise character donned by Venkatesh. Producer Bellamkonda Suresh mounted the movie on a rich scale.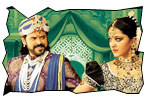 Analysis: First half of the movie is okay though there is not much of a story. Second half starts off on an interesting note and is good till the pre-climax episode. The climax could have been handled better. The plus points of the film are Venkatesh and Chandramukhi's premise. On the flip side, a better screenplay and an exciting climax would have helped the movie. We have to wait and see how the crowds respond to this sequel to Chandramukhi..
Nagavalli Links
• User reviews
• Disc function
• Music launch
• Photo gallery
• Wallpapers
• Trailers
Jeevi reviews of previous 5 films
• Kathi Kantha Rao
• Manasara
• Rakta Charitra 2
• Orange
• Yemaindi Ee Vela
• Kalyanram Kathi
• Rakta Charitra 1
• Khaleja
• Robo
• Saradaga kasepu
• Komaram Puli
• Don Seenu
• Maryada Ramanna
• Jhummandi Naadam
• Vedam


More Reviews