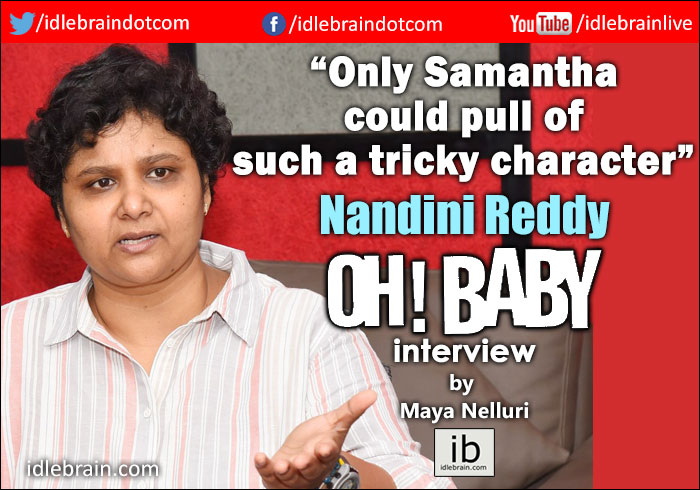 4 July 2019
Hyderabad
Director Nandini Reddy talks about her upcoming film Oh Baby starring Samantha.

What genres do you prefer to work on?
My films have usually shown comedy and emotions because that's the easiest for me to write. Going forward I would like to do biopics, action films, and thrillers. Cinemas is story telling and for any story teller it gets stale to tell the same kind of story.

Your last film was Kalyana Vibhogame. How do you choose your projects?
I work on one film at a time. I choose my projects depending on the story and the producers I'm collaborating with. I have to feel they are the right fit for each other. It's just the regular way to choose projects.

Oh Baby is said to be a remake of Korean film Miss Granny.
It's an official remake of Miss Granny. In fact one of the producers is Korean, you'll see it in the credits as well. We worked closely with the Korean team to understand their reasons for writing each part and adapted it to suit Indian audiences. We took their advice to integrate the film and bring out the best.

Do you feel the remake has come out to the same level?
I don't think you should put that question to me. Korean producers are very happy with the way it's turned out. It's also a universal story which has elements of magic, family relations, humor. It's in a Disney format; it's very relatable to Indian context as well.

Why did you go with Samantha?
Actually she got the project to me. The producer had approached Sam and she immediately called me. She was the only person who could pull it off because it's a very tricky role. She plays an old person stuck in a young body. There were many challenges during the shoot, there's east Godavari slang, comedy, drama. A person must have the acting chops to pull it off and it could've only been done by her.

How has your experience in the industry been as a female director?
It's been fine. When I was struggling I faced same issues that any other director would've faced. Don't think of it as female and male. It's a cliched question which reinforces gender stereotypes. We as women should be fighting against such

You are part of a committee dealing with women's issues in the film industry. Can you tell us about that.
Government has appointed a committee to look into the issue of sexual harassment and come up with recommendations to deal with it. Unlike other industries which deal with this issue by dismissals or transferring, in the film ndustry it is not possible. It is a complex place. There's a lot of associations like movie writer's association, director's association, etc. There are also people who are not part of any organisation. So what do you do? How can you ban someone like that. There's a lot of complexities involved in order to find processes that work. So what is the security and privacy that we can offer to those complaining so that they won't loose out on other works. We are trying to find the legal base for all this. Which will last for another 20 to 25 years. This will take a little time but the steps being taken are in the right direction. We are committed to doing a good job at this.

What are your future projects?
My next film is with Vyjayanthi movies and I have a couple of other projects in the pipeline which will be announced in due time.

Do you have any advice for upcoming directors?
I don't believe in giving advice. Only people who are absolutely stubborn and crazy about movies come into the film industry because the success rate is very low. I just tell people give yourself enough time to figure out if you are cut out for this challenge and if you feel like you are then go for it like hell.

- Maya Nelluri