Lage Raho Munna Bhai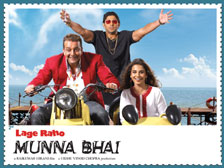 Disclaimer : watch out for the redundancy, its just a hangover from watching LRMB ;-)
I have been off the writing circuit for a while now and a "circuit" that I watched yesterday, propelled me back into my favourite pastime. I have no words to describe the absolute brilliance of a movie that has more than touched my heart. Yes, Lage Raho Munna Bhai (LRMB) is more about a satirical take at how we have decayed as a society. Pessimism has overwhelmed us and we are held refugees under the deluge of the very evils of society that our beloved Bapu(read Mahatma, for the uninitiated) was very much against. That a comedy movie could really depict the deep rooted evils of society itself speaks a lot about the maturity and intelligence of the story writer and the director.Hats off to Raju Hirani, Vidhu Vinod Chopra, Sanju and last but not the least, Arshad Warsi.
I have not actually seen such an honest movie in a long long time. Sure, we have seen some very thought provoking movies waking us from our deep slumber, but nothing like LRMB. Munnabhai MBBS was your a-notch-above-the-run-of-the-mill kind of movie. I sure liked the movie and it made us look at the medical system with a magnifying glass. LRMB though, covers a far wider spectrum. While MBBS dealt with a part of the problem, LRMB reflects on the whole system. The idea to choose Mahathma Gandhi as an ideal (which infact he is) to contrast with the present day society helps us get a crystal clear view of the rot in the present day society. It also adds a philosophical bent to our thought process.
I have liked Sunjay Dutt in a few movies but this one definitely stands out as his best till date. Vidya Balan has really brought a completeness to the movie. At a time when our telugu industry is still languishing under the throes of hero worship, Bollywood has never shied away from giving powerful,meaty roles to its heroines. Be it Swades, Lagaan, Parineeta, Devdas or LRMB. Vidya Balan has a great screen presence and has already made a mark with only two films, namely Parineeta and LRMB. Sky is the limit for her. And Boman Irani does a wonderful job too. And, definitely, its Arshad Warsi, who steals the show from all others. I personally believe he is one of the top fetching points for the movie.His execution of those witty one-liners cracks up the audience like never before. He has a comedy timing that not many(except the likes of a paresh Rawal, may be) could rival in the present day world.
Its definitely worth a watch and I recommend it to one and all. I am happy that my masterpiece-studded DVD collection has a new addition.
Sridhar S
[email protected]
More My Movie experiences:
Bommarillu - Shridevi
Bommarillu - Vasudev
Bommarillu - Roopa
Sriram - Godavari
Sarath - Bangaram
Bala - Pokiri
Srinadh - Allari Pidugu
Sudheer Allari Pidugu
Anu - Athadu
Shyam Krishna - Iqbal
Purnesh - Grahanam
Sudhindra - Super
Vijay - Aparichitudu
Madhav - Aparichitudu
Hazaraon Kwaishein Aisi
Swades
Shyam - Black
Sai - Anand
Rohit - Anand & Veer Zaara
Jaya Prakash - 7GBC
Raj - Anand
Purnesh - Anand
Purnesh - The Village
Sriram - Gudumba Shankar
Purnesh - Gharshana
Purnesh - Lakshya
Purnesh - Yuva
Leenesh - Yuva
Kis - Lakshmi Narasimha
Indian Pride - Tagore
Raj - Boys
Phani - Gangotri
Phani - Khadgam
Vikram - CKR
BKR - Indra (Singapore)
Ram - Indra (Dubai)
Ranjeet - Idiot
Rahul - Indra
King Koduri - Indra
Srilakshmi Katragadda - Mitr: My Friend