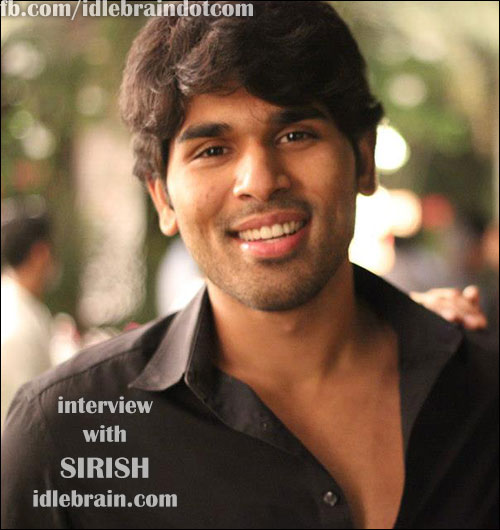 18 April 2013
Hyderabad
The Telugu film industry is beaming with entry of new talents. It is not a surprise that many of the youngsters are coming from well established film families. However, Sirish's story is slightly different. Touted as a successor of Allu Arvind to lead the legendary and successful Geetha Arts banner and known for his business acumen, production planning, marketing capability and at times his outbursts on the social media, Sirish surprised many by taking a detour and following the footsteps of his brother Allu Arjun. Idlebrain.com caught up with Sirish who is making a foray as a hero in the upcoming bilingual Gauravam.
Background:
I was born in Chennai in 1987 and studied there until 2000. I moved to Hyderabad when I was 13 years old. I failed in my intermediate exam as my parents enrolled me in MPC with an intention that I should pursue Engineering. Thereafter, I completed my intermediate (CEC) privately and secured 70%. My parents understood my reluctance towards science subjects. When I expressed interest to pursue mass communications course in Mumbai, my father agreed.
Becoming a movie hero was never a part of my upbringing. Bunny (Allu Arjun) used to be a poor academic student and was always interested in acting. So his career path was fixed as an actor ever since he was a kid.
I am very passionate about films and wanted to be in film industry. I enjoyed participating in story discussions, music sittings, editing, watching rushes and watching how actors act during the shots on location.
Everything changed when I went to Mumbai to pursue mass communications course. I stayed in an apartment on my own and lived independently like a middle-class boy. My life in Mumbai changed my perception towards many things. College got over by 3 pm and I used to stay in gym for the rest of the time. I did a lot of meal planning and went through a strict and right diet schedule. I lived a completely disciplined life in Mumbai. It was my friends in Mumbai college who planted the idea of acting into my mind. Film personalities like Dil Raju, Sukumar, Trivikram, Karunakaran and AR Murugadoss counseled me to become an actor. All of them sincerely believed that I was an actor material.
Just when I was seriously considering taking up acting, I was offered two nice films. I rejected them as I felt I was not properly trained. These two films went on to became good hits. After watching those films, I felt that I would have done better justice to those characters if I had played them.
I took a year to groom myself. I have joined 'Kreating Charaktars' acting school in Mumbai. Their alumni list includes Ranbir Kapoor, Ram Charan, Allu Arjun, Anushka Sharma, Naga Chaitanya, Katrina Kaif etc. I sought training in stunts from Pandyan (Chennai).
I met Radha Mohan during the time of Badrinath and expressed my willingness to act. He asked me to send my photographs. Prakash Raj called me one day and asked me to come to Chennai. He narrated me the script and I loved it. Later, he narrated the script to dad and Chiranjeevi uncle. They too liked it. That's how I got Gauravam opportunity.
What is Gauravam film all about?
Gauravam is a social drama that reflects current rural India. It is about a youngster who is brought up in an insulated urban world. He is pushed into a rural world due to an issue that he needs to resolve. The film deals with caste barrier. This film is about how a youngster uses his brains and works with friends/media to accomplish the mission of eliminating caste divide. Gauravam is a story driven film with just 3 songs and 3 fights.
You have done a bilingual. Is it the same for both Telugu and Tamil version?
No! Telugu version has non-linear (back and forth flashbacks) and Tamil version has linear narration (telling story chronologically). We changed the climax and edited a few scenes for Telugu version. We have also added 18 additional scenes in Telugu Gauravam. Telugu version has drama and racy narrative. Tamil version has feel and investigative orientation to it. Tamil version has a realistic climax and Telugu version has a dramatic climax. I give complete credit to BVS Ravi for doing good script adaptation in Telugu.
What are the economics of Gauravam?
The negative cost of the film is 7.5 crores. The satellite rights of Tamil version (2.25 cr) and Telugu version (2 cr) account for half of the budget. Gauravam film is sold out and producer Prakash Raj has accrued table profits.
Tell us about your experience of working for Ghajini Hindi version?
It was a massive learning experience for me. I had to coordinate with many associated business companies like Studio 18 (Indian distributor), Reliance (overseas distributor), T series (music), Hungama (digital content), India Games (mobile apps and games), FX Labs (PC Games), PR agency (Spice PR), Epigram (online promotions), Rahul Nanda (posters). We also had several corporate tie-ups like Samsung, Tata Indicom, Van Heusen, Titan etc.
We had around 6 test screenings for different sets of people. Audience from intellectual directors like Vidhu Vinod Chopra to randomly selected pedestrians were screened the movie. Aamir Khan used to personally attend these screenings and take feedback. Depending on the feedback, decisions regarding editing of certain scenes were made. I loved my role for Hindi Ghajini. Producer involves a lot in creative process and execution of the film unlike most of Telugu film producers who act as financiers. I felt very good as a producer. But after coming to Telugu film industry, I have realized that I am a misfit as a producer in here. I can't add value as a producer to a film in Telugu film industry.
You seem to have attracted a lot of haters in social media even before your first film is released?
I think excessive love towards one hero might turn into hatred on another hero who is a potential threat to their personal hero. I haven't achieved anything as an actor and my first film is yet to release. I fail to understand why anybody should hate me? Till audience accepts me, I need to ignore negativity and move forward. I can't be sensitive about haters. Social media gives people an opportunity to sledge at popular people anonymously. I just have a good laugh at them.
A hypothetical question to you. If you get a script as good and as novel as Arya. Will you do it or will you recommend it to Bunny?
If a good script comes to Geetha Arts compound, it will not go out. We have many heroes and whoever suits the script well, they will do it. I would recommend a film like Arya to Bunny.
What are your future projects?
Before doing Gauravam, I thought I am not a kind of actor who can do potboilers. While doing Gauravam, I gained confidence that I am capable of doing potboilers as well. I am good at certain emotions. I want to work with directors like Trivikram and Sukumar who can mould actors. I am open to all kind of scripts. I have to like the script as a common audience member. I am looking forward to doing a commercial potboiler with a novel storyline. My second film is likely to be on Geetha Arts banner.