Story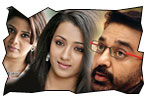 Ambujakshi (Trisha) is a successful film heroine. Madan (Madhavan) is a rich industrialist and he is the fiancee of Ambujakshi. Madan starts suspecting Ambuja and their relationship is on the verge of break up. Ambuja goes to Europe on a vacation along with her childhood friend (Sangeeta). Madan hires a detective Bhushanam (Kamal Hassan) to track her movements as he is suspicious that she has a secret lover. In the process Bhushanam meets Ambuja and he has to pretend that he is not on her trail. The rest of the story is about how the fate plays a vital role in this comedy of errors.
Artists Performance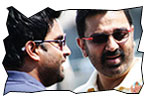 The brand of Kamal Hassan is synonymous for variety. After doing 10-roles Dasavatar and socially conscious Eenadu, Kamal Hassan comes up with a light-hearted comedy in the form of Manmadha Banam. His role has got a few of objectives (to save his friend, to serve his employee and to make sure that heroine doesn't suffer) and he has to emote differently as per the requirements and he is great as usual. SPB dubbed his voice. Trisha plays the character of a girl who has misjudgment when it comes to love. She is very good and Chinmayi who dubbed Samantha voice in YMC has dubbed Trisha's voice in this movie. Madhavan did a role with negative shades. He acted as drunkard in most of the movie and he fits the bill. This character is very different to the characters he is used to play. It's a refreshingly different character for Sangeeta. Jhansi's dubbing to Sangeeta is an asset. Usha Uthup did the role of Madhavan's mother. The inquisitive boy who played the role of Sangeeta's son is good.
Technical departments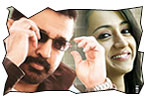 Story - screenplay - direction: The story of this movie is penned by Kamal Hassan. It is an accident-driven story. We have stories with accident backdrops in the past like Ela Cheppanu and Anand. But those films are serious love stories. He took the same aspect, but narrated in an entertaining way. Screenplay of the movie is adequate and he connects all the dots perfectly. Direction is nice in parts. The narration gets little confused in the second half as all the major characters except Madhavan and Trisha would be playing two roles. KS Ravi Kumar got the comedy timing right in the movie most of the times.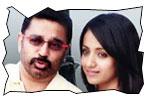 Other departments: Music by Devi Sri Prasad is good (especially Bond song like 'Who's the hero'). Cinematographer Manush Nandan did a good job. 75% of the movie is shot in exotic European locations like Barcelona, Rome, Venice etc. This film is also shot intensively in Euro train and Cruise ship. There is a song that is shot in reverse way while narrating a key flashback. It is a new experiment which is going to impress you. Dialogues by Vennelakanti are neat. This film is not properly edited as you can find a few jumps in the narration.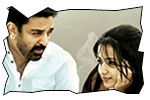 Analysis: Kamal Hassan has done a few light-hearted entertainers like Tenali, Brahmachari, Panchatanthram and Mumbai Express in the past one decade. All the above mentioned films are entertainers except for Mumbai Express which is a kidnap comedy drama. Manmadha Banam also follows the same genre. The comedy in this film is predictable at times and fresh in certain scenes. The plus points of the movie are main leads and comedy quotient. On the flipside, the characters and narration becomes confusing towards end and the editing should have been smoother. On a whole, Manmadha Banam is a decent comedy. Go for it if you enjoyed Kamal's movies like Tenali, Panchatantram and Brahmachari.
Manmadha Banam Links
• Music launch
• Photo gallery
• Wallpapers
Jeevi reviews of previous 5 films
• Nagavalli
• Kathi Kantha Rao
• Manasara
• Rakta Charitra 2
• Orange
• Yemaindi Ee Vela
• Kalyanram Kathi
• Rakta Charitra 1
• Khaleja
• Robo
• Saradaga kasepu
• Komaram Puli
• Don Seenu
• Maryada Ramanna
• Jhummandi Naadam
• Vedam


More Reviews