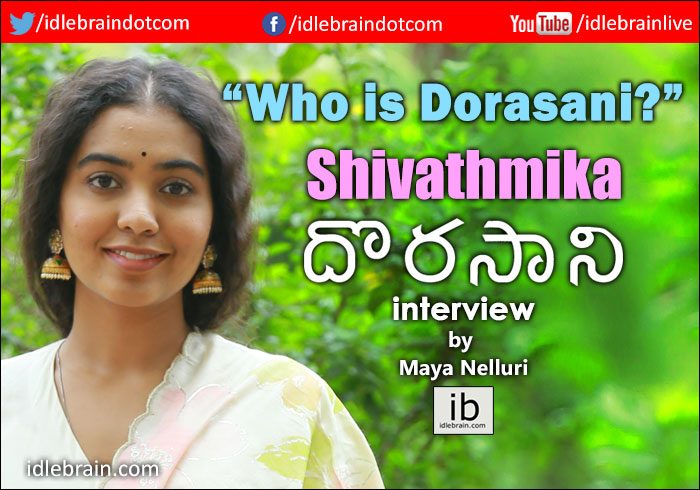 10 July 2019
Hyderabad
Shivathmika, daughter of popular actors Rajasekhar and Jeevitha, is debuting as a lead actress with Dorasani. In this exclusive interview she gives us the inside scoop about her life.
Did you always want to get into acting?
Yes. I think I was five when I first thought of it. Everyone has an age where they start dreaming of something. That was my dream. I always wanted to b an actor. Probably because of Nana and us growing up on sets with him. But it was very lucky that I got in.
When did you actually start planning your debut?
As soon as I turned 16-17 I wanted to start acting, not leads but either daughter or sister roles. I would tell my parents that I was ready to start acting. A lot of people start early in fact. But I also wanted to graduate, finish my twelfth and do theatre for a year. I thought let's do a portfolio, get fit and healthy in the next three to four years and then start seriously. Out of no where Madhura Sreedhar garu, who's also a very close family friend, told us he was looking for a 18 year old Telugu girl and he thought I should audition for it. Of course I was extremely excited to get a narration. At this point I was writing my final exams for twelfth. Sreedhar sir said listen to the story and then decide. Amma, me and Akka listened to Mahendra sir's narration. After that I desperately wanted to do it because it's a fantastic love story. Couple of people said no to me being cast, some said yes but the driving force was Mahendra sir behind me being in the film. I was lucky!
So did you end up taking any acting classes before the shoot?
For this film in particular we had workshops. The whole thing was shot in sync sound so there was no dubbing; we needed to speak perfectly. My workshops were only with the director and very short. That was all the training I had. I wasn't even given the full script because Mahendra sir didn't want me to know any other parts of the story other than my character's path. She's confined to a room and then falls in love. He wanted the reactions of the character to be natural. So the acting was spontaneous in my case.
How did growing up in a film family affect you?
It was very normal and natural in my household to be on set and speak of cinema. We would go to set after school and come back home with Dad. Even if it was a night shoot we would stay up with him. By the time me and my sister turned 15-16 we understood the process of film making, the production. My sister and I got involved in the making of Garuda Vega and Kalki and were actively working on it. Being from a film background we learned a lot of lessons, we know a lot about cinema so it helps understand the work and the director's vision. The experience has been very insightful.
Now that you've started your acting career, will you still be involved with the production of your father's films?
I will be definitely be involved in what my dad and sister are doing. I definitely can't be an outsider. We always helped our parents with whatever they needed so it will continue that way, both me and my sister will always be involved.
How was it playing a Dorasani?
I'm very honored to play that role. She's innocent, balanced, reserved, tender. Every expression she gives has so much meaning. In my personal life I'm completely different. Going from being a loud individual to playing a quite girl who expressed everything with her eyes was quite an experience. Mahendra sir got me so into the role that I became her. I cried for her character. Usually actors think of something that happened to them to emote but in this case I thought of her and could easily feel her emotions. She's a part of me now.
How has the response been towards you?
It's been overwhelming because from the time the first look was released I was being pulled apart and being judged for every single thing. They were saying so much about me, that I didn't look good, I'm not heroine material, I'm ugly. The teaser had so much negativity. I've read things about myself that I wouldn't even say to people I hate. This profession being my dream and having such a negative response to my looks was a big blow to me. Since I was young I've been very insecure about my looks so all the criticism affected me and I became very depressed. There was no shield, people online have no filter. Then my mom, sister and dad stood by me and made me realize that I have to look on the bright side, the film is yet to come out. There was no point worrying about the keyboard warriors because they troll everyone. After that a lot of things happened, now I'm getting a lot of love from people for my work and my speech on stage. I was confused before but now it's more clear. There's love and hate when you put yourself out there but we'll know the real reactions after July 12th.
What's next for you?
I haven't signed anything. We'll see where it goes. I'm excited to see what's next. For now everyone please go watch Dorasani on the 12th!

- Maya Nelluri