Lage Raho Munnabhai ROCKS!!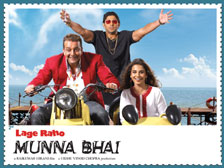 There are some movies that are good and there are some that are better, but the sequel to Munnabhai MBBS is best!!! Often sequels tend to be disappointing due to the expectations that the audience have and due to the hype that surrounds them. Munnabhai though not exactly a sequel, probably, belongs to the "Munnabhai" series, our own kind of a James Bond series. It's truly desi and amazingly refreshing.
Munnabhai in this movie is in love with a radio jockey, and the movie is not just about trying to win her love, it has a good message which is conveyed in a very interesting way. Trying to preach Gandhi's principles or even show them on screen is not an easy task. How many people would actually be interested in watching a movie with some principles of our great leaders of the past? Not many. But this is a kind of movie that is very well scripted and directed, with the correct ingredients. The director is creative, very creative and the comedy is great with good emotional scenes. The way Mahatma Gandhi's character is inserted into the story is very nice. Like the first part this movie gives you a good feeling too. This movie defines Mahatma's principles and reminds all of us of the basic weapons that helped us get our independence – courage and non-violence.
Sanjay Dutt and Arshad Warsi are simply superb. They are born into these roles. I cannot imagine anyone doing these roles. They rock…they really do! A special mention about Arshad Warsi. He is absolutely brilliant. Vidya Balan as the radio jockey is a perfect fit. Boman Irani did a great job, though I loved him much more in the first part. If there are casting directors then they did a pretty good job too. I haven't listened to the songs before but they are in sync with the movie and never do they seem to be boring or out of place(there actually aren't many songs). The Munna-circuit combo is simply great and the whole team of Munnabhai is just awesome! This movie is worth every penny. I am already waiting for the DVD!
It's amazing how the Hindi film industry had changed especially this year. Rang De Basanti and LRMB completely contrasts each other, one takes the violent path the other is about non-violence. Unfortunately, our telugu film industry doesn't have the budget and market like the Hindi industry, but it still is time for our directors to change. Heroes don't make up the movies, good scripts do! All in all a great weekend with Lage Raho Munnabhai and Bommarillu(another fantastic film… probably in another article).
darsakudu
[email protected]
More My Movie experiences:
LRMB - S Sridhar
Bommarillu - Shridevi
Bommarillu - Vasudev
Bommarillu - Roopa
Sriram - Godavari
Sarath - Bangaram
Bala - Pokiri
Srinadh - Allari Pidugu
Sudheer Allari Pidugu
Anu - Athadu
Shyam Krishna - Iqbal
Purnesh - Grahanam
Sudhindra - Super
Vijay - Aparichitudu
Madhav - Aparichitudu
Hazaraon Kwaishein Aisi
Swades
Shyam - Black
Sai - Anand
Rohit - Anand & Veer Zaara
Jaya Prakash - 7GBC
Raj - Anand
Purnesh - Anand
Purnesh - The Village
Sriram - Gudumba Shankar
Purnesh - Gharshana
Purnesh - Lakshya
Purnesh - Yuva
Leenesh - Yuva
Kis - Lakshmi Narasimha
Indian Pride - Tagore
Raj - Boys
Phani - Gangotri
Phani - Khadgam
Vikram - CKR
BKR - Indra (Singapore)
Ram - Indra (Dubai)
Ranjeet - Idiot
Rahul - Indra
King Koduri - Indra
Srilakshmi Katragadda - Mitr: My Friend