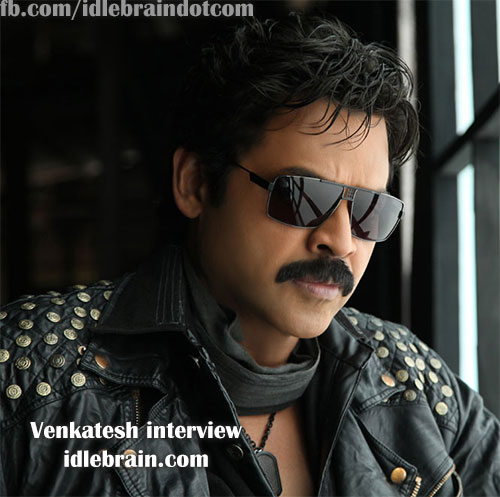 25 April 2013
Hyderabad
Venkatesh's latest action film Shadow is releasing on 26 April. Venkatesh had a chat with a group of scribes at his office in Ramanaidu studios. He talks about Shadow and trends in film industry. Here are the excerpts -
Tell us about Shadow?
Shadow is going to be real summer entertainer with good family orientation and stylized action sequences. Meher has presented me in a new angle in this movie. Whatever you see in posters is not entirely my look. There are many more shades and getups in the movie. It's a revenge drama with mother/sister sentiment. The emotional graph of the film goes only up all the time.
What's the role of Srikanth in this movie?
This is his fourth film with me. He did a good role of a cop.
Tell us about the action part in Shadow?
Action in this film is crispy and stylish. There will not be much of bloodshed. Most of action sequences take place in Kuala Lumpur and jail set. It's a fast paced film and I enjoyed while doing this film. There are nice chase sequences designed and shot extensively in the skyscraper city of Kaula Lumpur.
We heard that Chiranjeevi complimented your get-up in the movie?
It's very nice to hear Chiranjeevi say that. Fans too love it. It created good curiosity among movie lovers. I was trying this get-up for some other film. Meher saw it and he wanted it to be in Shadow.
How do you select a story?
I like it when a director narrates the story confidently. But sometimes, things go wrong during execution which we can't help. We have to make sure that we shouldn't be financially obligated to producer. Sometimes, we might be forced by producer to get into shooting even though script is not final due to financial obligations with producers. I have done a couple of films in the past like that and both of them bombed.
Sometimes an average or a below average content film might become a blockbuster due to various factors like seasonal advantage. That's the kindness of audiences. We shouldn't take those successes for granted and repeat mistakes.
You had been saying that you want to break monotony and attempt something no other big hero is doing. Finally you seem to have tried and tasted success with SVSC?
Yes. SVSC's content is natural and not typical. It's away from a typical Telugu film's commercial format. Director Srikanth Addala has shot the film in his own sensibilities. I am happy that I have done SVSC. I am also enjoying doing Telugu version of Bol Bachchan. This film is going to be a real laugh riot. I will be doing a silent film in the direction of Ashok (Pilla Zamindar fame). Pre-production work is going on for that film.
Filmmaking technology has changed and now one can produce a decent film with 50 lac budget. Kamal has already tried to introduce DTH premiere concept with a regular commercial cinema. What do you think will happen in near future?
It's the time of fast revenues. Costs are being recovered immediately after the release. The new technology of making and delivering cinema in various formats will augur well for Telugu cinema. My brother is very excited about it. He is planning to produce several films under his banner soon. We are having many passionate and sincere young filmmakers making a big difference to Telugu cinema now.
I feel that the discipline is lacking in Telugu film production. The producer is not having control over production which is resulting into over-budgeting. The director and producer should work together to save on budget. We should learn a lot from Bollywood's disciplined filmmaking. The working days in Bollywood don't exceed 100 days irrespective of how big the film is.