Story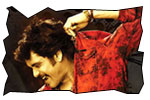 Satya (Nagarjuna) is basically from Kadapa and he arrives in Hyderabad with a mission of earning mafia money. He joins the local don and does an efficient work. Sirisha (Anushka) who is a fiancee of local don likes Satya a lot. Meanwhile, Ashta Lakshmi (Priyamani) comes from nowhere along with her family and forces Satya to help them. As Sirisha and Ashta Lakshmi vie for the attention of Satya, he looks out for more money making opportunities. The rest of the story is all about the motive for the characters of Satya, Sirisha and Ashta Lakshmi.
Artists Performance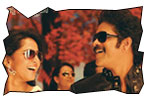 I would sound repetitive if I say Nagarjuna is gorgeous in this movie as he has been the same for the past one decade. Hence I skip the looks part. Nagarjuna added Rayalaseema words in his dialogue delivery and it adds good flavor. Fights are designed in this movie to suit the style of Nagarjuna. Anushka is glittering with sensuousness in this movie and she has put a bit of weight compared to Arundhati time. Her broad hips were effectively showcased in the songs (especially Okkadante Okkade and Ragad Ragada). Priyamani did the role of a traditional Brahmin girl. Charmme sizzled in Meesamunna Manmadhuda song. Brahmanandam did a full-length character as the guy who loves heroine. He is entertaining. Dev Gill, Kota Srinivasa Rao and Supreet are good. Dharmavarapu and master Bharat are entertaining in 'english-teluguu-translation' episode.
Technical departments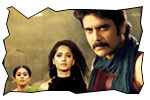 Story - screenplay - direction: Ragada has an ordinary revenge story with a couple of twists. Veeru Potla who made his debut as director with an entertainer like Bindaas made sure that there is ample entertainment in this script as well. The screenplay is good in second half where a couple of unexpected twists are revealed. Direction of the movie is okay in the parts. The entire first half of the movie doesn't have much of a story. The second half is stuffed with the story in which the motive of the lead characters is revealed.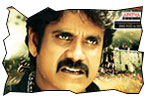 Other departments: Music by Thaman is good. Thanks to aggressive promotion by FM radio channels, I got familiar with first four songs of the film and enjoyed watching them with good visuals. Cinematography by Sarvesh Murari is of top notch quality. Enough recognition should be given to color grading and visual effects. Dialogues by Veeru Potla are a plus. Editing by Marthand K Venkatesh is smooth. Fights composed by Vijay are stylish. AS Prakash's art direction is neat. The production values by Kamakshi banner and post production quality are excellent.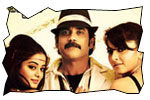 Analysis: First half of the movie adequate. Second half is stuffed with the content and a couple of interesting twists. The plus points of the movie are main leads (Nagarjuna, Anushka and Priyamani) and stylish taking. However, it has become highly formulaic for heroes to join mafia with a personal agenda in most of the mass movies. There are too many villains in the movie and the connection among them is little confusing. We have to wait and see how audiences will lap the Ragada up.
Ragada Links
• User reviews
• Music launch
• Disc function
• Press meet
• Photo gallery
• Wallpapers
• Trailers
• Video songs
Jeevi reviews of previous 5 films
• Manmadha Banam
• Nagavalli
• Kathi Kantha Rao
• Manasara
• Rakta Charitra 2
• Orange
• Yemaindi Ee Vela
• Kalyanram Kathi
• Rakta Charitra 1
• Khaleja
• Robo
• Saradaga kasepu
• Komaram Puli
• Don Seenu
• Maryada Ramanna
• Jhummandi Naadam
• Vedam


More Reviews