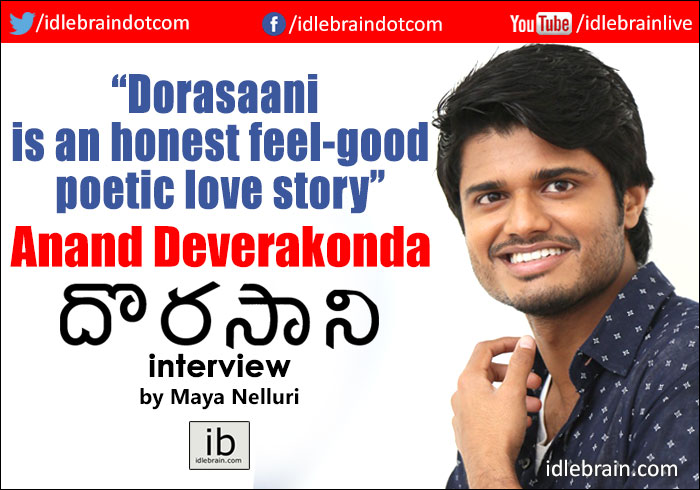 11 July 2019
Hyderabad
Anand Devarakonda is awaiting the release of his debut Dorasani tomorrow. But even before the release the public seems to have something to say about him and his costar. Let's hear his side of the story. Idlebrain exclusive!
What made you turn to acting?
In terms of my interest in acting, it was innate. I did ammature theatre in Hyderabad much earlier but never thought it would be a serious career. Then life took me into different paths. We needed financial security to help my family so I thought of going to the US and doing a good job. I studied my masters in Illinois. Then I worked for two years in Chicago. Simultaneously Vijay was following his passion in India to be an actor and filmmaker. Around the same time Yevade Subramaniam released so our parents were really happy that both their sons were heading towards what they wanted. Then Pellichoopulu and Arjun Reddy happened. Back in US I was stable and was able to help my family out until then. Vijay was constantly planning new ventures, he wanted to do Rowdy and start his own production house. We would discuss the ideas over Skype because we would talk to each other at least weekly once and update each other.
When did you decide to move back to India?
I thought why not help Vijay out since he's trying different things. We are young now so we can try multiple things. I told my dad that I wanted to come back to India. He said that I was always interested in cinema so I should come back. He told me to go all out if I'm doing it without doubting myself. So, last year I came back after resigning my job. We started the production house to encourage new talent. Simultaneously I was doing theatre workshops with Sutradhar, Hyderabad.
How did Dorasani happen?
KVR Mahendra came to me with Dorasani through a different channel. Of course they knew I was Vijay's brother. Still I was reluctant because acting is a tough career. Opportunities come but to make a career in it is very difficult. I had many doubts about whether I'll be able to go into other fields of I don't succeed and how it would affect my mind if something goes wrong. As an actor you are putting yourself out there in front of millions. I doubted myself but my parents told me that if I believe I can act, to go for it. Then I auditioned, they thought I fit the role and that's how we are here.
What exactly worried you?
Being out in the public eye as an actor plays with ones vanity. Also making my own name is difficult until I establish myself. I always knew I could act. Even just one movie in I feel that I've presented the director's vision so half the battle is won there, the other half will be decided on July 12th.
Did you ever feel you should go through your brother's channels to get into cinema?
Like I said people knew already that Vijay had a brother so I had the access to people if I wanted to act. But I myself was tentative about putting myself out there so I didn't go that route. Opportunity knocked on my door with Dorasani. Once I met the director I felt very positive and became sure about going for this career.
How has the response been to Dorasani till now?
It's been a rollercoaster after the teaser release. There's been talk of nepotism since both me and Shivathmika are both from a film background. Slowly as people have been seeing more content from the film and our interviews, they understand our journey and that it's not just because we are previliged. This film has an honest message. I get thousands of messages everyday that they are looking forward to the release so I'm glad. They'll be able to see the movie and judge me as an actor rather than as Vijay's brother now.
What made you take on the role?
KVR Mahendra is a great story teller. So even though I was tentative about taking on acting as a career before, after meeting him I was sure that he had a great vision to execute the project. He is genuine. So wanted to b a part of it. From the workshops to today I really enjoyed the process. It's an honest feel-good poetic love story. It's a realistic drama that I would enjoy watching. As an audience I'd thoroughly enjoy it. All the crafts in the film are very realistic. There's no gimmicks.
What are your expectations for the film?
I'm very excited. This was my first outing in the theatre. It feels like when you are in school and waiting for exam results. On the other end it hasn't sunk in that it's releasing this Friday. I'm nervous but I'm also looking forward to it. I went through the whole process of filmmaking and now the last bit is remaining so I'm very excited.
What's next for you?
I have listened to a story and signed my second film. It will be quite different because it's set in a different state. It is also a realistic representation of life but whereas Dorasani is a romantic love drama. The second film has a lot of comedy. I'll start my worshops for that film as soon as Dorasani releases. It should be out by this year end or early next year.

- Maya Nelluri