Rage raho Munnabhai is Double vaisa Vasool Movie.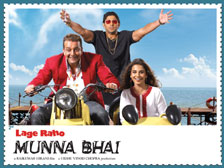 If it was Bommarilu making waves all these days here comes another wholesome entertainer which makes you flow in laughter and emotional sea.
Munna (Sanjay Dutt) is a tough goon with a heart of gold. He faces every situation with his unique street smart attitude and humour. But even Munna's successful dadagiri methods are tested when love takes him for an unexpected historical tour.
Munna falls in love with the voice of popular radio jockey Jhanvi. Her "Good Morrrrning Mumbai" voice makes Munna's heart beat. While listening to her shows, he dreams of marrying her.
Jhanvi is also bowled over by Munna's rustic charm. The only problem in this perfect love story betweem them is that Jahnvi mistakenly takes Munna for a professor of history and invites him to give a heavy lecture on history to her family. And that is where all the trouble starts and the story takes takes a different turn.
Munna doesn't know how to sort out this 'created' problem. His trusted buddy Circuit (Arshad Warsi) comes up with a brilliant solution. And then, the most unusual thing occurs in Munna's life - he comes face to face with Mahatma Gandhi.
This is not the end of his series of problem. He encounters another problem and his name is Lucky Singh (Boman Irani), a contractor hankering after money. But Lucky Singh's daughter, Simran (Dia Mirza) challenges traditional ideas with her independent views and shows her father that there is more to life than money.
The focus in the post-interval portions suddenly shifts to the love story between Munna and Jhanvi and the maddening conversation between Munna and Circuit. Again, the romantic portions are well executed, so you don't really mind this glitch.
Some of the sequences that tickles the funny bones in the movie are - Munna readying to participate in the radio-quiz, Munna-Jhanvi's meet in the college campus or Munna-Circuit landing up behind bars. Moreover, the entire track between the Father of the Nation Mahatma Gandhi and Munna is exceptional. To his credit, Hirani treats the second installment of the Munnabhai series with as much flourish as he treated the first.
Shantanu Moitra's music is in rage with 'Samjho Ho Hi Gaya' and 'Bole To Bole Kaisi Hogi Hai… Lage Raho Munna Bhai' . But what elevates the tunes is their picturization. Both the numbers are full of vibrant colors and imaginatively filmed. 'Pal Pal Har Pal' also comes at the right place and even its filming is eye-catching. Cinematography [Muraleedharan C.K.] is first-rate. Dialogues are wonderful and those between Munna-Circuit abound in wit and hilarity.
The USP of the movie are the pure characters written and effectively portrayed. Sanjay Dutt lives the character of Munna. He gets the best of lines and delivers them with relish. Love to see Sanjay Dutt in his new avatar.
Arshad Warsi is superb. There are very few actors, one is Arshad Warsi , who have an unmatched timing for comic scenes. Even a smirk or an exclamation makes you flex your facial muscles. There's no denying that Arshad matches up to Sanju at every level, in every sequence.
Boman Irani proves yet again that he's an actor with an infinite range. He's at crossroads with Munna in the second installment as well; this time he plays the conniving person who wants to usurp a mansion. He's excellent.
Vidya Balan is only getting better with every release. She looks extremely photogenic and beautiful in a glam role. Jimmy Shergill has a brief part and he does it well. Presence of Dia Mirza and Abhishek Bachchan adds to the star quotient.
On the whole, LAGE RAHO MUNNABHAI is a sparkling follow up to MUNNABHAI M.B.B.S.
The movie is fantastic and I believe moviegoers will enjoy every second of the movie.
G Srinivas Reddy
[email protected]
More My Movie experiences:
LRMB - Darsakudu
LRMB - S Sridhar
Bommarillu - Shridevi
Bommarillu - Vasudev
Bommarillu - Roopa
Sriram - Godavari
Sarath - Bangaram
Bala - Pokiri
Srinadh - Allari Pidugu
Sudheer Allari Pidugu
Anu - Athadu
Shyam Krishna - Iqbal
Purnesh - Grahanam
Sudhindra - Super
Vijay - Aparichitudu
Madhav - Aparichitudu
Hazaraon Kwaishein Aisi
Swades
Shyam - Black
Sai - Anand
Rohit - Anand & Veer Zaara
Jaya Prakash - 7GBC
Raj - Anand
Purnesh - Anand
Purnesh - The Village
Sriram - Gudumba Shankar
Purnesh - Gharshana
Purnesh - Lakshya
Purnesh - Yuva
Leenesh - Yuva
Kis - Lakshmi Narasimha
Indian Pride - Tagore
Raj - Boys
Phani - Gangotri
Phani - Khadgam
Vikram - CKR
BKR - Indra (Singapore)
Ram - Indra (Dubai)
Ranjeet - Idiot
Rahul - Indra
King Koduri - Indra
Srilakshmi Katragadda - Mitr: My Friend