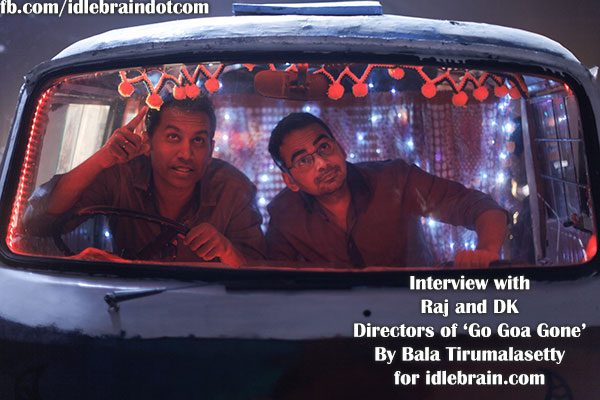 10 May 2013
Hyderabad
Their style is simple and common sense oriented, but they are born with natural creativity and innovative thinking. Hard work and dedication add up to their strengths. They are well on their way making a difference in Bollywood and hopefully bring that freshness to Telugu movies soon. They are none other than, the director duo, Raj and DK. Friends since they went to SVU College of Engineering, Tirupati to pursue their B.Tech a long time ago, today they are at their career turning point. After a satisfying career of movies including '99' and 'The Shor in the City', their latest and highly anticipated , India's first Zombie movie 'Go Goa Gone' is releasing today (May 10th) internationally. The trailer and the music videos are already a big hit and the early reviews of the movie are excellent. Here is an exclusive chit-chat with DK and Raj:
Go Goa Gone, it is a catchy phrase and an interesting name for a movie name? Tell us what to expect in this movie?
Well, this movie is anything but regular! The name is a take off on the popular Goa slogan Go Goa. And it has a nice ring to it. Which is why we chose it.
'ZomCom', you are introducing a genre that India never heard about? Didn't you feel it would be somewhat risky?
It is very risky. Which is why we kept the film in a controlled budget. The budget is much lower than any Saif film. In fact Saif did not take money for this film, since that would make the risk much higher. We started off making this film being aware that it is an experimental venture. Now with the buzz catching on (from the trailer and the songs) and people being more aware of the concept of zombies and the film itself, the film looks to appeal to a wider audience. Hopefully people will appreciate the newness of the genre.
You had two mainline movies so far in Bollywood (99, Shor in the City) that are reasonably hit financially and very much liked by critics. How did you get to Saif Ali Khan not only act but also produce this movie?
When we initially met Saif with the story, his first reaction was "You've gone mad!" A few minutes later he was rolling on the floor laughing at the sheer audacity of the idea. And then his reaction was "There's no way we are NOT making this film!" And the idea of playing a character no one has ever played before appealed to Saif and he embraced the role of Boris! This film is not a 'safe bet' in conventional sense, which is why it is a great bet – I believe the audiences are ready for new and fresh ideas!
The music album is one of the fresh and most diverse I ever listened to these days. What shaped up this?
We have worked with Sachin-Jigar on Shor in the City before and they gave us a great soundtrack. On this film we told them to give us a track that is as wacky and unique as the film itself. And when they gave us a song called "Khoon Choos Le" referring to Mondays, we knew they nailed the spirit of the film. All songs in the film are truthful to the film and we are very happy the songs have caught on. (They have also given us great songs for our maiden Telugu production venture, D for Dopidi.)
How would it work out for two directors working together? Don't you conflict with each other in how a scene should work? How does the crew feel about getting direction from two people?
Well, two heads are better than one. More efficient, less prone to eccentric whims… But since we are two people who grew into films together as one entity, we are more often than not on one page. And the crew never gets instructions from two people. We do our homework and make sure the crew gets only one direction – from either one of us.
What is next after 'Go Goa Gone' in Bollywood for you?
We are gearing up for a romcom with Saif next. It is our version of a romcom. The opposite of a chick flick, if we may add.
We heard rumors about The Tollywood Prince himself 'Mahesh Babu' agreeing to make a movie with you guys. What can you reveal us about this?
Mahesh is a fantastic actor with great screen presence! He is a superstar in the truest sense and his millions of fans can attest to that. Not just in AP, but viewers all over India are in awe of him. We are planning for an action comedy. It is too early to reveal any details.
Finally, why should people watch Go Goa Gone?
It is a funny, wacky film. Something you have never seen before. If this is something that appeals to you, then that could be a reason to go watch it.