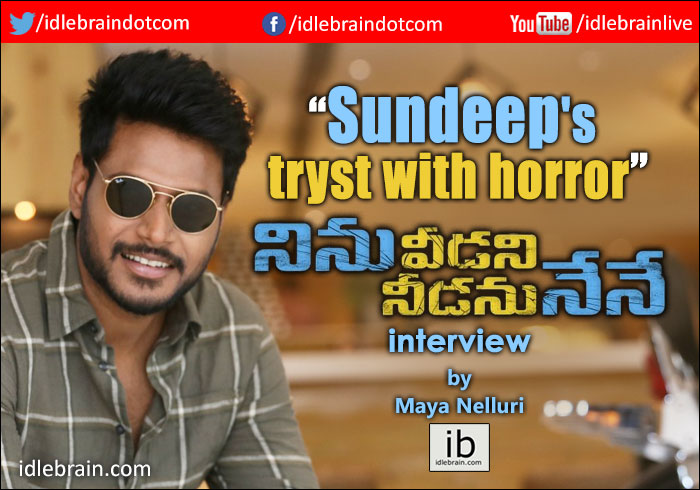 12 July 2019
Hyderabad
Sundeep Kishan, the lovable boy next door, shows us a totally different side to him with today's release Ninu Veedani Needanu Nene. He talks about why he decided to go for it and what he has in store for the future.
What genre according to you suits you best?
I look for films which have a relatable characterisation for me. A relatable lovable boy next door possibly suits me best. In terms of genre I think as an actor I need to be able to work in any genre.
Horror films are an over exploited genre, why did you decide to go for it?
That's exactly why I didn't want to be in the horror space. But with this film, not one person will come out and say it's just a horror film. It breaks all the screenplay rules of horror films so far. It's a very emotional film. Even the humor is very organic with the screenplay and situation of the film, it flows with the story without going overboard.
Why was there a long gap before the release?
The last couple of years have been bad with my films not working so I wanted to take a break and introspect to find out what wasn't working. By the end of it I realised that it was important that I make this film myself. I wanted to do everything the way I believed in so that there is no question of not putting in 100% and the end result depends completely on the audience. My team has also worked very hard to make this film standout in terms of promotions and I'm very confident that when people watch it they will appreciate it.
You've ventured into business and online media as well now, how are they going?
The restaurant was a very spontaneous decision purely for my family because of the unpredictable profession I've chosen. It is important for me to take care of my family and be there for them emotionally, physically and financially. That was my driving factor.
Do you feel they might dilute your focus on feature films?
I've mostly only done feature films. As far as online is concerned, my heart and passion will rule. The only one I've done is the directed by Raj and DK which is in Hindi and English for Amazon Prime. Today in Hindi the webseries are some of the best of the world and have a lot of the biggest stars. In this project I got to work alongside the directors I really believe in and the likes of Manoj Bajpai sir under whose guidance I've learnt a lot.
What's next in your future?
Tenali Ramakrishna BABL being directed by Nageshwar Reddy garu staring Hansika and has Varalakshmi Sharathkumar debuting in Telugu. It's an out and out comical entertainer with the sensibilities in place. I'm getting back to the comical genre with this film which is what people really enjoyed watching me in previously so I'm very excited about that. I'm really enjoying performing for that film.
Is it difficult to balance your personal and professional lives?
At some level considering that my professional life completely rules over my personal life it does get complicated but I try to keep them separate. I'm lucky to have a good set of friends outside the industry as well who keep me in touch with normal life which I need at this moment and I'm thankful to them for that.

- Maya Nelluri