Bommarillu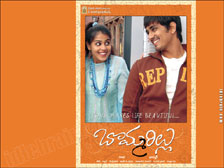 hi idlebrain
This is Anirudh from Chennai. I was born and brought up in chennai but basically I am from Mahabubnagar district. I am an avid fan of telugu movies and I am a huge fan of Mr. Mahesh Babu. I am also a huge fan of Mr. Jeevi and i believe idlebrain.com is the key to my watching movies here.
I had liked the audio of bommarillu very much and was waiting for it to release. The day it released I saw the Jeevi review and saw that it was given 4.5 out of 5. I was very impressed. Even more impressed when i couldnt get a ticket for 4 days after the film released in chennai. Finally i got the ticket for 29th August show. I was waiting in front of the theatre right from 8 o clock for the night show. When my chance to see the movie came i was shocked.
Indian cinema might not have seen the standard of movie by which Bommarillu has been made. It is the most decent and best movie I have ever seen. Performances by Prakash Raj(I am a huge fan of his in Tamil Telugu and Hindi), Genelia(never imagined that in a hero centric industry a heroine getting such a great role, she used the chance fully), Sunil(his comic timing was too good),Kota(another great actor) and last but not finally Siddharth( i have noticed him from the days when he was an assistant director to Mr. Mani rathnam, he even appeared in a bus scene in Amrutha).
Prakash raj is the key to all South Indian actors. He can perform any role which he likes to the fullest satisfaction of the audience as well as the director. The confrontation scene between him and Siddharth and Genelia is shown superbly.
My best scene is when the father in law to be of Siddharth says Genelia is looking like a mahalakshmi and Siddharth says "kadha?". The timing is simply great.
three cheers to director bhaskar for delivering a pathbreaking cinema in the midst of all the violent gangster movies. Watch out for this man perhaps this is the man the whole telugu industry has been waiting for... May his tribe grow!!!
Sincerely,
Anirudh
[email protected]
More My Movie experiences:
LRMB - Srinivas
LRMB - Darsakudu
LRMB - S Sridhar
Bommarillu - Shridevi
Bommarillu - Vasudev
Bommarillu - Roopa
Sriram - Godavari
Sarath - Bangaram
Bala - Pokiri
Srinadh - Allari Pidugu
Sudheer Allari Pidugu
Anu - Athadu
Shyam Krishna - Iqbal
Purnesh - Grahanam
Sudhindra - Super
Vijay - Aparichitudu
Madhav - Aparichitudu
Hazaraon Kwaishein Aisi
Swades
Shyam - Black
Sai - Anand
Rohit - Anand & Veer Zaara
Jaya Prakash - 7GBC
Raj - Anand
Purnesh - Anand
Purnesh - The Village
Sriram - Gudumba Shankar
Purnesh - Gharshana
Purnesh - Lakshya
Purnesh - Yuva
Leenesh - Yuva
Kis - Lakshmi Narasimha
Indian Pride - Tagore
Raj - Boys
Phani - Gangotri
Phani - Khadgam
Vikram - CKR
BKR - Indra (Singapore)
Ram - Indra (Dubai)
Ranjeet - Idiot
Rahul - Indra
King Koduri - Indra
Srilakshmi Katragadda - Mitr: My Friend