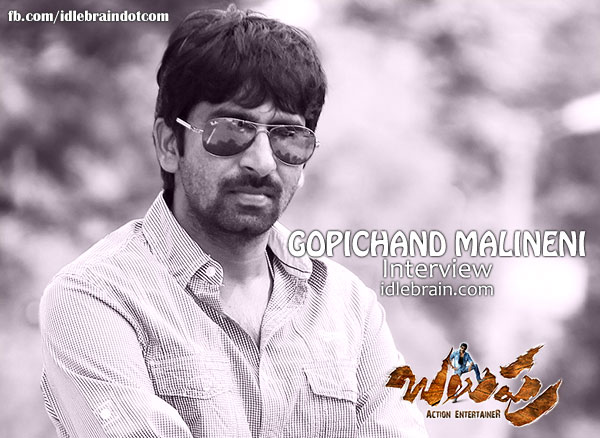 27 June 2013
Hyderabad
Gopichand Malineni is a man of few words. He has assisted many directors and worked for many films before grabbing his first directorial venture Don Seenu, which went onto become a hit. Balupu - his third film is all set to release on 28 June. Here are excerpts of his brief interview -

Background:
I am from Boddularivaripalem near Ongole. I am born and studied till 10th class in that village. I have completed by graduation in VR College, Nellore. I was attracted to film industry since I was a kid and I came to Hyderabad to fulfil my dreams.
I have joined the producer Mahendra (AA Arts) and worked for a Srihari film called 'Police'. Later on I assisted in five of Srihari's films. Then I joined EVV for Chala Bagundi film and did a few films with him. My next break came with Seenu Vaitla's Venky. I have worked for Andarivadu and Dhee as well. Then I joined AR Murugadoss and worked for Stalin and Ghajini (Hindi). I also assisted Srivas (Lakshyam) and Meher Ramesh (Kantri and Billa).
I had been in touch with Ravi Teja since Venky film. I have prepared the story of Don Seenu at the time Billa. Ravi Teja liked Don Seenu script and it was made on RR Moviemakers banner. It went on to become a hit. Later I had done a remake film Bodyguard with Venky and Trisha,

Balupu:
Initially we wanted to remake Andaaz Apna Apna with Venkatesh and Ravi Teja for PVP banner. Venkatesh has accepted Shadow project and it would take 7 months to finish. He has asked me to go ahead and do another script. That is when Bobby came up with a nice story line. Ravi Teja liked it and we have started shooting.
I can't reveal the story line, but can assure you that it has emotional love thread and entertainment. It is a kind of film in which there is something for everybody.
We have shot the film in 105 working days. The release of the film has got delayed due to fighters strike in industry that happened twice during the time of shooting of action sequences for Balupu. It resulted in rescheduling dates of important actors which was a tough job..
Actors:
Balupu is a full length entertainer that is tailor made for Ravi Teja. Brahmanandam plays the role of crazy mohan. It's a full-length role. He plays the role of Shruti Hassan's mavayya and the scenes between them are hilarious. The scenes featuring Ravi Teja, Shruti Haasan and Anjali are highly entertaining. Anjali plays a key character. Prakash Raj plays an apt character. Ashutosh Rana does a vital role.
There are two get-ups for Ravi Teja in this movie. One is Venky film look in which he has light beard. We have used this in Anjali's romance thread. The story of the film has the backdrop of Vizag and Bangalore.
Next projects:
I have a couple of films with big stars lined up. The first one will be produced by Paruchuri Prasad. I have a commitment with Bandla Ganesh as well. Details of the starcast will be announced after the release of Balupu.