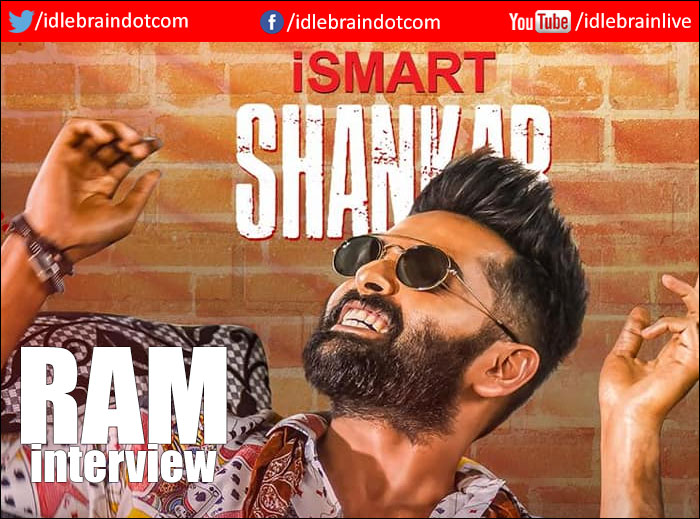 20 July 2019
Hyderabad
Ram is of calm type. He is in work holiday abroad as his latest film iSmart Shankar threw him into next league as a star. Here is an exclusive telephonic interview with this grounded and lovable human being -
Why do you think such a mass content has worked so well for iSmart Shankar?
It's because of my frustration. I generally stay away from watching films. But, I had been watching Telugu films regularly for the past one and a half years. The hero in Telugu cinema has become so righteous and altruistic that I wanted to do a badass film. I think Telugu film lovers too wanted to see a proper hardcore mass film.
When Puri Jagan came up with this story, I loved it and I wanted him to write it with wild characterization and without any restrictions. I am a calm and introvert type in real life. But I desperately wanted to portray a bad guy. iSmart Shankar is the story of a bad guy.
When I met a random guy, he mentioned that there are so many people who want to be my fans. But I was not giving a chance to them by selecting wrong films. I guess, iSmart Shankar is for such people who have a lot of confidence in me, but are disappointed with my selection of scripts.
I had been observing your tweets for a long time. You are a man with a philosophical bent of mind and an honest man. For the first time, you tweeted very positively about your film prior to release after watching private show?
Yes. I don't want to lie about film even if it helps promotion. That's why people say I am a bad publicist for my films. I am against hyping. Lot of people are asking me how I celebrated the success of iSmart Shankar. I was walking in the street on the day of release and I could see myself as reflection in the glass panel of a skyscraper. I looked at it and smiled. That's my way of celebrating.
Why did you choose to go abroad at this crucial time when your presence is needed here to promote film?
This abroad trip was planned long back before the release date shifted from 12 to 18. It was a personal/work-related trip that I must not miss. That's why I am abroad now. I am happy that the word of mouth is taking the success of the film forward.
How did iSmart Shankar change you at personal level?
By doing iSmart Shankar, I had shed a lot of inhibitions. People are giving me unnecessary credit for the success of film. The outer appearance (makeover) is mine and it contributes to 25% of it. Remaining 75% of it is due to the characterization written by Puri Jagan. It's about transformation from within. Puri Jagan has written a great character. Lot of people have observed that it's a difficult character to play, but I did effortlessly because Puri Jagan has injected me with the characterization.
What's your next film?
I will come back to Hyderabad after a month. I had a couple of scripts waiting for me. But the success of iSmart Shankar has changed it. Lets see how it pans out.