Rage raho Munnabhai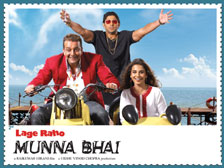 I am not going to write much details about the story etc. here because I think it is better to just go and watch the movie and enjoy it without reading anything about the story etc. I live in the US AND all I can say is there seems to be a fresh surge of talent that is rocking our Indian Cinema.
Enjoy it while it lasts. In the telugu world, we saw the likes of Pokiri and Bommarillu bring unprecedented crowds to the theatres here in US. Well, let me say for the first time in my life in the USA I couldn't get tickets to an Indian movie in spite of standing in line at least 20 minutes before the show begins. 9:30PM was the last show. The theatre folks went for an extra show on two screens at 10:30 to deal with the crowds. They had two police officers manning the public. The only way to get a decent seat was to be part of the crowd that is trying to enter the hall in a push. It was truly like watching the movie in India. I thought 10:30 was their last show. But when I came out to get a Pepsi I saw there was a huge crowd waiting for the next show. May be they decided to show another one or two at 11:30PM? The line was extended so long, it was almost unbelievable.
The interesting thing is, when the movie was done I felt really good that a movie like this is drawing such huge crowds in this day and age.
Recently we saw Rang De Basanti. Now this one. You can't truly predict what happens next in this movie. Actually, you are not even trying to do that. The actors and actresses all did well. Actually you are not thinking how well they are acting. The dialogues are extremely well written. This is something you will definitely notice and appreciate.
This is a movie about a rowdy but you could go with your entire family and completely enjoy.
After finding out that the tickets to the 9:30PM show were sold out while we were still at least 20 people away from the ticket window, I was thinking whether to stay back for the 10:30 show or not. We decided to stay put and go for it. Well, it was well worth it. We didn't take our 8 year old daughter because we were not sure what to expect. But one day, in the next few years, I will definitely watch this with her at home.
Bottom line, watch it soon.
Shravan
[email protected]
More My Movie experiences:
Bommarillu - Anirudh
LRMB - Srinivas
LRMB - Darsakudu
LRMB - S Sridhar
Bommarillu - Shridevi
Bommarillu - Vasudev
Bommarillu - Roopa
Sriram - Godavari
Sarath - Bangaram
Bala - Pokiri
Srinadh - Allari Pidugu
Sudheer Allari Pidugu
Anu - Athadu
Shyam Krishna - Iqbal
Purnesh - Grahanam
Sudhindra - Super
Vijay - Aparichitudu
Madhav - Aparichitudu
Hazaraon Kwaishein Aisi
Swades
Shyam - Black
Sai - Anand
Rohit - Anand & Veer Zaara
Jaya Prakash - 7GBC
Raj - Anand
Purnesh - Anand
Purnesh - The Village
Sriram - Gudumba Shankar
Purnesh - Gharshana
Purnesh - Lakshya
Purnesh - Yuva
Leenesh - Yuva
Kis - Lakshmi Narasimha
Indian Pride - Tagore
Raj - Boys
Phani - Gangotri
Phani - Khadgam
Vikram - CKR
BKR - Indra (Singapore)
Ram - Indra (Dubai)
Ranjeet - Idiot
Rahul - Indra
King Koduri - Indra
Srilakshmi Katragadda - Mitr: My Friend