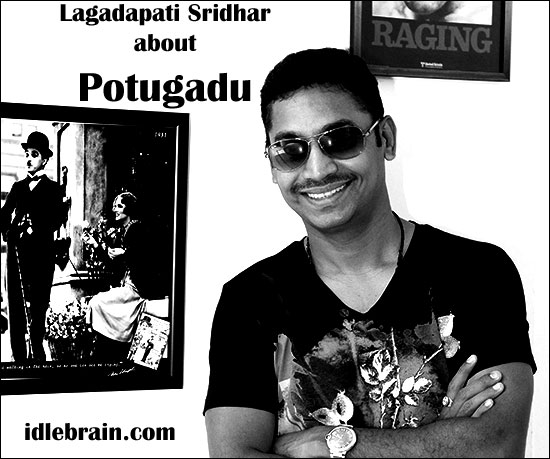 14 September 2013
Hyderabad
Lagadapati Sridhar who has started his career as successful producer with two consecutive hit Evadi Gola Vaadidi and Style. Then he veered off with two unsuccessful films Viyyala Vari Kayyalu and Sneha Geetam. Sridhar has taken a break and went into correction mode and is coming back with 'Potugadu' film which he says will have two things that are working big time at box office - romance and entertainment. Here is an exclusive interview with Lagadapati Sridhar by idlebrain.com -

Why did you take a gap after Sneha Geetham?
I am a kind of guy who loves movies with human relationships. My favorite films have been Pandanti Kapuram and Anthuleni Katha. The current set of audiences stopped patronizing films on human relationships. I have taken break for a couple of years and went into self-correction mode. The audiences who watch movie in theaters is between 16-30 years. I have decided to cater to their requirements. They want romance and entertainment.
Tell us about Potugadu?
I saw the song Pyarge Aagbittaite from Govindayanamaha while attending the CCL match and loved the song. I met the director and appreciated him. Later the movie was released and went on to become a blockbuster. It has started off with mixed reports and later became a big hit. I saw that movie in 3rd week and loved it. I watched it twice back-to-back. I wanted to remake it, but the producer quoted me a bomb. I dropped the idea.
I firmly believe in the concepts written in 'The Secrets' book. After an year, the director Pavan called and asked me if I were interested in producing a film titled 'Googly'. Googly was later made and it's a big hit in Kannada now. I told Pavan that I loved Govindayanamaha film and I would love to remake it. I have also told that he should act as a single-window for me and get all the dubbing rights done at reasonable cost. I knew that Manoj Manchu is the only choice. Talk about coincidences, when I was about to call Manoj, he called me asking if I were interested in a producing a script he liked. I asked him to watch Govindayanamaha. He loved the film and confirmed his dates on the next day.
What is Potugadu all about?
It's journey of a Tapori. It's about this guy falling in and falling out of love. There is heartburn, sacrifice and pain in love. It's an entertaining film about a light hearted guy whose aim in life is - 'I am a lover, not a fighter. But I'll fight for what i Love'.
Potugadu is is a fun on run film that is only of 1 hour and 50 minutes duration (excluding opening titles and end credits).
Tell us about the glamor?
There are four heroines in this film. Sakshi Chowoudhary is a Gladrags Miss India winner for 2011 - 2012. Simran Kaur Mundi is a Miss India Universe 2008. Rachel worked in the Oprah's Ballet. Anu Priya is a popular model in Mumbai. The four heroines provided lot of glamor and they have good onscreen chemistry with Manchu Manoj.
Market is abuzz with the rumors that you made a table profit with Potugadu?
Yes. For the first time in my career as producer I am seeing table profits. I have sold the film for all areas in just a week after the music is launched. It will not only a profitable project for me, it will fetch money for the distributors too as the film is entertaining. This film is shot in just 45 working days.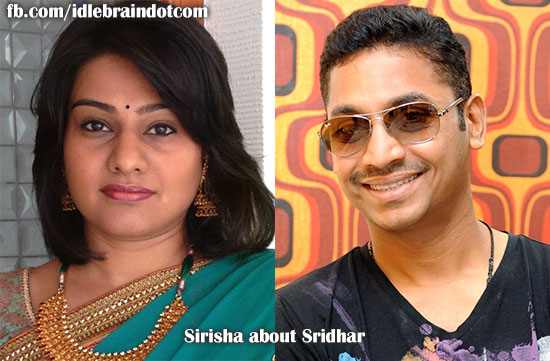 Sirisha about Sridhar
Did you notice any change in Sridhar as a filmmaker after the hiatus?
He is more focussed now. He is making sure that there is entertainment in his films.
You and Sridhar - both of you are producers for this film. How different are you as producers?
Sridhar looks at a film from filmmaker point of view and I see it from audience point of view. I liked Evadigola Vadidi, Style and Potugadu and didn't like the rest of the films we produced.
Have you seen Potugadu?
Yes. Saw it four times. It's racy and witty. You will not feel bored. The USP of this film is going to be comedy and pace.