Bommarillu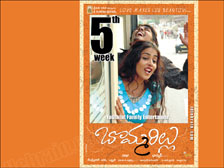 A lot has been written already about Bommarillu and it's too late to talk about the movie, but the feeling that you get after watching this movie is just refreshing, so I will try to talk as little as possible about the movie to keep you a little refreshed.
I never actually thought I would find time (to waste) to think and then write an article on a telugu movie. As all andhrites, I dream of making films too. I dream of directing films too like many people in discussion boards and I too, like them am fed up with the state of telugu movies. We often tend to compare our films with Hollywood or Bollywood and then consider ourselves copy cats, little do we realize that we are comparing apples to oranges. We ignore a lot of things like audience, budget, culture etc. Anyways, the reason I mention this is Bommarillu stands out as a movie that is close to us, close to our thoughts and close to our lives. I can relate many scenes with my life and my friends, and that is what actually makes this movie outstanding!
Unfortunately, I read too many reviews and may be I might sound biased, but Bhaskar, the director did a tremendous job. If he can live up to the expectations then we are blessed with a talented director. Most of the times new directors tend to put in all their thoughts and creativity into their first film and the movies that they make later end up half baked. I hope Bhaskar takes his time and comes up with good movies in the future, like Rajkumar Hirani did.
A lot has been said about Genelia, and may be the hype got into my head. I really don't think she was perfect or extraordinary in the film. Her characterization was good (and dumb too) and she probably worked hard but not enough. Since we don't have a good actress currently in our industry we probably have to be content with her performance. She tends to smile rather than act or dance, be it in romantic scenes or songs. They should have chosen Sunitha to dub her voice, instead they chose Savitha Reddy and that probably was the only real drawback I find. She tried her best, but she should start speaking telugu rather than tenglish.
Siddarth is good and natural. Many a times, many a things go unnoticed, but not this time. Siddarth's hard work is visible on screen and he did really good, dubbing his own voice. Amazingly, he sang a song and he sounded just like DSriP (Devi Sriprasad). Great work! He was good in Rang De Basanthi and with its huge success, I thought he would probably do less telugu(south Indian) films, but it is good to see him here sign more films. I hope he just gets better and better.
I have no complaints against Prakash Raj, some producers might have though ;). He is fluent and can do any role with ease, and as a caring and concerned dad in this movie, it is a cake walk for him. His role in some ways is similar to the one in Nuvve Nuvve, but the lectures in this are limited and so the audience isn't bored. Bhaskar got lucky with Jayasudha. It probably would have been hard to convince the producer and also the actress to act in a role that hardly has any role. But he did well and that one scene where she questions Prakash Raj is enough to appreciate the director's choice. All the supporting actors were good. It is kind of boring to see the same people as hero's friends in many movies, and its good that the director chose different people. Off the topic, I liked the hero's batch in Vennela, they were awesome and it is good to see the villain Syed in Vennela in Bommarillu as one of hero's friends(it's not everyday that you write articles, so I am just including it in this, so please excuse my hijack).
Finally, the music, just one word AWESOME! Devi Sri Prasad is back. He sort of lost his way starting with Shankar Dada MBBS, trying to give mass tunes, but he is back. Bommarillu is the kind of album that we expect from him and he could do no wrong. The lyrics compliment his tunes very well. All the songs are good and very well picturized. The timing is good. Except for the last song (Love makes life beautiful) all others seemed to be in the flow. The last one though initially seems a little sudden and out of place (not the lyrics, just the timing) it raises the tempo of the movie. There are too many scenes that I liked and I really cannot point out any in particular. On the whole Bommarillu is a great movie. I hope it keeps doing great overseas, and I wish it is back in town again sometime soon!!
-darsakudu
[email protected]
More My Movie experiences:
Bommarillu - Vasu
Bommarillu - Harsha Prakash
Bommarillu - Lalitha Spoorthi
LRMB - Shravan
Bommarillu - Anirudh
LRMB - Srinivas
LRMB - Darsakudu
LRMB - S Sridhar
Bommarillu - Shridevi
Bommarillu - Vasudev
Bommarillu - Roopa
Sriram - Godavari
Sarath - Bangaram
Bala - Pokiri
Srinadh - Allari Pidugu
Sudheer Allari Pidugu
Anu - Athadu
Shyam Krishna - Iqbal
Purnesh - Grahanam
Sudhindra - Super
Vijay - Aparichitudu
Madhav - Aparichitudu
Hazaraon Kwaishein Aisi
Swades
Shyam - Black
Sai - Anand
Rohit - Anand & Veer Zaara
Jaya Prakash - 7GBC
Raj - Anand
Purnesh - Anand
Purnesh - The Village
Sriram - Gudumba Shankar
Purnesh - Gharshana
Purnesh - Lakshya
Purnesh - Yuva
Leenesh - Yuva
Kis - Lakshmi Narasimha
Indian Pride - Tagore
Raj - Boys
Phani - Gangotri
Phani - Khadgam
Vikram - CKR
BKR - Indra (Singapore)
Ram - Indra (Dubai)
Ranjeet - Idiot
Rahul - Indra
King Koduri - Indra
Srilakshmi Katragadda - Mitr: My Friend