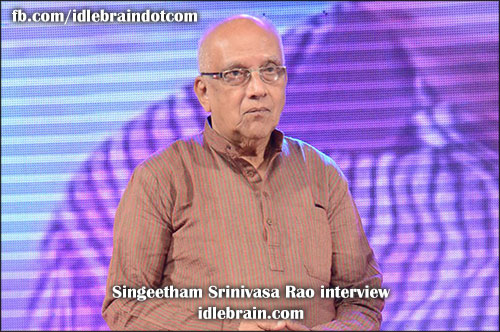 20 September 2013
Hyderabad
Singeetham Srinivasa Rao is 81 now. But his enthusiasm to make films and entertain us is never diminished. A man who has enviable classes in his kitty like Pushpaka Vimanam, Vichitra Sodarulu, Aditya 369 and Bhairava Dweepam is all set to dish out another variety film titled 'Welcome Obama' that deals with the burning issue of 'surrogacy'. Welcome Obama is releasing on 20 September. Here is an exclusive interview with idlebrain.com -

You are 81 now. What keeps you motivated to make films again and again?
I don't enjoy anything else in life except for cinema. Film is the only form of entertainment for me. I don't enjoy holidays and I hate relaxing. I enjoy the process of filmmaking all the time.
What is Welcome Obama is all about?
Welcome Obama looks at the issue of surrogacy and discusses good/bad aspects of it. An Indian woman acts as a surrogate for a white man and gives birth to a white kid. The story of this film revolves around these characters. You can buy (adopt) children, but you can't rent a womb. There are so many emotional issues for the mother. The child needs the warmth of mother.
Surrogacy is a serious issue. Don't you think people expect entertainment from a director who gave classic entertainers like Pushpaka Vimanam, Vichitra Sodarulu and Aditya 369?
Any emotion at it's peak gives a lot of entertainment. Lot of people have misconception that comedy is the only emotion that can be called as entertainment. People watched the old classic Devadas innumerable times. Romance and tragedy in that film entertained the crowds.
I have an experience of 60 years in films and I can confidently say that it's the last reel that matters a lot to the box office performance of any film. The emotions generated by the last reel is what you carry when you come out of theater. The climax episode and scenes leading to climax will make people come out of theaters with the right emotion.
Tell us about the producer Bharati Krishna?
The producers Bharati and Bharati Krishna have made their mark in TV arena with their reality shows and TV serials. Producer Bharati Krishna is capable of directing films, but he has approached me to direct a film for them. He has a balanced mind with aesthetic sense. If you look at the long-standing production houses, all of them have started with right films and continued with the story driven films. Examples are Nagireddy - Chakrapani (Showkar) and D Madhusudhana Rao's Annapurna Pictures (Dongaramudu). Welcome Obama is a meaningful, yet commercial cinema.
You have penned lyrics and composed music?
Yes. It was easy as music and lyrics drive the situation. It was Ilayaraja who has asked to compose music. I have already composed music for a couple of Kannada films starring Dr. Raj Kumar. This is my first Telugu film as a music director.
What is your gut feel about Welcome Obama?
I am very happy about it. We will only comes to know about our mistakes when film is released and when others point them out. The main cast didn't wear makeup as we wanted to show the true skin complexion. For that same reason, we didn't use digital camera. We shot it with a proper film camera. The entire film is shot in 33 days in a well-lit environment. It's easy to contain mood of cast and crewmembers if the films were shot in minimal number of days. That's why Hollywood films usually take 4 to 6 week to shoot a film each. But the pre-production takes place for over 6 months.
Tell us about the contribution of actress Rohini for this film?
Rohini penned dialogues for Welcome Obama. She has also worked in direction department. I wanted realistic and crisp dialogues for this movie. Regular dialogue writers can't do that job. She came up with a fabulous work.
Tell us about three of the best films you have made in your career - Pushpaka Vimanam, Vichitra Sodarulu and Aditya 369?
Aditya 369: Lot of people have misconception about the film that it's inspired by 'Back to the Future' film. You look at these two films carefully, you will understand that it's not inspired by Back to the future. I read a book written by HG Wells called 'Time Machine' which I had read during my college days. We had carefully chosen Sri Krishna Devaraya's era for time travel as Bala Krishna is very good with similar roles and his father NTR lived the role of Sri Krishna Devaraya in many films. The already popular characters of Tenali Ramalingadu and Tammarusu and popular padyalu made our job easy to impress the audiences with the narration.
Vichitra Sodarulu: We have managed to create a dwarf role with minimal resources. It's still a mystery for lot of people about how we created the dwarf role. We (Me, Kamal Haasan and PC Sriram) wanted to come up with a documentary on it. In the initial version of the story, we have only one Kamal Haasan playing the dwarf character. After getting rejected by a couple of girls, we show he walking into desert with his circus troupe in the climax. If we made that story as a film, it would have been a disaster. We created another character for Kamal Haasan to create entertainment and drama. And added revenge angle to make it commercial.
Pushpaka Vimanam: It's an ordinary story of a jobless youth who want to earn money in a shortcut. It's a simple story that preaches that one has to work hard to earn anything. We had the screenplay in such a way that the situations themselves will make us laugh. And it was a dialogue-less film, which is the most unique point. We didn't need dialogues as the screenplay and situational strength is enough the convey the essence of the scene.
Tell us about your next film?
It is going to be a musical. For the first time in India, we are doing a pre-recorded film, which means that background music is scored first and movie is shot using background music as reference. A similar method is followed for animation films where dubbing is done first and animation is done later. This film will be made in three languages - Telugu, Tamil and Hindi. This film will also be produced by Sandal Wood Media that is producing Welcome Obama. Talks are on with Warner Brothers who has shown keen interest in this musical.
The Umbrellas of Cherbourg is a French musical film made in 1964 which had music written before movie is made. Another example is Evita - a musical starring Madonna and Antonio Banderas.