October 23, 2006
Don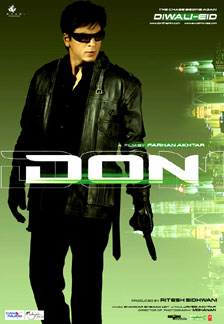 There is this particular notion among a section us that a replica is far inferior in quality than the original no matter how good the replica may be. Well this holds good for this movie and is very likely to hold good for remakes that are in pipeline. We must have encountered many of these people in our daily lives who fit into this Newton's law of Inertia (in this case the inertia of love for old things – call it heredontomania or any silly name if there is no name given to this till now)
I always believed that all my passion and energies were directed towards movies and nothing else and I never guessed that I would ever write on psychology, till I came upon this gentleman in the premiere of this movie in Hyderabad the day before it was released all over. I was eagerly waiting in the lobby of the theatre to get over the last few minutes of intense excitement to watch the movie when I overheard this man talking to his friend.
He claimed that the old movie was much better than the new one and the new one should not have been made at all(God knows how he came to know this even before watching the movie). He felt the same way while watching the movie and was saying the same thing to his friend even while waiting in the parking lot after the screening. This is when I realised the power of heredontomania ( I am sure it is going to be popular with this name in the future ). Well, if the director expressed his love for the old movie by remaking it, this guy expressed his love by bullshitting the new one. Now, I will need to stop discussing psychology and move on to the movie part so that this write-up finds a place for itself on a movie website and not a medical journal.
DON is a timeless movie. The way it was made has been widely accepted and acknowledged. Be it the grace of the Big B or the deadly looks of Jeenat Aman or the enchanting performance of Helen or the narration of the director or the musc, this movie is a classic. Farhan must have lived with the memories of the movie for a major part of his life. Other wise I don't think one would remake this movie after 28 long years after its release. The fact that all of us should be happy about it is that this is guy is successful in doing it.
Whenever one hears the word remake, consciously or unconsciously, all of us tend to compare the replica with the original. I tried my best to wipe off the original movie from my memories before I entered the theatre to watch the new, tech savvy DON and I must say, I enjoyed the movie as much as I did when I watched the original one. Now, I know there would be bunches of people who would like to start debates on this with me, but I would always say that these films are two different independent entities and you would do better to not compare butter chicken with tandoori chicken even though they are basically made of chicken.
I don't think there is a need to discuss the story of the movie and I am sure you don't expect me to do it either. The screenplay of the movie is good except for 10 minutes in the latter part of the second half which is passable. Priyanka fits perfectly into the shoes of Roma and I cant imagine anyone else apart from her in that role. I have a feeling that Boman Irani has been miscast in the movie but I also must accept that it would not have been possible for me to identify any other actor who would have done justice to that role better than how Boman did it. Music and background score by Shakar – Ehasaan – Loy is top class. I need to make a special mention of the cinematography of Mohanan. Very few know that he has worked as the additional cinematographer for Lagaan. His work is remarkable and I am sure he would make it to the top very soon.
Farhan seems to surpise me time and again. Parts of his first movie DCH are very mature and I wondered what his age is when he directed that. Lakshya too came to me a surprise just for choosing that style of narration. In DON, I could find the childish enthusiasm and obsession in making the movie. I feel that he is a director who has his fundas right and clearly has a picture of how his movie is going to look like on the screen even before the shooting starts. He chooses his crew to perfection. I am eagerly awaiting his next surprise.
Didn't we forget some thing? This review would never be complete if I do not write about Shah Rukh Khan. I have been hearing and reading many comments that SRK cannot do other roles apart from those lover boy roles and has nothing new to offer. But I had this feeling that he is not at fault if his directors and producers always wanted him to do so. There was a time when I too wished I could see the other side of the actor in the likes of Darr, Baazigar, Kabhi Haan Kabhi Naa. I am glad he produced and acted in movies like Ashoka and Paheli. Voices of his critics started fading out after Swades. Now, I think they would want to press the mute button after seeing his performance in Don. I am glad Shahrukh accepted the roles in DON which were very demanding and they required an actor who could be ruthless without reason (DON) and one who has a heart as pious as a rain drop (Vijay). Shahrukh has fit the bill perfectly to the extent that you would hesitate to imagine any other actor doing this role with the brutality and at the same time with that comic timing and gigantic screen presence. For all your energies and skills, Shahrukh, take a bow.
P.S : Please don't let my bad writing skills stop you from watching the movie. The movie is much better than the write up I am sure you would agree with me after watching it. Before you buy your tickets, jump out of that heredontomania shoes and stop comparing butter chicken with tandoori chicken
Syam
[email protected]
More My Movie experiences:
Boss - Anand
Boss - Hrithik
Stalin - Bala
Bommarillu - Nandini
Bommarillu - Darsakudu
Bommarillu - Vasu
Bommarillu - Harsha Prakash
Bommarillu - Lalitha Spoorthi
LRMB - Shravan
Bommarillu - Anirudh
LRMB - Srinivas
LRMB - Darsakudu
LRMB - S Sridhar
Bommarillu - Shridevi
Bommarillu - Vasudev
Bommarillu - Roopa
Sriram - Godavari
Sarath - Bangaram
Bala - Pokiri
Srinadh - Allari Pidugu
Sudheer Allari Pidugu
Anu - Athadu
Shyam Krishna - Iqbal
Purnesh - Grahanam
Sudhindra - Super
Vijay - Aparichitudu
Madhav - Aparichitudu
Hazaraon Kwaishein Aisi
Swades
Shyam - Black
Sai - Anand
Rohit - Anand & Veer Zaara
Jaya Prakash - 7GBC
Raj - Anand
Purnesh - Anand
Purnesh - The Village
Sriram - Gudumba Shankar
Purnesh - Gharshana
Purnesh - Lakshya
Purnesh - Yuva
Leenesh - Yuva
Kis - Lakshmi Narasimha
Indian Pride - Tagore
Raj - Boys
Phani - Gangotri
Phani - Khadgam
Vikram - CKR
BKR - Indra (Singapore)
Ram - Indra (Dubai)
Ranjeet - Idiot
Rahul - Indra
King Koduri - Indra
Srilakshmi Katragadda - Mitr: My Friend