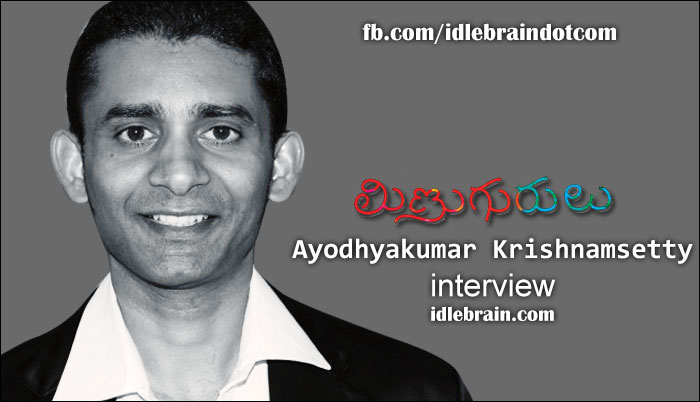 25 January 2014
Hyderabad

Ayodhya Kumar Krishnamsetty went to USA to do a software job and ended up studying in film school. He wanted to make a romantic comedy in Telugu and ended up making Minugurulu. Here is an exclusive interview by idlebrain.com with this learned passionate filmmaker -
Background:
I have completed my degree in marine sciences in Andhra University and went to USA to do software job in 1999. I was laid off after 9/11 episode. Instead of trying for a new job, I joined a 4-year bachelor course in filmmaking in Northwest Film Center, Portland, OR. I did full time for 2 years and then did part time by working in a software company to support myself. I passed out from film institute in 2006 and made a couple of short films like The New Scarf (2006) and I am not a chair (2008). The duration of each of the film is of 30 minutes and made with a decent budget of 15000 USD.
I decided to make mainstream cinema by 2009 and wanted to make it in Telugu. I have written a romantic comedy. My dream project is a film on education and I was doing some research. That is when MVV Chowdary told me a story line that happens in a visually impaired school. I bought the idea and developed a full-fledged script. I have personally visited all noted blind schools in AP and did interviews and research for 15 months. I want to make sure that we don't miss any detailing in the movie. I had also been to Perkins School for the Blind in USA. I have taken help of researchers in LB Prasad's Eye institute. I took me 12 drafts to get satisfied.
I have a few technicians from USA worked for this movie. Torrance Edward Maurer is a Colorado-based production designer. David Fuller and Paulius are cinematographer. We had entire equipment imported from USA in 11 compartments of camera related equipment.
Dr, Josyabhatla who is a PhD in music has composed beautiful songs for the movie. Vivek Philip composed background music.
I had gone to a lot of film schools and auditioned students. We has tough time in getting actors as most of the students were advised against it by the people around them. We have selected 40 visually impaired students for Minugurulu. Only 3 sighted people worked as the main leads - Deepak Saroj (acted in 40 films as child actor), Rushini (heroine - acted as visually impaired girl in the film) and Srinivas Sai (Golkonda High School fame and acted as a milk boy).
I wanted an isolated building to be constructed as a set in the backdrop of ocean, but managed it near Gambhiram Gedda reservoir in Vizag. Rambon (Subramanyapuram) fame has done a realistic set of blind school and hostel in the backdrop of reservoir. It took six months to erect this set.
We cast big names like Ashish Vidyardhi, Raghuvir Yadav and Suhasini as we have plans for international film festival and national release. Ashish Vidyardhi is so much impressed with work that he has given 20-days call sheet at a reasonable price. He is a product of National School of Drama. National award winning actor Raghubir Yadav has acted as a blind teacher. His preparation is so immaculate that he came here 3 days before and learnt prepared for his character. We cast Suhasini is vital character of a collector.
We have started the shoot in 2011 and completed in 90 working days. We brought the first copy out by December of 2013 and shown it to Chiranjeevi. He praised Minugurulu for 25 minutes and opined that it has all commercial ingredients to work at box office. He has also done logo launch. We were on cloud 9 withe the appreciation of mega star. A lot of sensible film personalities like Sekhar Kammula, Gunnam Gangaraju, Damu etc. Actress Shriya had a private screening. Professor Haragopal loved the film so much that he is making efforts to include this film in the syllabus for IAS students. Sandhya (POW), CPI Narayana and IIT Chukka Ramaiah have given thumbs up for the film and wanted to promote the movie. Sekhar Kammula opined that Minugurulu is a film that makes Telugu people pride.
Finally Dasari has seen the film and he has loved it immensely. He came forward to release Minugurulu. Minugurulu is getting a respectable release only due to Dasari's Siri Media. Dasari has presented this movie as well. For the first time in his career, Dasari is presenting a film that he is involved neither in production nor in direction.
I want Telugu movie lovers to watch the film only if they feel that it's a good film. I don't want any sympathy on my film because it deals with the subject of visually impaired. Minugurulu is a film with which makes an interesting viewing. It's not an arthouse film.