Story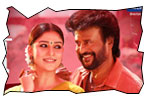 Aditya Arunachalam (Rajnikanth) is posted a police commissioner in Mumbai. He is known for aggressive and unconventional style of policing that produces results. In the process, he disturbs the drug kingpin Vinod Malhotra (Nawab Shah). Aditya Arunachalam is a single parent of his daughter (Nivetha Thomas). In a turn of events, Arunachalam life is rocked and the rest of the story is all about how he tracks and kills the person who is responsible.

Artists Performance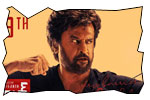 Rajinikanth: It's been almost a decade since we saw Vintage Rajinikanth's mannerisms. Director Murugadas captures all the style of Rajinikanth. He is exceptionally charming with a nice hair style. In one of the scenes, he says that age is just a number and then does some workouts at Gym. He has a terrific body for a man of 69 years old and his energy levels are very high. His mannerisms suited well for the role of maverick cop.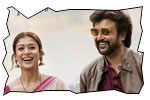 Others: Nivetha Thomas has acted as the daughter of Rajinikanth. She is extremely good and is as asset. Nayanthara plays the role of Lilly whom Rajnikanth loves. She is very attractive with a demure smile though she had a limited screen presence. Yogi Babu provides much needed laughs with his body language. Prateik Babbar is good as baddie. Suneil Shetty is menacing as Hari Chopra.
Technical departments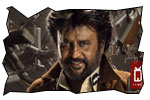 Story - screenplay - direction: Darbar is a revenge story of a sincere cop. 70% of the film is shown in flashback mode where hero goes on the mission of cleaning the society as he gets romantically involved. The remaining 30% is about tracking and killing the villain. Murugadoss who is known for showing slick investigative techniques has made sure he infused a few in this film too. The technique using which Prateik Babbar is forced to be brought back from Thailand is intelligent. The way villain is traced is also shown in an interesting way. First half of the film is satisfactory. However the second half (especially the revenge part) lacks strong narrative.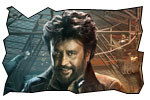 Other departments: Only one song is good. Remaining songs appear unnecessary. Background music by Anirudh Ravichandar is good. Cinematography by Santosh Sivan is sleek. Dialogues are good. Art direction by T Santhanam is nice. Action choreography by Peter Hein and Ram Laxman duo is very stylish. Editing is alright. Production values by Lyca Productions banner are grand.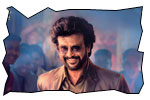 Analysis: Darbar is the most stylish flick which exploits the style and mannerisms of Rajinikanth who essayed the role of a maverick cop. Plus points of the film are Rajinikanth, investigative techniques and commercial quotient. On the flip side, the second half should have been taken care of (especially towards the last half an hour). And there is not much confrontation between hero and villain physically/emotionally. On a whole, Darbar is for the fans to rejoice the vintage Rajinikanth!!