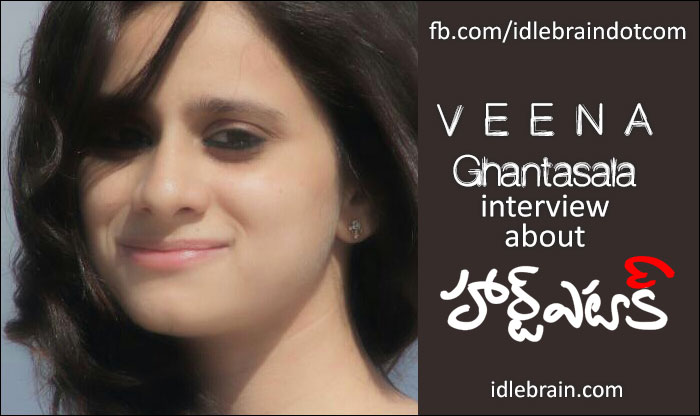 14 February 2014
Hyderabad

She is the granddaughter of a legendary music director and singer. She is the daughter of a popular dubbing artiste. She made her debut as female dubbing artist for a straight Telugu film with Heart Attack. Her voice has won many praises and later audiences realised that she is none other than the granddaughter of legend Ghantasala. Idlebrain.com has taken interview of Veena Ghatasala who has won the hearts of Telugu movie lovers with her dubbing to Hayati character in Heart Attack. Here are the excerpts -
Background:
I am granddaughter of Ghantasala garu. My father is Ghantasala Ratna Kumar - a popular dubbing artiste. I came to film industry to carry their legacy. I started dubbing for TV series at the age of 10 for characters like Mowgli.I started dubbing for heroine characters at the age of 16. And dubbed many voices in Telugu for Pia Bajpai (Goa), Bindu Madhavi (Sega), Kangana Raunat (Dhamdhoom), Genelia (Urimi), Hansika Motwani (Biryani), Ashrita Shetty (NH4) and Naga Chaitanya's sister (Ye Maya Chesave). I sang a song each in Urimi and Andala Rakshasi.
Opportunity of Heart Attack:
I approached dubbing manager Pappu and he has asked me to call Puri Jagan as he was looking for a fresh voice. Puri Jagan was in flight and was about to take off to Goa when I called him. He approved my voice by listening it over the phone. I had no clue about character and story when I entered dubbing studio. I had seen the entire first half to understand the character and dubbed it accordingly.
The appreciation for dubbing Hayati character in Heart Attack is amazing. I am flooded with messages on my facebook account. It's something unexpected. I never had the opportunity to dub for a straight Telugu films. All my earlier stints were for dubbing movies. Lucky, I have got a meaty heroine role to dub for my first straight Telugu film. Puri Jagan's heroines are always famous.
Puri Jagan's lucky hand
I am feeling very lucky to have made my dubbing debut for a straight Telugu film with Puri Jagan. He has got uncanny knack of picking up winners. Not many people are aware that Sunitha and Savitha Reddy made their debut as dubbing artistes with Badri film which also happens to be the debut of Puri Jagan. Sunitha and Savitha Reddy went on to become huge dubbing artists. I hope to follow their path.
What do you do when you are not dubbing/singing?
I have completed my MBA. And I am good at playing Veena (living up to my name). I love cooking. Cooking is like meditation for me. I love doing social activities. I go and teach English and Maths in under-privileged schools.
Who are your inspirations?
My inspirations in singing are Ghantasala garu and Shreya Ghoshal. My inspirations in dubbing are my dad (Ghantasala Ratna Kumar, Sunitha and Chinmayi). It's very difficult for an established dubbing artist to continue as singer. Sunitha and Chinmayi achieved this feat. I want to take them as inspiration to be the best with both singing and dubbing.