September 11, 2007
Chak De! India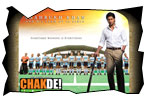 We have seen film makers promoting movies that they carry message for our society. But do they need to say that if the movie really carries one as the saying goes 'a picture tells thousand words'. ' CHAK DE INDIA ' shows that good script is what matters, not really the stars (except Shah Rukh Khan and few TV artists, most of them are new). Good scripts created the stars and the super stars. I am sure that with this movie, Shah Rukh Khan might have got extra pool of fans, apart from his usual fans.
People/critics coined terms like parallel cinema or art cinema. These kind of movies will be good but they find only few audience and commercially not viable always. That's the main reason why their number is very less when compared to so called main stream (commercial) cinema. I think Yash Raj Productions has taken a very bold step in producing this movie. 'No heroine' in Yash Raj film, no body could have ever imagined. Kudos to Yash Raj Productions, really.
The success of this movie proved that Indian cinema is not all about dances and fights but showed that there is young talent gearing young India . Big production houses should promote this kind of young talent. Of course they should take due care in identifying potential good ones.
We should adapt to new emerging technologies in movies but the soul of the movie 'the script', should not be overlooked. In early ages of Indian cinema, hit-to-flop ratio was very less because the quality of final product was good as they devoted enough time to all aspects right from concept to end product. Now-a-days, people are overlooking the important aspects over commercial interests. Audience will appreciate hard work irrespective of the subject. As Sri Sri said 'KaaDeDi kavitakanarham', any subject will work if it is handled properly.
SUBHALEKHA (K.VISWANATH), a master piece show casing burning social issue, is a perfect example of tremendous balancing act of reality and entertainment. After all, Navarasaala kalayike kala. Message should be inherited in the movie, no body likes preaching in these progressive times of India.
Ravikumar Ajjampudi
[email protected]
More My Movie experiences:
Yamadonga by Lalitha
Chak De India by Shyam
AMAV by Darsakudu
5 in March by Sashidhar
Okkadunnadu by Anand
Black Friday by Ratnakar
Desamuduru by Krishna Prasad
Guru by It's opinion
Dhoom 2 by Lalitha Spoorthi
Dhoom 2 by ASK
Don - Syam
Boss - Anand
Boss - Hrithik
Stalin - Bala
Bommarillu - Nandini
Bommarillu - Darsakudu
Bommarillu - Vasu
Bommarillu - Harsha Prakash
Bommarillu - Lalitha Spoorthi
LRMB - Shravan
Bommarillu - Anirudh
LRMB - Srinivas
LRMB - Darsakudu
LRMB - S Sridhar
Bommarillu - Shridevi
Bommarillu - Vasudev
Bommarillu - Roopa
Sriram - Godavari
Sarath - Bangaram
Bala - Pokiri
Srinadh - Allari Pidugu
Sudheer Allari Pidugu
Anu - Athadu
Shyam Krishna - Iqbal
Purnesh - Grahanam
Sudhindra - Super
Vijay - Aparichitudu
Madhav - Aparichitudu
Hazaraon Kwaishein Aisi
Swades
Shyam - Black
Sai - Anand
Rohit - Anand & Veer Zaara
Jaya Prakash - 7GBC
Raj - Anand
Purnesh - Anand
Purnesh - The Village
Sriram - Gudumba Shankar
Purnesh - Gharshana
Purnesh - Lakshya
Purnesh - Yuva
Leenesh - Yuva
Kis - Lakshmi Narasimha
Indian Pride - Tagore
Raj - Boys
Phani - Gangotri
Phani - Khadgam
Vikram - CKR
BKR - Indra (Singapore)
Ram - Indra (Dubai)
Ranjeet - Idiot
Rahul - Indra
King Koduri - Indra
Srilakshmi Katragadda - Mitr: My Friend