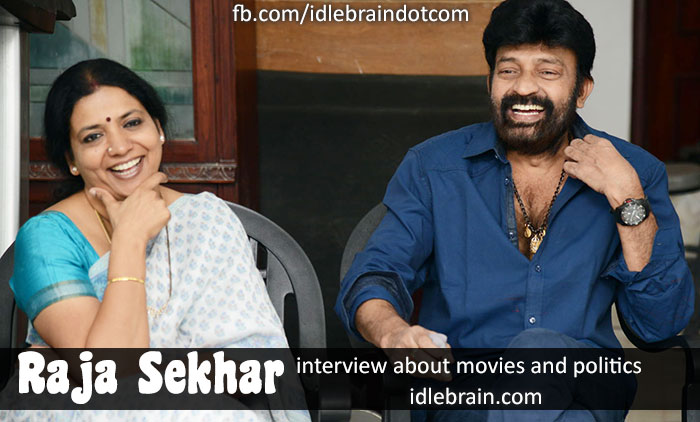 02 May 2014
Hyderabad

Raja Sekhar has taken a small gap after his last film Mahankali and now he is acting and producing three films - Pattapagalu, Gaddam Gang and Vandaku Vanda. Raja Sekhar talks about these three films and why he supports Modi -
Cinemas: I am currently doing three films
1. Pattapagalu: Shooting of this film is completed a long back and post production work (especially visual effects) is going on now. I wanted to act in Ram Gopal Varma's films for a long time. We have distributed the Tamil version of RGV's Raath. When we went to dinner to Park Hyatt, I met Vijay (Tamil hero), Ram Gopal Varma and Puri Jagan. During our conversation we decided to make a film together. I am also producer of the film. I said that I am willing to act in the movie without even knowing the story. Pattapagalu was supposed to be a horror film. But after seeing my work, he has modified the script to add sentiment to it. I played the role of a father for a girl played by Swathi Deekshit. Pattapagalu will be an emotional thriller. Ram Gopal Varma is the most fastest and efficient director (earlier it was KS Ravi Kumar). We are planning to release Pattapagalu on the ominous day of June 6th (06-06-2014 which means 666)
2. Gaddam Gang: Soodhu Kavvum is a concept film and went onto become a blockbuster in Tamil. PVP has bought Telugu rights and then they were transferred to KS Rama Rao. We bought the rights from KS Rama Rao a month back. We are launching the film on 12 of this month and the film will be shot in 40 working days. It's a concept film with a lot of comedy and you will see a different Raja Sekhar in it. Anjali and Lavanya are playing female leads. It will be a turning point to my career. Achu is providing music. He is also creatively collaborating with the story team. Santosh who has worked with Saravanan (Journey director) makes his debut as director with this movie.
3. Vandaki Vanda: This is going to be directed by Jeevitha Rajasekhar. I played the role of a teacher. My daughter Shivani is making her debut as an actress in this movie. She plays one of the two main student characters. 80% of the shoot is complete. We have stopped the shoot as Shivani is writing her 12th class exams. Shooting of interval block and climax is pending. Brahmanandam and MS Narayana are also playing interesting roles.
For the first time you are doing solo mature role of father in Patta Pagalu?
I never had any problem in doing such characters. I was willing to played the role of Chiranjeevi friend in Sneham Kosam. I was considered for the role of Vijay Kumar in Sneham Kosam movie. Some how, it didn't materialize.
Are going to keep Money Money song?
Music director Achu said that he will come up with a better song. I will give you an example. Devi Sri Prasad composed Kevvu Keka song in place of Munni Badnaam slot and we know how big a chartbuster it is. We may have a different version for Money Money song.
Whats the reason for making Shivani an actress?
I asked Shivani if she can do a cameo with a punch dialogue when she was a kid. She gave a nasty look and said that she wants to act in Bollywood films in Karan Johar direction. That's the standard she set for herself. And she is convinced doing a big role in Vandaki Vanda film.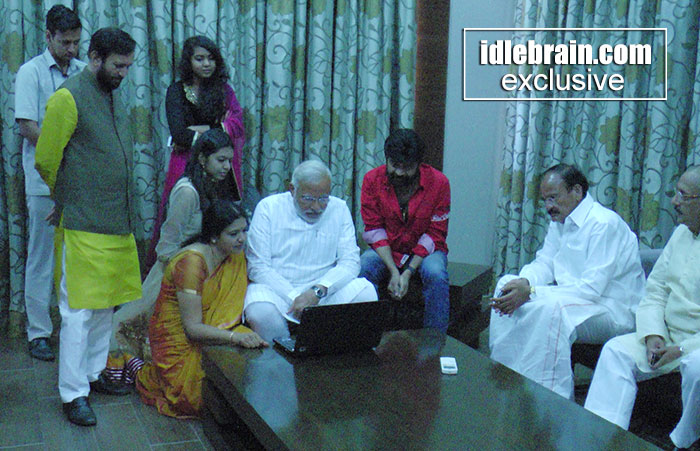 You have supported few political parties earlier. What is the reason for supporting Modi?
I have supported the political parties which tend to be better ones at that point of time. Just like the voter keeps voting for better parties in each elections, I support the better party every time. Right now, BJP and Modi are the right choices for center. Jeevitha has joined BJP party, I haven't joined. I am just supporting it from outside.
I have acted in a song to promote BJP and Modi. It was supposed to be unveiled in Modi's Hyderabad meet, but was not done due to security issues. Modi has personally called us over phone and said sorry. He is such a man of humility. He has invited us to Tirupathi and to Gujarath. We went to Tirupathi and met him. He is impressed with the song.
My supporting any party is only as a responsible citizen. I don't have any monetary or quid pro quo benefits out of it. I have sold house and assets when I had monetary slump. I sold my house in Road No. 73 for 3 crores and the price shot up to 12 crores in 8 months.
There is no mention of Chiranjeevi in your press meets these days?
I have talked against Chiranjeevi in media when my family was attacked by his fans. I don't have any personal enmity with him. When I went to Uday Kiran's funeral, fans were shouting against Chiranjeevi. I was the one who said that Chiranjeevi has nothing to do with Uday Kiran's suicide. I also heard that Chiranjeevi is being wrongly accused in media during polling event. If I talk anything against Chiranjeevi it will be issue based. Otherwise I have no reason to discuss about him.