September 29, 2007
Chirutha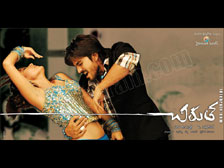 Yesterday I had been to watch the film "Chirutha" at Aradhana theatre, Tarnaka. I had seen the film with Osmania students. I would like to bring some points to your notice.
1. "Ram Charan" is going to rock the Telugu industry; literally he is going to be "Andhra's Hritik". He was damm good in his expressions and dances and portrayed well in his role. I have never seen a new comer performing so well on screen with his first film. There was a huge cheer to the dances as well as fights.
2. "Puri jaganatth's " direction is good, as he has done well in potraying the extreme capacity of Charan as an actor. There are no regrets in this matter as here "Charan" is the highlight of the movie.
3. "Music" will rock once audience sees the movie and Manisharma has given excellent music with background score.
4. Photography was excellent and Shyam has succeeded in showing "Ram Charan " in a very different manner.
5. Neha Sharma is good in her role and has done her job well.
6. Editor should also be applauded in succeeding the success of the movie with his crisp editing.
7. Aswini Dutt as producer is going to enjoy the success with a feather in his cap. Vyjayanthi movies is going to accomplish its name as a successful production house.
8. Other actors have done their role well and it's Prakash Raj as usual.
PS: The scene where Prakash Raj compares his daughter with dogs is disgusting as since it is not clear in what context he has said that. Puri Jagannath has to keep in mind about women.
At the end of the day it is "Ram Charan" who is going to take the credit of the show.
Saumitri Phani Kumar
[email protected]
More My Movie experiences:
Chak De India by Ravi
Yamadonga by Lalitha
Chak De India by Shyam
AMAV by Darsakudu
5 in March by Sashidhar
Okkadunnadu by Anand
Black Friday by Ratnakar
Desamuduru by Krishna Prasad
Guru by It's opinion
Dhoom 2 by Lalitha Spoorthi
Dhoom 2 by ASK
Don - Syam
Boss - Anand
Boss - Hrithik
Stalin - Bala
Bommarillu - Nandini
Bommarillu - Darsakudu
Bommarillu - Vasu
Bommarillu - Harsha Prakash
Bommarillu - Lalitha Spoorthi
LRMB - Shravan
Bommarillu - Anirudh
LRMB - Srinivas
LRMB - Darsakudu
LRMB - S Sridhar
Bommarillu - Shridevi
Bommarillu - Vasudev
Bommarillu - Roopa
Sriram - Godavari
Sarath - Bangaram
Bala - Pokiri
Srinadh - Allari Pidugu
Sudheer Allari Pidugu
Anu - Athadu
Shyam Krishna - Iqbal
Purnesh - Grahanam
Sudhindra - Super
Vijay - Aparichitudu
Madhav - Aparichitudu
Hazaraon Kwaishein Aisi
Swades
Shyam - Black
Sai - Anand
Rohit - Anand & Veer Zaara
Jaya Prakash - 7GBC
Raj - Anand
Purnesh - Anand
Purnesh - The Village
Sriram - Gudumba Shankar
Purnesh - Gharshana
Purnesh - Lakshya
Purnesh - Yuva
Leenesh - Yuva
Kis - Lakshmi Narasimha
Indian Pride - Tagore
Raj - Boys
Phani - Gangotri
Phani - Khadgam
Vikram - CKR
BKR - Indra (Singapore)
Ram - Indra (Dubai)
Ranjeet - Idiot
Rahul - Indra
King Koduri - Indra
Srilakshmi Katragadda - Mitr: My Friend