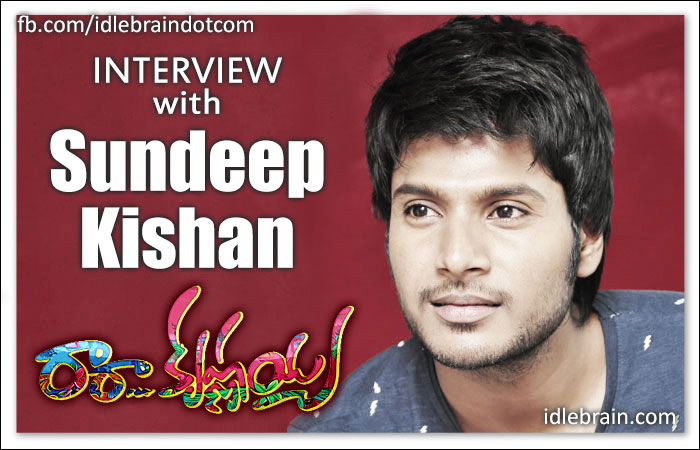 03 July 2014
Hyderabad
Sundeep Kishan is high after the super success of Venkatadri Express. His next commercial release Rara Krishnayya has created positive buzz - thanks to attractive trailers. Rara Krishnayya is releasing on 4 July. Here are the excerpts of an exclusive interview -
Tell us about the success of Venkatadri Express?
Venkatadri Express is my first commercial super hit. I was traveling with that film right from the beginning and was involved in setting up that project. The success of Venkatadri express is a sigh of relief for me. This film has collected over 10 crores share from theatrical. And it was bought for 1.86 cr for satellite. Venkatadri Express was done in a very reasonable budget and it fetched multifold profits.
What went wrong with D for Dopidi at box office?
I am also confused about why it didn't do well at box office. But I was told that D4D has lacked the emotional quotient and a climax high point. It's a dark comedy that is not familiar to Telugu movie lovers. I loved working for D4D and feel that it's a fun film. It may be liked in home video format. My character in Venkatadri express was very vibrant and that of a solo hero. But my character in D4D is one among the four and a dark one.
Tell us about Rara Krishnayya?
Rara Krishnayya is my first love story. It has a backdrop of mass and action. I don't usually prefer love stories as the scope is limited. Routine Love Story is more like a satire than a true love story. Rara Krishnayya is a simple love story with lots of humor and sweet moments.
Tell us about Jagapathi Babu?
Jagapathi Babu is going to be the surprise package of the film. After Legend, people expect him to do serious role. But the character he played in RRK is a highly entertaining one. His character is like an extension to the ones he has done in Anthahpuram and Hanuman Junction. He played an eccentric character and the humor is generated by the decisions he take in tense situations.
Regina is known for hyper and spontaneous roles. How is she in the movie?
Her character in the film is a dominating one. I am a kind of guy with high energy levels. And Regina is a kind of actress who can dominate me on screen and still make it look believable. We have a great on-screen chemistry. This will be best film for Regina in her career. I would love to say that the best performances in this film are going to be Jagapathi Babu and Regina and Sundeep Kishan in that order.
How is the new director Mahesh Babu?
Mahesh babu is younger than me. He is a fascinating director with a great visual sense. Some people narrate you the story well, but fall short in executing it. Mahesh Babu has shot the film better than what you expect after listening to his story narration. He is passionate about films.
Tell us why this film is awarded A certificate?
There is a liplock in the movie. The censor officers gave us an option to remove liplock so that we can get U/A certificate. But the liplock in the movie is a high point. Director took a call not to remove it. Hence we were given A certificate.
What's the runtime of the movie?
Runtime of RRK is 2 hours and 15 minutes. This film is shot in 70 working days. The budget for this film is double to that of Venkatadri Express. The producer is safe now because of the sales and demand for the film.
What is your gut feel about RRK?
Rara Krishnayya is a new-age family entertainer. It's a like full meals to the audiences. RRK is a film I am proud of.
Tell us about your future films?
I am currently acting in a couple of films. Joru - my first slapstick comedy is being directed by Kumar Nagendra (Gundello Godari fame). Brahmanandam plays a full length role. There are three heroines - Rashi Khanna (OGG fame), Priya Benerjee (Kiss fame) and Sushma Raj (Maaya fame). My other film is being produced by two of Tollywood's biggest production houses together. More details soon.