January 14, 2008
Halla Bol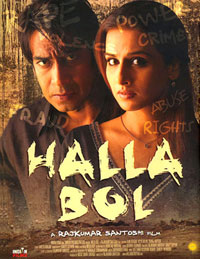 Where Rang de Basanthi failed, Halla Bol succeeded. Many may argue.... I request them to please hold on and let me justify.
The best way to realize a person's righteousness is to pardon his mistakes. On a similar note, I feel that, the best way to appreciate Raj Kumar Santhoshi's Halla Bol is to excuse its obviously glaring mistakes.
At the very outset, Halla Bol is not a misleading film like Rang de Basanthi. The film does not show the protagonist killing the culprits and later preach about non-violence. Instead, it emphasizes the prominence of raising one's voice over (the easier option of) raising the weapon.
The film tells the story of a film superstar who comes down to the streets to spread the word of revolution. On an unfortunate day, Sameer Khan witnesses the brutal murder of a woman. Blinded by success and bounded by insecurities, he does not dare to fight against the high-profile culprits. After a dramatic turn of events, he changes his mind and decides to stand by the truth. He plans to evoke the public through a street play. And as expected, he faces severe oppositions.... until the public and media come to his rescue.
The sutradhar of the film, Siddu, played brilliantly by Pankaj Kapur, is one of the best original and inspirational characters to come by among the Bollywood ventures in recent times. The way he expresses the Godliness of Truth, with hardly any dialogues and an intense silence, is truly mesmerizing. Leave everything else, Halla Bol is a treat to watch just for this one man!!!
Now turning all the way around, let me quote that: Halla Bol fails where Rang de Basanthi has succeeded! The following are the follies which Halla Bol must be forgiven for.
Rang de Basanthi, in terms of execution, was very superior. It had the compactness which could hold the audience's attention. Halla Bol lacks the same, owing to Santoshi's out-dated-ness in screenplay. His execution was too simplistic for today's mature-than-yesterday audience. And the climax looked as if he wanted to finish the story soon and bluntly send away the audience. As a result, the normal audience hardly has anything to carry. Rang de Basanthi, though a bad climax, was riveting in the way it was executed. So the audience had enough to take back home. Only had it been a better climax!!! Oufff!!!! Leave it!!!
The other problem with Halla Bol is Ajay Devgan being misfit to play the protagonist. Sameer Khan's character is a combination of Shahrukh Khan's flamboyance and Aamir Khan's stern-ness. And this is exactly where Ajay Devgan fails. Be it his limitation as an actor or his over-confidence on his ability to act, he is just unable to move away from his typical Bhagat Singh expressions; neither in jovial scenes nor the serious ones. There is no variation in his expressions. In my opinion, Aamir Khan is the best person to play this role, though Raj Kumar Santoshi claimed (in an interview) that he has actually planned to make this film 10 years ago (1997-1998) with Shahrukh Khan.
Next, the film lacks the commercial appeal, either in terms of music and promotion. The music sounds very uninteresting and the promotion just threads attempts to overwhelm Rang de Basanthi.
I am surely not an expert on revolution, but would prefer to take this moment to express a few words. Please do correct me if you feel that I am wrong. And owing to my absence in any revolutionary act so far, I do realize that, I may not be eligible to be assertive in my expression. But the following write-up is just my attempt to think beyond the obvious story-lines our Bollywood directors are dwelling into.
Be it any case of injustice, is 'punishing the culprits' the ultimate goal of the revolution involved? As much as I know, in Jessica Lall's case, the culprits were atmost punished by the court. Now, has it changed anything at a society level? Has the verdict challenged the conscience of the society? Today, a year later, is a common man (be it male or female) safe from the people who hold power? Is the society conscious enough to fight against the culprit when situation arises (not after the damage has been done to the victim)? On the whole, has injustice stopped or even reduced by that verdict?
Many may argue that: this is a first step and someone has to take the first step; Jessica Lal's murder verdict is a success of that first step. I know that many would agree with this. But, I really don't understand, why are we unable to realize that the first steps of revolution were already taken by people pre-independence. And unfortunately we are still continuing to appreciate the same first step. How many first-steps do we need to fight against injustice? When will we really start thinking beyond this FIRST STEP? Numerous films are being made mostly emphasizing this first step. Is it because we find this first step very entertaining? Or are we not ready to think beyond this step?
Now, since I have raised the issue, let me express the solution too. In my limited knowledge of films, the only film, in recent times, which gives proper solution that dwells beyond the first-step-aggression is Mani Ratnam's Yuva; it says: to satisfy your taste-buds, cook your own food! At a society level, change will occur only when the younger generation takes up the ruling pride rather than just loudly shout against the government!!! But entering politics may not look as fashionable and melodramatic as the mass-rallies showed in films like Rang de Basanthi and Halla Bol!!! So the solution to the issue lies in the choice between a fashionable loud shout and courage to enter politics!
Back to Halla Bol, I would recommend this film to all those who do not mind being entertained by the loud shouts and ideal one-liners.
Purnesh Konathala
[email protected]
More My Movie experiences:
Taare Zameen Par by Ashok Varma
Taare Zameen Par by Raja Simha
Happy Days by Krishna Sastry
Chirutha by Phani Kumar
Chak De India by Ravi
Yamadonga by Lalitha
Chak De India by Shyam
AMAV by Darsakudu
5 in March by Sashidhar
Okkadunnadu by Anand
Black Friday by Ratnakar
Desamuduru by Krishna Prasad
Guru by It's opinion
Dhoom 2 by Lalitha Spoorthi
Dhoom 2 by ASK
Don - Syam
Boss - Anand
Boss - Hrithik
Stalin - Bala
Bommarillu - Nandini
Bommarillu - Darsakudu
Bommarillu - Vasu
Bommarillu - Harsha Prakash
Bommarillu - Lalitha Spoorthi
LRMB - Shravan
Bommarillu - Anirudh
LRMB - Srinivas
LRMB - Darsakudu
LRMB - S Sridhar
Bommarillu - Shridevi
Bommarillu - Vasudev
Bommarillu - Roopa
Sriram - Godavari
Sarath - Bangaram
Bala - Pokiri
Srinadh - Allari Pidugu
Sudheer Allari Pidugu
Anu - Athadu
Shyam Krishna - Iqbal
Purnesh - Grahanam
Sudhindra - Super
Vijay - Aparichitudu
Madhav - Aparichitudu
Hazaraon Kwaishein Aisi
Swades
Shyam - Black
Sai - Anand
Rohit - Anand & Veer Zaara
Jaya Prakash - 7GBC
Raj - Anand
Purnesh - Anand
Purnesh - The Village
Sriram - Gudumba Shankar
Purnesh - Gharshana
Purnesh - Lakshya
Purnesh - Yuva
Leenesh - Yuva
Kis - Lakshmi Narasimha
Indian Pride - Tagore
Raj - Boys
Phani - Gangotri
Phani - Khadgam
Vikram - CKR
BKR - Indra (Singapore)
Ram - Indra (Dubai)
Ranjeet - Idiot
Rahul - Indra
King Koduri - Indra
Srilakshmi Katragadda - Mitr: My Friend