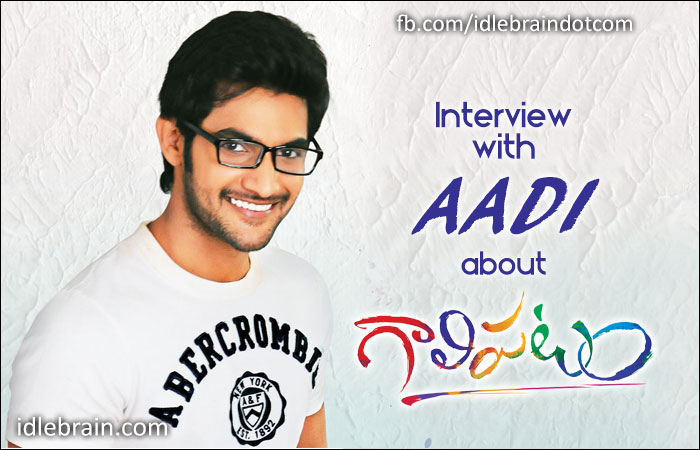 07 August 2014
Hyderabad
Aadi who has proved himself as a good actor with four films is coming up with Gaalipatam now. He says that he is playing a character centric role with no formulaic heroism in it. Gaalipatam is releasing on 8 August. Here are the excerpts of the interview -
How did Gaalipatam happen?
I didn't know Sampath Nandi personally before signing this film. He has met me and told that he wanted me to play the central character in Gaalipatam film. These kinds of movies came in Bollywood. He wanted to write and produce the film and he didn't direct because he was busy in pre-production of Gabbar Singh 2. I loved the narration and completely impressed by the dialogues. But I wasn't sure if I can play the character. I asked my dad to listen to the story. He liked the story and felt that it will be a new subject for me.
What's the story of Gaalipatam?
The main story of Gaalipatam revolves around 8 principal characters. I don't consider myself as hero in this movie. It's like one of the eight important characters. Each character is like a kite that goes with the wind and without any purpose. All these characters get redeemed in the end.
I worked for 35 days for this film. It's a film which I didn't have to work hard. Dialogues are satirical, but with a phylosophical touch. This film is a reflection of current society. First half is youthful. The second half has lots of emotions and I am thrilled about the bold climax.
You say that the film is bold. Is that the reason for obtaining A certificate?
There is not even a single dialogue cut for the movie. But the censor officer objected a scene in the movie. She is willing to give U/A if that scene is deleted. But that scene is very vital for the film and it connects with several other scenes. Hence, we decided to retain the scene.
Who played other important characters?
Me, Erica and Christina play main leads. Raahul played an important role though there are just 4 scenes for him. Pragati played my mother's character. My character treats her like a friend and confides everything to her. Rekha played the role of heroine's mother. Bharat Reddy and Bharati played IT couple. Their track is very nice and ladies will connect with that track. Chandra and Vennela Rama Rao too have important roles.
You say that its a different film. Will it do commercially well?
Yes. Though it's a different subject, the content connects with the audiences. The dialogues are excellent and songs are already popular. All songs are montage songs. There will not be a typical hero introduction type stuff. The runtime of the film is 2 hours and 11 minutes.
What are your future films?
My next film Rough is getting ready for the release. I have signed another film to be directed by Madan who is also an excellent writer. This film will be produced by a Guntur-based businessman RK.