March 3, 2008
Gamyam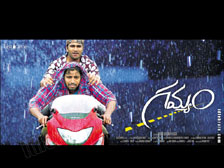 Awsome Journey - Gamyam
First I was not inclined to watch the movie mainly because of the low star cast. But my friend insisted on watching it and obliged his request. After watching the movie I felt that I was not fooled again. Its been a while now that a movie of such values and morals had hit the Telugu screen.
First of all the characters, they were so real and elegantly portrayed by Sharwanad and Allari Naresh. Special mention has to be given to Allari Naresh for his acting skills and dialogue diction. He was so real and the name Gaali Seenu aptly suits his character in the film. Abhiram the filthy rich spoiled brat portrayed by Sharwanand was well characterised. We can see the transformation of Abhiram from a rich , arrogant young man to a sensible, caring and benevolent person.
The journey of Abhiram in pursuit of his love , really changed his attitude towards life. I am not a movie buff and I hardly watch movies. But I watched this movie twice. There wasn't a dull moment in the movie. The director should be commended for this effort. After watching the movie I told my friends to watch it. And they cancelled their weekend bash out and watched it. It was a joy ride.
The dialogues were simple, clear and wonderful. Movies like these should be encouraged. Its a clear winner in all departments. You can't fool the audience with some regular action packed revenge dramas. The ace film makers can learn something out of this movie. I strongly recommend everyone to watch this movie and you won't regret it.
Sanjay
[email protected]
More My Movie experiences:
Halla Bol by Purnesh
Taare Zameen Par by Ashok Varma
Taare Zameen Par by Raja Simha
Happy Days by Krishna Sastry
Chirutha by Phani Kumar
Chak De India by Ravi
Yamadonga by Lalitha
Chak De India by Shyam
AMAV by Darsakudu
5 in March by Sashidhar
Okkadunnadu by Anand
Black Friday by Ratnakar
Desamuduru by Krishna Prasad
Guru by It's opinion
Dhoom 2 by Lalitha Spoorthi
Dhoom 2 by ASK
Don - Syam
Boss - Anand
Boss - Hrithik
Stalin - Bala
Bommarillu - Nandini
Bommarillu - Darsakudu
Bommarillu - Vasu
Bommarillu - Harsha Prakash
Bommarillu - Lalitha Spoorthi
LRMB - Shravan
Bommarillu - Anirudh
LRMB - Srinivas
LRMB - Darsakudu
LRMB - S Sridhar
Bommarillu - Shridevi
Bommarillu - Vasudev
Bommarillu - Roopa
Sriram - Godavari
Sarath - Bangaram
Bala - Pokiri
Srinadh - Allari Pidugu
Sudheer Allari Pidugu
Anu - Athadu
Shyam Krishna - Iqbal
Purnesh - Grahanam
Sudhindra - Super
Vijay - Aparichitudu
Madhav - Aparichitudu
Hazaraon Kwaishein Aisi
Swades
Shyam - Black
Sai - Anand
Rohit - Anand & Veer Zaara
Jaya Prakash - 7GBC
Raj - Anand
Purnesh - Anand
Purnesh - The Village
Sriram - Gudumba Shankar
Purnesh - Gharshana
Purnesh - Lakshya
Purnesh - Yuva
Leenesh - Yuva
Kis - Lakshmi Narasimha
Indian Pride - Tagore
Raj - Boys
Phani - Gangotri
Phani - Khadgam
Vikram - CKR
BKR - Indra (Singapore)
Ram - Indra (Dubai)
Ranjeet - Idiot
Rahul - Indra
King Koduri - Indra
Srilakshmi Katragadda - Mitr: My Friend