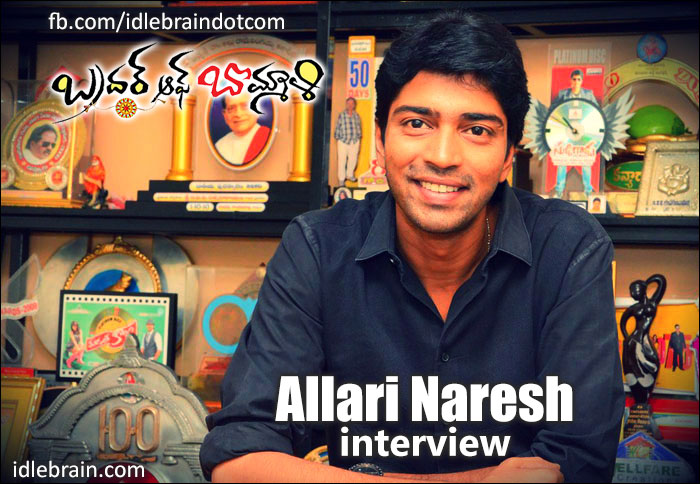 06 November 2014
Hyderabad
Allari Naresh is synonymous with comedy. He was hailed as superstar and mega star of small budgeted films for giving minimum guarantee hits. But his career is in low phase after the big hit of Sudigaali. Naresh thinks Brother of Bommali is going to change the game for him. He talks about various things in an exclusive interview with idlebrain.com -
Big stars are doing comedy oriented films in the past few years. Do you perceive it as threat as your forte is comedy?
I do agree that the audiences are looking for entertainment-oriented films. All big stars of Telugu cinema have become such big because they have terrific comedy timing. If you look at Bollywood, action heroes like Akshay Kumar and Ajay Devgan have become huge stars because of comedy/entertainment films.
Comedy has been my forte and most of my films are comedy films. I have started doing spoofs and satires on popular scenes in hit films. I wanted to put an end to spoofs with a film similar to Hollywood film Hot Shots. That's when I had an opportunity to do Sudigaali. I have tried to come out of comedy monotony and tried different films like Action 3D and Laddubabu.
I have ideas to do superhero comedy film and comedy james bond (Chantabbai and Johnny English kind) films, but my market doesn't support such big budgets. I have decided to stick to my strength of comedy and deliver films with good humor and reasonable content.
What went wrong with Laddubabu?
I have a good market in B and C centers. But most of the B/C center audiences didn't know that the fat guy in poster was me. They thought that it was a new hero who was trying his luck like Krishnudu. The openings in B/C centers took a beating. The film is projected as a love story and comedy film through trailers. The movie is a mature story with sympathetic characterization for hero. Audiences expected comedy from a fat character like Geetha Singh in Kithakithalu. There is a lot of mismatch between what they expected and what they were given. Hence audiences felt cheated. A regular flick like Jump Jilani has generated a TRP of 8.5 on TV where as Laddubabu generated only 7. However, I am proud of doing Laddubabu film and it's a rare opportunity for any actor to do a film with prosthetic make-up.
Why are you doing less number of films?
I used to have 5 to 6 releases per year. But my releases have slowed down because I have done films like Action 3D and Laddubabu. Since, it involves lot of time for production, I had to work for 18 months for Action 3D. Since involves 6 hours of prosthetic make-up every day, we couldn't shoot for more than 4 hours per day for scenes involving me. It took 9 months to do Laddubabu. Henceforth, I plan to do more movies like earlier.
Tell us how different Brother of Bommali is from your earlier films?
Brother of Bommali is a fun film that entertains and explores siblings bonding. We have seen many sister sentiment films, but this is a sister fun film. I was taken aback when writer Vikram Raju said that he has a sister sentiment film. But got excited after listening to the story. It was so good that I asked him straightaway if he had borrowed the concept from any Korean film. He said that it's his original idea. I referred him to Chinni Krishna. Chinni Krishna has come up with dialogue version in a month. I am completely happy with BoB film.
Tell us about your next movie Bandipotu?
I loved Mohan Krishna's Ashta Chamma. He is extremely good at polished comedy and writes nice dialogues. Bandipotu film is about is a con man who robs thieves (bad guys). It's an intelligent film with content that will be liked across the centers. Since this is the first film that is being produced by us, we are making sure that the quality is great. It's going to cost us Rs. 10.5 crores. We are going to shoot a couple of songs in Italy and Spain. The shooting will be completed by 24 November and we are planning to release the movie for Christmas 2014.
Tell us about your future films?
I am doing a film with AK Entertainments (Anil Sunkara) in the direction of Sai Kishore who has worked with Sreenu Vaitla earlier. Shooting of two schedules is over so far. The movie will be wrapped up by the end of December.
What can we expect out of your 50th film?
I am listening to various stories and meeting various directors. But I promised to my mother that I will marry before 50th film. She humors me by saying I will become 'husband of bommali' soon.