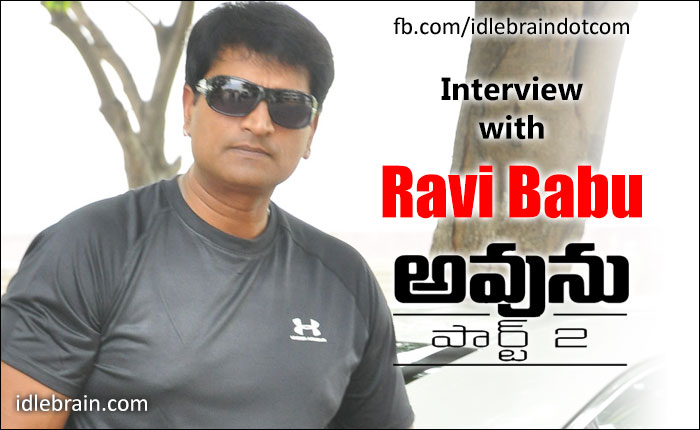 03 April 2015
Hyderabad
Ravi Babu made a mark as the most economical and successful director for small-budgeted, content-based and different movies. His success rate is very huge in thriller/horror genre. The theatrical trailer of Avunu 2 has created huge curiosity. Ravi Babu talks about Avunu 2 in this exclusive interview with idlebrain.com -


What went wrong with your last movie Laddu Babu?
I have watched all films of Allari Naresh for the past five years. They are either spoofs or slapstick comedies. I wanted to do a story-based film with Chaplin-ish comedy where comedy is generated through hero's suffering. After the release, we realised that audiences expected something else from the movie. May be, I should have done the same movie with a fat actor instead of Allari Naresh. The release timing is also wrong as election campaigning was in full swing. It was an effort of 1 year that has gone wrong. And 85% of my remuneration is yet to be paid. It was a bitter experience for me.
You have finished Avunu Part 2 long time back. Why is there a delay in release?
I have finished my films and waited for the right release time throughout my career, except for Laddu Babu. You have to wait for the right release time if there is no financial pressure on the movie. Avunu Part 2's first copy was ready in December. We wanted to release in on 12 December and Linga came. Then we wanted for 25 December and they have announced 'I' film, which was postponed. We had world cup in February and March. I feel that releasing the film at the right time is more important than making the film itself.
Since you got a lot of time after the first copy is ready, what other precautions do you take?
I show my film to test audiences and take their feedback. If it matches 90% of what we expected then I don't touch the movie. Otherwise, I will do for some re-editing. I have never re-shot my film so far. However for Avunu Part 2, there are 60 scenes and I shot only 59 scenes. I felt that 60th scene may not be necessary. But Suresh Babu insisted that I should shoot 60th scene which I did later.
Did you have the thought of sequel in mind while shooting for Avunu part 1?
No. I got the idea after it was received well at box office. The TRP ratings for TV were very high. The horror/thriller genre is a hugely successful genre in Hollywood. I am happy that Telugu people are lapping them up now.
Movies are all about good winning over evil. But an evil spirit cannot be killed and spirit disappears voluntarily after it's objective is achieved. That's the reason why there are so many sequels and franchise films worldwide for horrors/thrillers.
You had no camera movements in Avunu 1 and still generated fear. Did you follow the same technique in Avunu 2?
Yes. Avunu 2 has the same technical team and same narrative style.
Is it truly a sequel with same characters and extended storyline?
Yes. Avunu Part 2 starts off from where Avunu 1 is finished. The last shot of Avunu 1 is the first shot of Avunu 2. We have the same characters of Avunu 1. We cast additional actors like Nikita (Sambaram fame), Sanjana and Ravi Varma (Uyyala Jampala fame).
What are the difference between part 1 and part 2?
In part 1, the villain is not revealed till the climax. We had to establish fear factor in part 1. Hence the story was set up in an upcoming gated community far from the city with only 3 families inhabiting. For part 2, the entire story is set up in city apartments which are fully inhabited. It's more difficult to create fear factor, but the screenplay is good enough. Making Avunu 2 is much difficult as audiences know who the evil spirit is and how it operates
There is a shocking image of evil spirit in theatrical trailer?
Theatrical trailer is shot just for the sake of creating curiosity. That evil spirit shot will not be there in the feature film.
Is part 2 more expensive than part 1?
Yes. Because of the story set-up, sets and additional characters. Avunu 2 was shot in monsoon season in a set. I wanted apartment/house set to be spic and span. But there used to be patches due to rains. Hence we had a 55 minutes graphics work for retouching the house.
The art direction in all your films is different?
I follow the concept of minimalism for the sets of my films.
What's the runtime of Avunu 2?
The total runtime of the movie is around 1 hour and 40 minutes. First half consists of 55 minutes and second half consists of 45 minutes.
What is the minimum runtime for a Telugu feature film to get censored?
6700 feet is required for a film to be qualified as a feature film. 5400 feet consists of 1 hour of runtime. But, most of us filmmakers got fixed to runtime of minimum of 2 hours.
Tell us about your next project?
My debut 12 years back was supposed to be a film with Venkatesh as hero and it didn't happen. I am preparing scripts for Venkatesh. I might do a film with him as my next project which is subject to approval.