October 16, 2008
Kotha Bangaru Lokam…Waiting for me!!!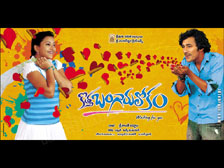 "Happy Dussera", now that's what has been beeping on my mobile since that day morning.
But just mere SMSing does it make my festival Happy. May be Yes bcoz atleast they have thought about me on this day or may be not as it was an exercise that they did.
Day long I was hoping to catch up with regular activity of catching up with friends and having our normal gupship but little did I realize that it can be way different from what I expected.
So what should I do?? Lackadaisically I turned onto net and fumbled up on idlebrain to see Jeevi's review for the movie "Kotha Bangaru Lokam" (I was expecting the movie to be good because of the Music and the look & feel of the Posters and ad campaign made me feel like that…or may be its called Sixth Sense). Jeevi gave a mind boggling review of the movie and a rating of 4 up on scale of 5 (mind you he gave 4.5 for Bommarillu so can expect his rating value).
The time was 7.30 Pm and there is only one chance of making it to the movie and that's Second Show. I checked with my friends and none of their Calendar's was free.
As I was idling time just thought how about hitting to the movie with Mom.
Vroooooooooooooooom…that's it went to the theatre to get the tickets but unfortunately the Queue was long enough so that I had the time to go back home and come along with Mom to get the tickets since the ladies Queue was decent enough .
Finally we got the Tickets.(also mom helped 2 more guys by purchasing some tickets for them as well).
Now my decision to take mom for this Movie proved to be a great idea as by the Interval the movie was so pleasant that mom was totally immersed into the movie.
Now coming to the movie though I plan to write a separate blog about it, a crisp review goes here…..A Fresh, Romantic, enticing, College Love Story. If Happy Days made you feel nostalgic about your Engineering Days this movie is definitely going to make you reminiscent of your Intermediate Days.
Fabulously picturised in the most picturesque locations of godavari, with music as an asset, the movie tries to balance the thin line between what parents think about children in the age group of 15-19 and what the Children feel like doing .
The lead roles of Varun and Swetha are very good.(Though I preferred to watch Swetha than Varun on the Screen….oops). Swetha is a debutant actress and she is most famous for her role of the dumb hero's sister in the movie Iqbal. While equal importance has been given to Jayasudha & Prakashraj(Hero's Mom and Dad) and Ahuti Prasad (Heroine's Dad)
To put it in One line it's a story about a middle class guy falling in love with a Rich girl during their Intermediate and how do they face the Consequences.
And by the time the move was over audience would be left with a heavy heart, feelings pouring out just like as it is with me now.(imagine I am composing this blog at midnight 1.00AM
All in all my dussera concluded happily with mom as I was able to spend some time with mom and that too in the company of a Very Good Movie.
If I were to recommend, do watch the movie with your Loved ones , not the regular friend's circle. You will feel better and would start to add value to your relationship.
Addukogaladhaaa vegam "Kotha Bangaaru Lokam pilsitey"……
Regards,
Vamsi Krishna
[email protected]
More My Movie experiences:
Kotha Bangaru Lokam by S
Ashta Chemma by Deepthi
Ashta Chemma by Lalitha Spoorthi
Sarkar Raj by Pradeep
Jalsa by Lalitha Spoorthi
Gamyam by Sridhar
Gamyam by Sreekanth D
Gamyam by Sanjay
Halla Bol by Purnesh
Taare Zameen Par by Ashok Varma
Taare Zameen Par by Raja Simha
Happy Days by Krishna Sastry
Chirutha by Phani Kumar
Chak De India by Ravi
Yamadonga by Lalitha
Chak De India by Shyam
AMAV by Darsakudu
5 in March by Sashidhar
Okkadunnadu by Anand
Black Friday by Ratnakar
Desamuduru by Krishna Prasad
Guru by It's opinion
Dhoom 2 by Lalitha Spoorthi
Dhoom 2 by ASK
Don - Syam
Boss - Anand
Boss - Hrithik
Stalin - Bala
Bommarillu - Nandini
Bommarillu - Darsakudu
Bommarillu - Vasu
Bommarillu - Harsha Prakash
Bommarillu - Lalitha Spoorthi
LRMB - Shravan
Bommarillu - Anirudh
LRMB - Srinivas
LRMB - Darsakudu
LRMB - S Sridhar
Bommarillu - Shridevi
Bommarillu - Vasudev
Bommarillu - Roopa
Sriram - Godavari
Sarath - Bangaram
Bala - Pokiri
Srinadh - Allari Pidugu
Sudheer Allari Pidugu
Anu - Athadu
Shyam Krishna - Iqbal
Purnesh - Grahanam
Sudhindra - Super
Vijay - Aparichitudu
Madhav - Aparichitudu
Hazaraon Kwaishein Aisi
Swades
Shyam - Black
Sai - Anand
Rohit - Anand & Veer Zaara
Jaya Prakash - 7GBC
Raj - Anand
Purnesh - Anand
Purnesh - The Village
Sriram - Gudumba Shankar
Purnesh - Gharshana
Purnesh - Lakshya
Purnesh - Yuva
Leenesh - Yuva
Kis - Lakshmi Narasimha
Indian Pride - Tagore
Raj - Boys
Phani - Gangotri
Phani - Khadgam
Vikram - CKR
BKR - Indra (Singapore)
Ram - Indra (Dubai)
Ranjeet - Idiot
Rahul - Indra
King Koduri - Indra
Srilakshmi Katragadda - Mitr: My Friend